Get ready to drool Dear Reader! This achiote chicken is a thing of delicious beauty. If I can implore you to make this dish, your persistence at buying achiote seeds or annatto will be rewarded with this simple but moreishly juicy chicken recipe where a spice rubbed chicken is roasted atop potatoes that absorb all of those gorgeous chickeny flavours in the same fashion that they do with French rotisseries.
I'm being dramatic with buying annatto or achiote (the two terms are used interchangeably), you can easily buy them online or in specialty stores. It gives food an orangey yellow colour and a gorgeous flavour especially when combined with this spice mix.
So what is annatto or achiote? It's made of the seeds of the achiote tree. It's used in Mexican and Caribbean cooking to impart colour and flavour. I was given a packet of annatto seeds quite a while back and I am embarrassed to say that it was so long that I can't remember which lovely person gave it to me!
I also have some commercial achiote paste but while this was nice to have, it didn't have the pungency and extra spice of the home made one. It was a lot smoother than my home made one and was boosted with extra red colour but a lot simpler in terms of ingredients. Annatto paste is a mix of spices, annatto seeds and a vinegar or juice. The flavour that it gives is gorgeously tangy-if you like the flavour from sumac or lemons, it's very similar. We adored this dish so much I wished I hadn't waited so long. It was just that I had no idea what this ingredient was and when I ate achiote chicken at a restaurant it was so good that I sprung into action.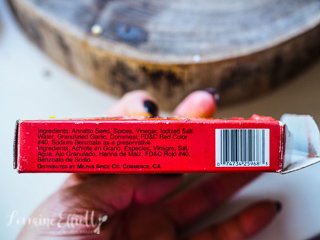 Speaking of deliberating over things for a long time, for the last few months, my parents have been deliberating over an issue that has vexed them. You see they've been invited to a wedding in the city and they have an aversion to paying for parking. I think it's a real Chinese thing as my father and relatives make a big show over dinner of where they parked and the winner is the person that parks the closest for free. If someone uses a parking station they they're relegated to "fancy fools" (and that's often us). They've brought up this wedding parking conundrum at least half a dozen times.
We suggested a taxi. My father reacted as if I had suggested he throw money out of the car. An Uber was dismissed because it is a bit too new for them and they're not sure what apps are. They'd probably order 10 Ubers by accidentally pressing the button repeatedly and we envisaged it ending with a ban from the service. My mother refused to take a bus to a wedding in her wedding attire and my dad even considered walking (which would take a good hour) but realised that my mother would be even more displeased with this option. It was a very small wedding so they couldn't get a lift with anyone because there was one car and it was full.
"If you Uber pool it will be $16," my sister Blythe suggested.
My father paused for a second before nodding, "Yes we'll drive to Liverpool station and then catch the train in". I should point out that they live in Kensington so Liverpool is quite a hike! I'm not sure what will end up happening but I know that it will be deliberated for many times to come!
So tell me Dear Reader, do you deliberate over things for a while or do you tend to jump in? Have you ever tried annatto or achiote?
Achiote Chicken With Potatoes