It was a glorious Sydney summer ahem I mean Winter day and with my sister visiting from overseas we head towards Barangaroo for some sunshine and dog friendliness. Phomo, a play on Pho and Fomo serves Vietnamese food with a focus on Pho.
Phomo is located on the waterfront right in front of the new Barangaroo ferry. Service is mixed, mostly it is very good but there is one waitress who is perhaps unsuited to the role.
Iced Lychee drink $7 and Iced Vietnamese Coffee $6
We start with drinks-the warm day means that we want to order some iced drinks. Iced Lychee is sweet and frosty while Mr NQN enjoy the iced Vietnamese coffee.
Grilled Ox Tongue $18
I always tend to order ox tongue when I see it on the menu. It is very tender and served with spicy XO sauce, chives and a charred lime cheek. I actually prefer it without the lime juice but I tend to like richer flavours and textures.
Octopus Tentacle $19
I loved the sound of the octopus tentacle served with lemongrass butter, chilli, coriander stems, fried garlic and a squid ink spicy sauce and it certainly looks pretty. My piece is however so chewy that I can't swallow it.
Crispy Chicken Supreme $29
I have better luck with the crispy skin chicken. It's not quite as crispy as the criskin chicken you may find in Cabramatta but everyone really enjoys the crispy half chicken. It is served on a bed of rainbow chard with a chilli lemongrass beurre blanc.
Truffled 'Shaking Beef' Steak $40
This was a choice from my sister Blythe, truffled shaking beef. Here it is a 350g MB+5 Wagyu Striploin with a truffle black pepper sauce, yellow and red capsicum, chives and caramelised onions. The truffle aroma is really quite light here, it's more dominated by the black pepper but we all enjoy the steak as it is very tender. It's also nice to get a steak dish that comes with vegetables.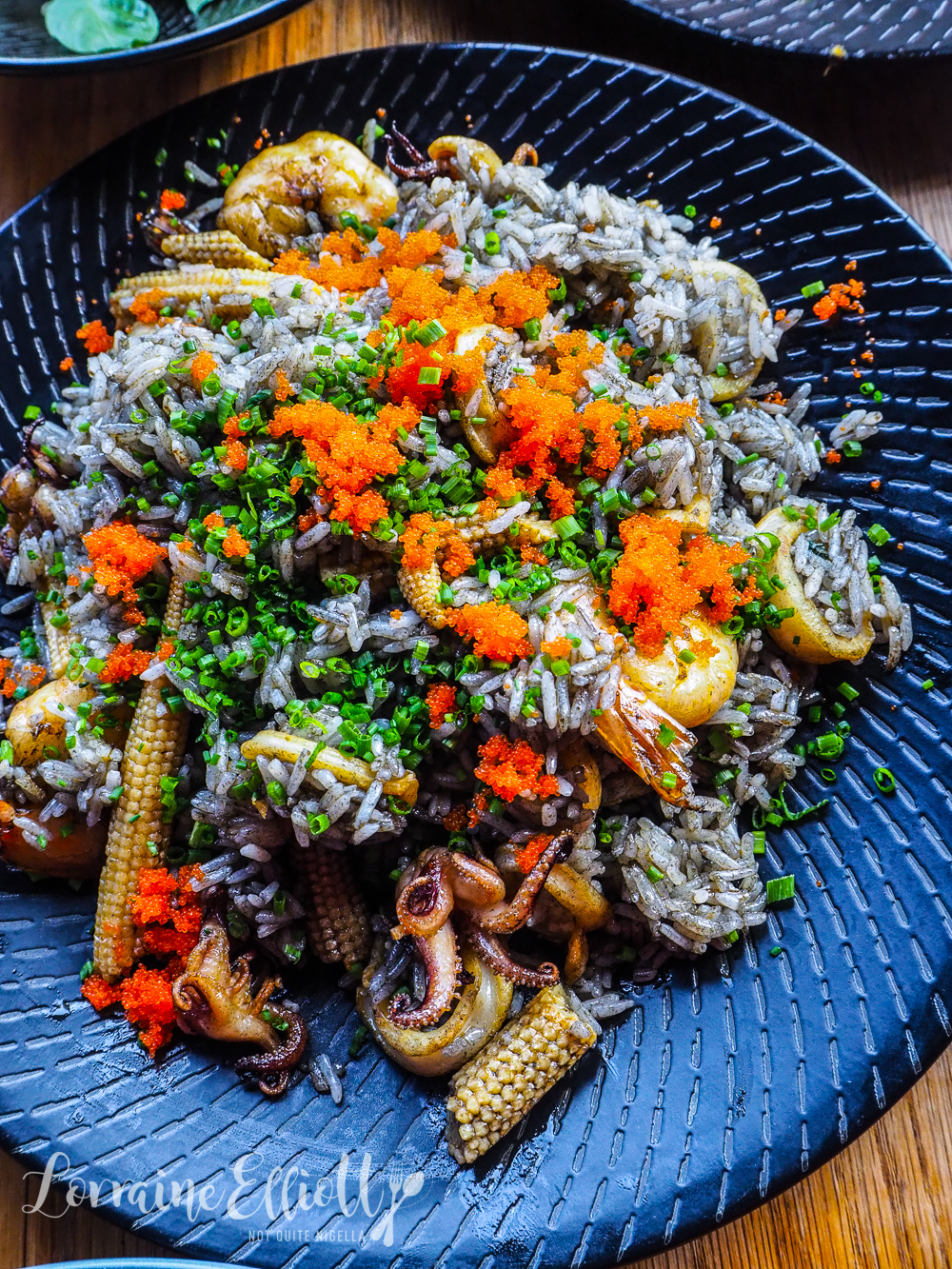 Squid Ink Seafood Fried Rice $28
There's a regular fried rice and there's this squid ink version that comes with squid, prawns, gai larn and baby corn. The squid ink sauce is a light touch and it's quite oily but tasty.
Combination Wagyu Beef Pho $18
We are that strange family that share everything-to have a whole plate of something all to ourselves is anathema and with six different types of pho we go with the one that has a bit of everything. The pho is made with a 12 hour Vietnamese beef broth, brisket beef, beef balls, tendon and tripe with flat rice noodles and a side of bean sprouts, fresh herbs, chilli sauce, hoi sin sauce and lemon.
Alas there is no dessert on the menu! So lunch is over quickly, with plenty of time for Blythe to catch her plane home to London.
So tell me Dear Reader, do you share everything including things like pho when you go out? And if there isn't dessert on the menu do you go without or do you find a dessert place?
This meal was independently paid for.
Phomo
9/33 Barangaroo Ave, Barangaroo NSW 2000
Open 7 days 11:30am-11pm
Phone: (02) 8097 3663
phomo.com.au/