Sergeant Lok is a modern Chinese restaurant in The Rocks. The heritage building has retained many of its original features from when it was a police station and diners can sit inside a jail cell or see where people in the past came in to report crimes. There are indoor and outdoor seating and multiple private dining spaces and a menu featuring dishes like spiced prawn toast, Sichuan beef tartare and garlic butter Alaskan crab udon.
My parents and sister were visiting from Singapore and we decided to do a second take of my birthday dinner that was postponed as my parents moved overseas a few days before my birthday earlier this year. Mr NQN and I picked them up and drove to The Rocks where they marvelled at how the area has changed, just in a few months. Also in attendance was Laura who always loves a family Chinese dinner. Sergeant Lok is located just opposite the MCA. We were originally booked in for the large private room with a big communal table. Alas that has bar stools and as soon as they see my parents who are quite elderly they move us to another room.
If you dine at Sergeant Lok I recommend taking a quick walk through to take a peek at the building. They are happy to show you the details of the building from the original black metal jail room doors and the small private dining rooms that are cosy but in the past doubled as jail cells. This was also the site of the first general hospital in Australia from 1788-1816.
The reporting room window where people would report crimes
This part of The Rocks was formerly known as Little Canton. A man called Lo King Nam was one of the early Chinese migrants who arrived in Australia in June 1877. After changing his name to Young Cumines he settled in the rocks and opened up a boarding house a few doors up at 85 George Street called King Nam Jang there.
The name also has a meaning. Edward Ng the maître'd explains, "The Chinese had opium dens and casinos underground of their shops with the police turning a blind eye for them. It was well known the Police in this station where Sergeant Lok now operates were on the take and were quite happy about their side income. Therefore happy sergeants living in luxury was the play. To bring in the Chinese component we have decided to use "Lok", a word that represents happiness in Chinese while sounding like 'lock'."
Goldtown's Negroni $20
Laura orders a cocktail and it's the Goldtown's Negroni with sloe gin, St Germain, Campari and lychee syrup. Both the St Germain and lychee syrup lend this a sweetness that tempers the strength of a typical negroni.
Sichuan Beef Tartare $24
We start with the wagyu topside beef tartare with plenty of spices and a light spiciness. It comes with endive leaves and crispy sweet potato chips and it's particularly good with the slightly bitter endive leaves.
Salt and Pepper Fries $16
The fries are actually a side dish but Blythe asks if we can get the fries with our beef tartare as everyone is very peckish as it's 7pm and that's the time my father usually goes to bed. These salt and pepper fries are so simple but gratifyingly good. They come with a perfect level of seasoning (seriously why don't we just add pepper to salted fries?) along with some crispy onions on top. My father who never eats fries is a big fan of these although it is a little pricey for fries.
Spiced Prawn Toast $22
We all love prawn toast and this one is a sandwich that is filled with a moussey type of prawn filling and deep fried until golden and crunchy. It has curry mayo and a herb salad on top and it's crunchy and delicious. I think we should have ordered two of these as we enjoyed it so much.
Lollipop Chicken $24
Another favourite are the Lollipop free-range chicken drummettes with a tamarind chilli sauce and a delicious lime mayo. I love how sticky sweet these are and the lime mayonnaise gives it a freshness and lusciousness.
Opium Squid $20
The only dish that we didn't really go for was the opium squid as the coating made from dehydrated squid ink is a bit dry, sort of like a cornmeal coating. It's seasoned with togarashi and served chilli mayo and lime and once you add these it's better.
Roasted King Prawn $48 + $24 for 2 extra prawns
It's time for the mains and we start with the roasted king prawns that we upgraded to 6 pieces instead of 4 that it usually comes with. The prawns are butterflied and served with XO sauce butter, karkalla or ice plant with a little bit of finger lime. The XO isn't very strong and mostly pools in the split prawn head but the prawns are huge and meaty.
Garlic Butter Udon $52
Everyone's favourite dish is the garlic butter udon with Alaskan king crab in little crumbed parcels with salmon roe. The udon has the perfect springy texture and the garlic butter coats it perfectly. It is a bit of a small dish however and not inexpensive but for flavour this is a clear favourite.
Cumin Lamb Ribs $46
Every time my sister Blythe comes back to Australia she to eat lamb because it is expensive overseas. We order the cumin lamb ribs with peanut hoisin sauce and golden kimchi on the side. The lamb ribs are luscious and not overly fatty given the cut and the seasoning is punchy and a good flavour counterpoint for the rich lamb. The golden kimchi is also very tasty and on the milder side of kimchi as there isn't much chilli added.
Rice Cake $48
We usually love ttebokki and there are two types on the menu. We went with the rice cake with forest mushrooms, truffle sauce and freshly shaved truffles on top. The ttebokki is a bit firmer than we like and while it is nice when you get a shaving of truffle it is quite mildly flavoured.
Kung Pao Cauliflower $16
Whatever you do don't miss out on the kung pao cauliflower. We usually hear of Kung Pao in American tv shows and it's usually Kung Pao chicken but this uses cauliflower florets that come deep fried in a gorgeously tangy sweet sauce (similar to sweet and sour) with peanut, labneh and shiso. Unfortunately I didn't get a great picture of this.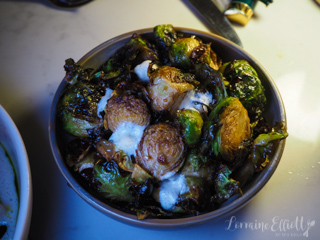 Roasted Brussels Sprouts $16
We also really enjoy the roasted Brussels sprouts with caramelised vinegar and goat's cheese. We like it so much that I'm going to try and make a version of these at home.
Sesame Truffle $16
The desserts range from fruit salad, almond soy panna cotta to sesame truffle. This is a black sesame truffle that resemble chocolate truffle squares with a delicious ginger crumble and vanilla ice cream on the side. These are absolutely delicious with a chewy almost mochi texture to them although it is just made with white chocolate, cream and black sesame and while there's cocoa on the outside the inside is all sweet black sesame.
So tell me Dear Reader, do you find historical buildings interesting? And do you like modern interpretations of cuisine?
This meal was independently paid for.
Sergeant Lok
127 George St, The Rocks NSW 2000
Open 7 days 12–10pm
Phone: (02) 9252 8338
https://www.sergeantlok.com.au/