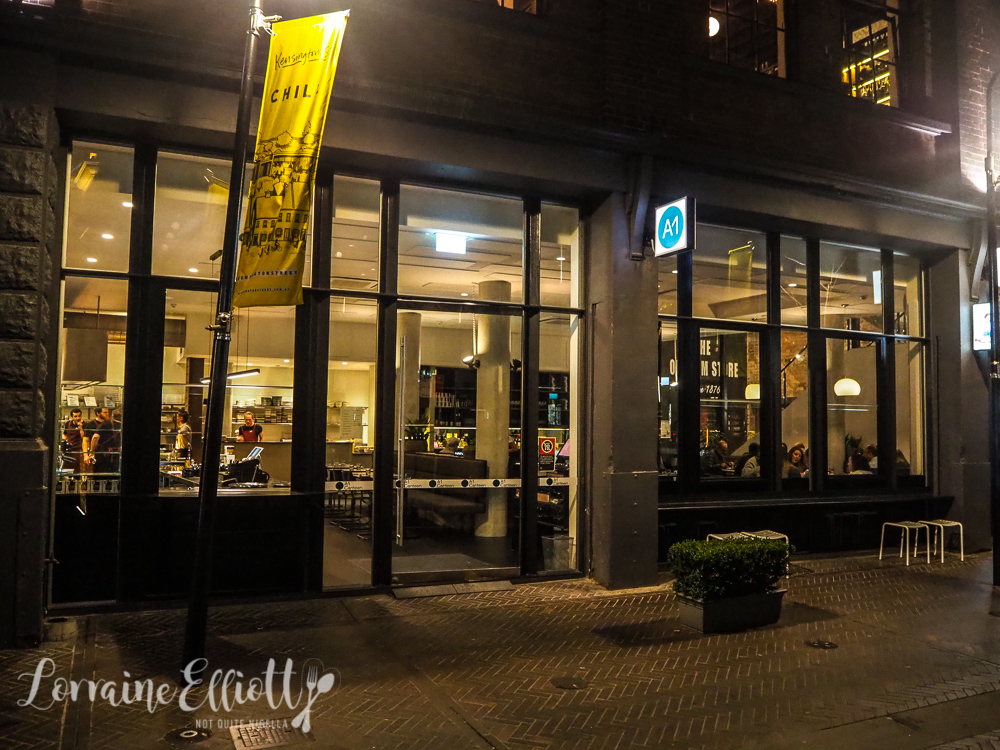 A1 canteen is the brand new eatery by Automata's chef Clayton Wells. Open for breakfast, lunch and dinner, the large space dishes up accessibly priced dishes in an open, airy modern setting. While lunch is good, dinner is where the food really shines.
Dear Reader, I confess that I've stalked it - the menu I mean. And the breakfast, lunch and dinner menus are entirely different from each other. Which is why I have planned a lunch visit with my friend Sheriden who is visiting from Newcastle and dinner the next night with Mr NQN.
Sheriden has already texted me the bad news. "There's no more muffuletta,". When I arrive, I take a seat dejected. "How? Whyyyyyy?". I mean I've had muffuletta in New Orleans at Napoleon House and Bar that is said to make the best muffuletta but I'm curious because this sandwich has been all over social media. Admittedly there is something about the colourful cold cut and olive salad sandwich that sounds so colourful and delicious. "We got slammed yesterday," our delightful waitress says adding that they did more covers on Sunday that they did the week prior so there is no muffuletta today.
Fried eggplant, romesco + provolone sandwich $12
But instead I settle for the eggplant, provolone and romesco sandwich, salty tears seasoning the sandwich (okay I am totally kidding, I didn't cry because the muffuletta was sold out, c'mon lovelies ;) ).
It's not a bad sandwich and it's certainly beautiful. The eggplant is soft but cottony in the centre, the bread buttered (our waitress tells us that they use a special butter roller that she covets) and the romesco is good.
Smoked chicken breast, purple kale, chickpea $22
We also share one of the mains and all mains include your choice of two salads. They're designed as complete meals and we go for the lightly smoked tender chicken. The two salads we choose are the broccolini, green cauliflower, wakame and lemon dressing salad as well as a freekeh, fermented pumpkin, pepitas and citrus dressing. The latter salad is wonderful and I go back for more of this and it goes well with the chicken. The green or romanesco broccoli is quite crunchy raw and there isn't a lot of dressing on this.
Berry cheesecake $14
There's always room for dessert and we go for the berry cheesecake with raspberry powder on top and a macadamia cookie base. Inside is a centre of plum puree. The vanilla cheesecake is rich and creamy but not overly so and it straddles creamy and fruity perfectly.
I return the next night with Mr NQN. It's early when we arrive at 6pm and we are the only table but come 7:30pm the restaurant will fill up more. They also take bookings for evenings but not for lunch.
Lamb tartare, eggplant tahini yogurt + sumac $22
We start with the lamb tartare on a bed of eggplant tahini yogurt and sumac with sliced olives. This is a wonderful starter and one that I keep going back to because it's a great combination of flavours.
Diamond Shell clams, anchovy butter + preserved lemon $22
If I liked the lamb tartare a lot, I adored the plump diamond shell clams even more. The creamy sauce is from the clam juice and the anchovy butter and there is also very finely sliced preserved lemon and green onions. This comes with two thick slices of charred bread that we use to dip into the sauce. It's an immensely satisfying dish.
Blood cake, pickled beetroot, rosemary oil $22
I love black pudding and this is their take. The thin, pickled beetroot gives the rich, intense blood cake a much needed lift - without it I think this might be too much for me. The rosemary oil also helps in that regard too.
Black Angus hanger steak, mushroom butter, mushroom caramel $38
Then comes my favourite combination of the night, the Black Angus hanger steak with a quenelle of mushroom butter and a mushroom caramel made with different types of mushrooms. This is an intensely umami dish with perfectly cooked steak-in fact I eat most of this which is unusual behaviour for me. It is fantastic with the Jerusalem artichokes below.
Jerusalem artichokes, sunflower miso $12
These are like smashed potatoes-crispy skinned on the outside and buttery on the inside. The sunflower miso gives this a distinct sweet flavour that pairs so well with the savoury steak.
Pumpkin brulee $14
The brulee is quite a large serve and while it is burnt toffee on top they take it quite far with the caramelisation. The pumpkin custard isn't overly sweet perhaps to balance the toffee top. Out of the two desserts, I definitely loved the cheesecake more though.
And one day, when I'm prepared for rejection, I'll be back for the muffuletta sandwich...
So tell me Dear Reader, have you ever called ahead to reserve a dish? Have you ever tried a muffuletta sandwich and if so, what did you think of it?
These meals were independently paid for.
A1 Canteen
Ground floor, 2-10 Kensington St, Chippendale
Sunday and Monday 8am–3pm
Tuesday to Saturday 8am–3pm, 6–10pm
Phone: (02) 9280 3285
A1canteen.com.au