Are you as addicted to scallion or shallot pancakes as I am? I find it hard to stop at one of these simple but absolutely delicious crispy pancakes filled with scallions and coriander. This recipe produces light, crispy and addictive shallot pancakes that are fantastic eaten alone or paired with some slow braised meats or salad!
These scallion pancakes have a little trick to them. It's a mixture of lard and flour brushed onto the rolled out dough to make them super crispy and flakey. They end up so moreish that I feel they should come with a warning. Make these when you have other people around to help you finish them. Oh and they're ridiculously good when they're straight from the frying pan.
I made these one afternoon when I had an excess of scallions and wanted something to serve with a slow cooked Asian flavoured lamb. They're a bit part roti, part pancake part filled crepe. It's also easy and inexpensive and I didn't realise how much of a hit they would be both in the house and on Instagram stories which is where you'll find me most days. I received so many messages from people asking me for the recipe that I had to fast track it and write it up asap.
Instagram is both a source of frustration and fun for me. Frustration because the algorithm means that they funnel who sees my pics and interaction can really vary and I rarely get to see my friends' pics. I've since retreated more into Instagram stories which is a bit more fun and casual where I show people a bit more about my daily life. To me it's like hanging out with friends.
The image feed to me is more curated while Instagram stories is more raw and real which I like better. Instagram is also fun because I love the messages I get from people about what I'm making, Mr NQN's lunchboxes and I just love to chat with everyone. There don't seem to be any nasty people on stories and everyone seems friendly and fun.
How to make shallot or scallion pancake video!
And it's also a good source to test out which recipes people will like! Once I put up a montage of how this was made the comments asking for this recipe came thick and fast. I didn't realise how many people love shallot pancakes as much as I did!
So tell me Dear Reader, do you love shallot pancakes too? Are you on Instagram (what's your handle?) and do you like Instagram stories?
DID YOU MAKE THIS RECIPE? Share your creations by tagging @notquitenigella on Instagram with the hashtag #notquitenigella
Crispy, Delicious Scallion or Shallot Pancakes
An Original Recipe by Lorraine Elliott
Preparation time: 30 minutes plus 1-2 hours resting time
Cooking time: 15 minutes
Makes 6 pancakes
280g/10ozs. plain all purpose flour
180ml/6.4flozs.to 200ml/7flozs. hot water
1 teaspoon oil
1/2 teaspoon salt
Oil for rolling
4 tablespoons lard, melted
4 tablespoons plain all purpose flour
1/2 teaspoon salt
1 cup finely chopped green shallots or scallions
1/2 cup chopped coriander leaves (can replace with scallions if you don't like coriander)
Step 1 - Dissolve the salt in the hot water and then mix the flour, salted water and oil together in a mixing bowl and knead until elastic using your hands or a dough hook. Place in a bowl and cover and allow to rest for 2 hours.
I put five spice in it to try it out (hence the colour) but I prefer it with plain salt
Step 2 - Mix the melted lard, flour and salt together. Mix the shallots and coriander in another bowl. Divide the dough into six equal portions.
Rested ball of dough
Divided in six pieces
Roll into rectangle and spread with lard mix
Top with spring onion and coriander and roll up into a log
Oil a clean surface and roll out into a rectangle. Brush with the lard flour mix all over and then sprinkle with shallot mix. Roll up lengthways until you get a snake shape and shape into a circle. Flatten out with your hands- don't worry if the dough breaks a little, it actually makes it nice and crispy that way.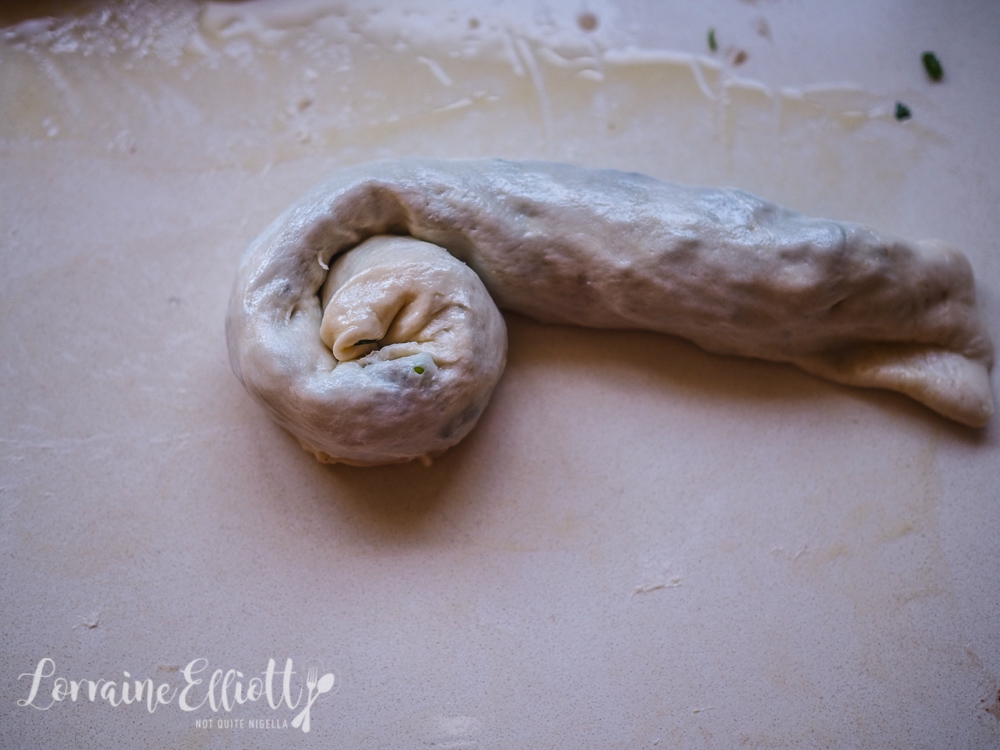 Roll log into a spiral
Step 3 - Heat oil in a large frying pan on medium high heat and fry until golden brown on each side. I served this topped with an Asian slow cooked lamb mixture and coriander.