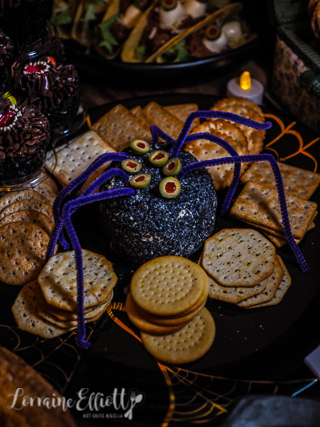 This creepy, crawly Tarantula cheese ball is a fun and easy Halloween recipe to make. The cheeseball is coated in poppy seeds with sliced stuffed olives for (multiple) eyes for added ick factor! It is great party food especially if you have vegetarians. You can use your favourite cheeses as long as you have a cream cheese base that will bind it all together.
Did you make this recipe?
Share your creations by tagging @notquitenigella on Instagram with the hashtag #notquitenigella
Tarantula Cheese Ball
An Original Recipe by Lorraine Elliott
Preparation time: 15 minutes plus 20 minutes chilling time
Cooking time: 0 minutes
250g/8.8ozs cream cheese (full fat, low fat isn't stiff enough)
50g/1.7ozs. gorgonzola dolce (if you don't like gorgonzola, omit this)
1 cup/100g/3.5ozs cheddar cheese grated
1/2 cup/50g/1.7ozs parmesan cheese, grated
2 teaspoons onion powder
1 teaspoon garlic powder
1 cup poppyseeds
4 pipe cleaners for legs, cut in half
2 Pimento olive eyes
Crackers to serve
Step 1 - Blend all ingredients together until you get a smooth paste. Have a piece of cling film ready and empty out the cheese onto this and shape it into a ball. Place in the fridge for 20 minutes or so until firm.
Step 2 - Place poppyseeds in a plate with a rim and remove the cheese ball from the film and roll around in the poppyseeds covering on all sides. Place on serving plate and add eyes and legs and surround with crackers.