Looking for a quick fix of dumplings? Dumplings and Beer is a two storey eatery in Potts Point that has a range of house made dumplings as well as delicious pork belly crackling bao and duck pancakes. And of course beer as the name suggests!
"OMG it's CLOSED!" I texted Monica as I stood outside the restaurant that we were meant to visit for lunch that day. "I'm in the car," she said. "I'll get in my car, it's freezing and we can text from there," I wrote to her. From our separate cars about 30 metres away from each other we scrambled to find a place nearby to eat, stomachs growling insistently.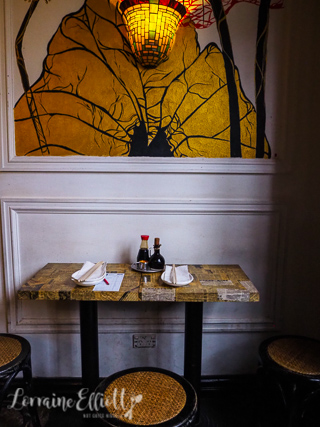 We walk to Dumplings and Beer, around 10 minutes walk away up a steepish hill. It's a minor miracle we got there as we are both directionally challenged as well as stupefyingly hungry. Although I have driven down this street a lot, I had never noticed the red lacquer Chinese doors before that read Dumplings and Beer. There's an upstairs section that houses a couple of tables as well as bar seating and separate tables downstairs.
Tables are lined with Chinese papers artfully aged and we take a seat and fill out the paper order form. Because Monica and I are food twins we decide quickly on what to order. I have a pot of hot tea while she has a sparkling water both bypassing the beer on the menu. The dumplings are made in house while the desserts are bought in.
Tea $3.50
Duck Wrap 3 for $9.90
The first bite to hit the table are the duck wraps. They're roast duck pancakes served already wrapped up. They're nice and with a good amount of duck, fat spring onions and hoi sin sauce inside.
Crackling Pork Belly Sliders 2 for $9.90
The item that both of us liked the best of the whole meal are the crackling pork belly sliders. These are soft baos filled with a slice of pork belly with a really nice crunch to it. There's also plenty of hoi sin sauce and it is a tad on the salty side but the delicious pork belly is the key.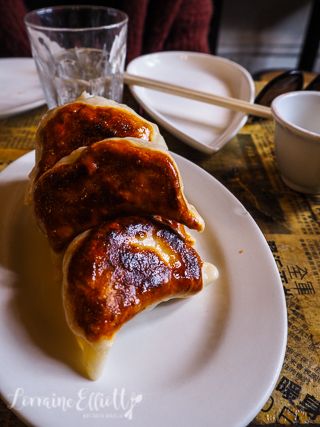 Pan fried pork cabbage dumplings 5 for $9.90
While the pan fried pork and cabbage dumplings look fantastic with their crispy bottoms they do lack some seasoning and this makes them a bit on the bland side.
Scallop and prawn dumplings 4 for $9
I like the prawn and scallop dumplings with tiny fat scallops and prawns in them. I prefer translucent dumpling skins to regular wheat skins so they always tend to be a favourite of mine.
Chicken and lemongrass dumplings 4 for $12 (top left)
The chicken and lemongrass dumplings are also good although I would have loved more lemongrass flavour to them.
Prawn gow gee 3 for $8
We both like the prawn gow gees with the ginger prawns inside. And a little note: the house made chilli sauce provided is not to be trifled with unless you like a very, very hot chilli sauce as a little goes a long way!
Mochi 3 for $4
There are two desserts on the menu: mochi and chocolate spheres. We go for the mochi on the basis that they are a bit more Asian. They're ok but not particularly exciting mochi. In fact my mother buys me boxes of these for Christmas every year and they're shelf stable mochi. I think I was hoping for fresh mochi but at least our stomachs are no longer rumbling!
So tell me Dear Reader, do you have a back up plan in case a place is closed? Do you prefer wheat or rice flour dumpling skins?
This meal was independently paid for.
Dumplings And Beer
9 Ward Ave, Potts Point NSW 2011
Tuesday to Thursday 12–3pm, 5–10pm
Friday to Sunday 12–10pm
Monday closed
Phone: (02) 9380 4774