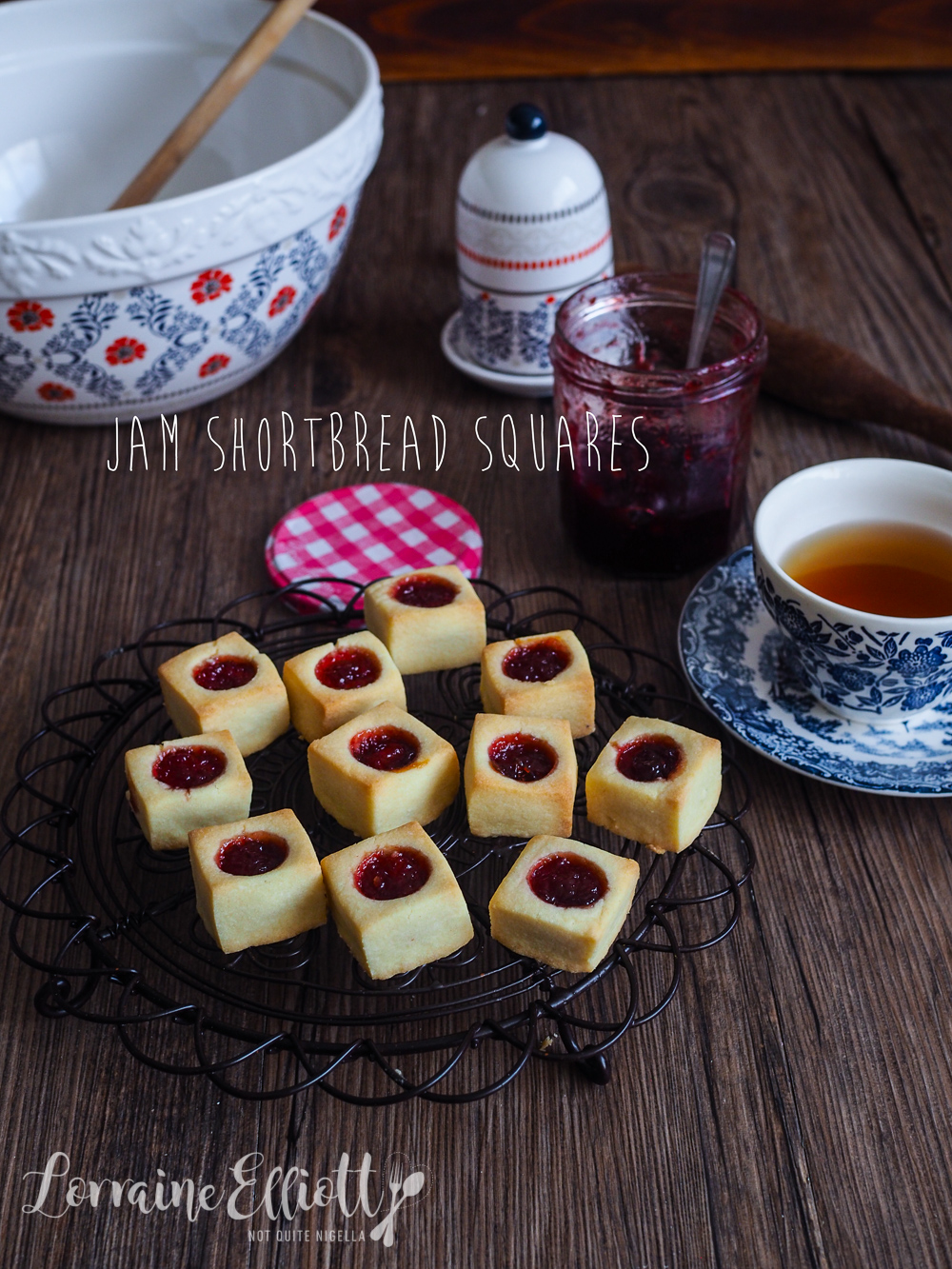 These shortbread jam squares are as cute as they are tasty! I sprang out of bed one day to make these as I had a craving for something short, buttery and jammy. Enter these shortbread squares!
The base of these is like a Middle Eastern Ghraybeh shortbread cookie. I tried this cookie recently on a trip out to Granville and it was so buttery soft and melted in my mouth that I wanted to eat it again.
You don't have to cut them into cubes, you can roll them out or make them whatever shape you would like. I felt like making cubes because I wanted to make a shape that would a) hold a good amount of jam and b) have a crisp, firm outer but soft, melting interior.
Speaking of firm outers and soft interiors, Nina is just that. I always look at Nina as a strong, pragmatic type but she has been amazing with the recent loss of Mochi and some health issues I've been having. She knows just what to say and what I need to hear-it's like she has a gift or something.
She has been trying to think of activities to cheer me up. "How do you feel about ten pin bowling?" she asked me. I told her that I was not fond of the idea of wearing someone else's shoes but I'd do it if everyone else wanted to.
Then she suggested a comedy night. And if there's something I love to do it is watch stand up comedy and I needed a laugh. So one night we went to the stand up at the Entertainment Quarter.
Perhaps it was the fact that the Sydney Comedy Festival was coming up but all the comedians were fantastic. However one made a joke about paying a $5,000 vet bill for their dog, a point that felt a bit too close to home. Nina whispered, "What the? They never make dog jokes!". But you know what? It was a great night. Followed by a couple of these cookies just before bed.
So tell me Dear Reader, what activity cheers you up? Do you have a friend that has a gift for making you feel better?
DID YOU MAKE THIS RECIPE? Share your creations by tagging @notquitenigella on Instagram with the hashtag #notquitenigella
Jam Shortbread Cubes
An Original Recipe by Lorraine Elliott
Preparation time: 20 minutes
Cooking time: 15-18 minutes
250g/8.8ozs. plain all purpose flour
135g/4.8ozs. butter, room temperature
70g/2.5ozs. icing or powdered sugar
Pinch of salt
4 tablespoons of your favourite jam
Step 1 - Preheat oven to 160C/320F and line 2 baking trays with parchment. In a bowl, mix the flour, butter and sugar by hand until you get a cohesive dough. Add a little bit of oil if it is having trouble sticking together. Shape into a rectangle an inch thick.
Step 2 - Cut into squares with a sharp knife. Lift each square with a palette knife and take an apple corer and cut out a circle. Don't twist it, just dig straight down. Place on the lined tray and repeat until the rest are done. Then fill each cavity with jam. Bake for 15-18 minutes. Allow to cool on the tray for 10 minutes.