Brisbane's Petrie Terrace area is one of the oldest areas in Brisbane. Former strip clubs have been transformed into bars and the nearby stadium still brings in a blokey crowd. I test out the Gambaro hotel and steakhouse in Caxton Street.
For my third and fourth nights in Brisbane I moved to the Gambaro hotel. While The Calile in the Fortitude Valley was all pastel pink the Gambaro has an old skool vibe with blacks, browns and darker shades.
My room #311 is on the third floor and it is a deluxe king room. The space opens up to a room with a king bed, large tv, work desk and small lounge although this can be small for two people to sit on comfortably. There is also a well sized balcony where you can gaze at a view of Brisbane below.
The bathroom is to the left of the door and there's a separate bath and shower and a glass wall that you can close off if you want privacy or open up if you want more light.
There is a set of MOR toiletries in a lovely floral Snow Gardenia scent on the sink and the G logo embroidered in gold on all towels, thick robes and slippers. There are two shower heads in the shower. Internet is fast and free for unlimited devices although it is not quite streamable quality.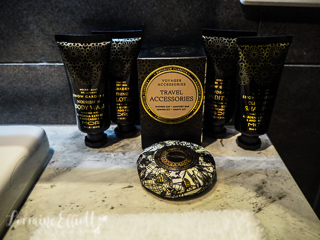 On the third floor is also where the sunset lounge is located. This affords great views over Brisbane come sunset and is an ideal vantage point when the sun starts to go down.
Because of the double glazing, comfortable bed with excellent pillows and sheets and surprisingly quiet ambiance I get some very good nights sleep while staying here. And there are nice touches like electronic do not disturb and room cleaning which I always prefer as this means that they are usually quite quick with servicing rooms.
Breakfast is downstairs at the seafood restaurant where you can sit indoors or outdoors. I take a seat at a table outside and order breakfast. I have a chai latte, juice and a prawn and chorizo omelette with finely chopped up prawn and chorizo in it. I think a bit of chilli would be nice to add to this.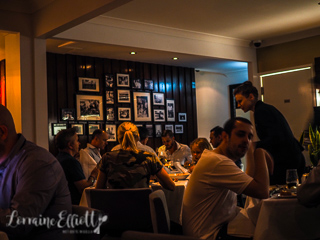 And if you're looking for a classic steakhouse meal, across the road is Black Hide Steakhouse by Gambaro. The family run restaurant was formerly a seafood store but this has moved across the road next to the hotel and in its place is a restaurant that serves great Queensland steaks.
There is a main dining room as well as a "knife" dining room where frequent customers have their personalised steak knives stored in the wall recesses.
For dinner I'm meeting Queen Viv's son Michael who lives in Brisbane. We take a seat in the main dining room at a corner table. We start with the calamari that is served lightly dusted in flour and fried until crispy and tender with caponata and fried capers for saltiness.
The Italian meatballs are perfectly sized beef and pork balls in a bed of rich tomato sauce and generous dusted in parmesan. These are tender and moreish and there's enough tomato sauce to dip the bread in.
But the item that is Gambaro's signature dish is the barbecue beef short ribs. They're deboned so that what is served is the juiciest, most divine melt in the mouth short ribs that have a lip smacking slightly sweet sauce on them. Although I just intend to try one, I find myself eating three of these they're so good. They are served with a fresh lime and chickpea cabbage salad that helps cut through the richness of the beef.
We're sharing a couple of steaks for our main. There's the Angus eye fillet 250g MB 3+ and a Wagyu Sirloin 300gm MB 5+. All of the beef is from Stanbroke, a Queensland based company that exports a lot of beef overseas. Both steaks are wonderful, juicy and full flavoured although for both of us the wagyu sirloin is the pick just slightly more for the luscious mouthfeel. I pair each bite with a different sauce-there's béarnaise, pepper and red wine (my favourite) and there is a range of condiments from mustard, hot English mustard, horseradish, jalapeno and their house barbecue which is nicely spicy.
This comes with two sides. There are fat hand cut chips with garlic aioli and a tomato mozzarella salad with cherry tomatoes, hand torn mozzarella, crunchy fried bread croutons and fresh basil.
And then it's dessert time! The first is a round of pavlova, all crunchy on the outside and soft on the inside with fresh raspberries and lemon that balances sweet and fruity well.
I get very excited when I see Paris-Brest on a menu. This hazelnut choux pastry, more the religieuse than the brest is a beauty. The choux pastry is crisp and filled with an intensely nutty hazelnut cream inside. There are dark roasted, chopped hazelnuts on the side as well as a scoop of ice cream. Heaven!
We have just a bit of time to pop into local institution Lefty's across the road. What was a former strip club has now turned into a gorgeous theatrical looking bar complete with live music, taxidermy and plenty of nooks and crannies to hide in and booths to slide into. And before we leave they give us a peek into their mermaid bar, a secret rum bar upstairs!
So tell me Dear Reader, what is your favourite steak to order and why? Do you eat it with a sauce or as it is?
Gambaro Hotel
33 Caxton St, Petrie Terrace QLD 4000
Phone: (07) 3369 9500
gambarohotel.com.au/
Black Hide by Gambaro
36 Caxton St, Petrie Terrace QLD 4000
Phone: (07) 3369 9500
Monday closed
Tuesday to Friday 11:30am–4pm, 5:30–11pm
Saturday 5:30–11pm
Sunday closed