For years and years I considered myself a true through city girl. I had no interest in visiting country areas and every time we would go away for a holiday I would zip off to some large city or an island and find joy there and I found that I left most of my very own country undiscovered. You see I thought that the country had nothing to offer me (well apart from a husband as Mr NQN is a country boy!)
Oh how I was wrong!
Now, ever since I started this job blogging full time over 2 years ago and have been privileged enough to visit country areas all around Australia, I keenly look forward to going to these areas. For starters, there is the connection to food producers that I look forward to. And country people are full of charm too-generally, what you see is what you get.  Then there is the rush of freedom. There's nothing quite like speeding away and leaving the city grind and gridlock behind and looking up at blue sky rushing past you, the smell of eucalypts, the green hued canopy of trees and the occasional car.
I don't know about you, but if I get on a flight and the seat next to me is vacant then I feel like the gods of travel are smiling on me. And if two seats are free, then I feel like I've won the lottery. Thankfully with the 4.30am start I have won the airline lottery and have two seats so I stretch out asleep and in what seems like moments later, I arrive in Brisbane airport where I meet the lovely Kerry, a blogger and a journalist who is our host for the trip!
We arrive at the Granite Belt just a few hours outside of Brisbane. The what belt you may ask as Mr NQN and I did when I first heard of the Granite Belt. It is Queensland's coolest area and one of high altitude- so cool in fact that they even have accommodation promotions where if the weather hits over 25 degrees celsius then your stay is free. And you know what cooler weather and high altitude means right? That's right, great produce! In fact it is the only area in Queensland that can grow apples and it grows about 80% of the all of the grapes for Queensland wines. Yes Queensland makes wine!
I'm only an hour ahead but you know me. It's an hour that stands between me and lunch and if you've ever wanted to see my head spin and the exorcist happen just stand between me and food. I'm glad when we arrive at Suttons, a lovely apple farm where you can do some apple picking and partake of a lusciously large apple pie. Now I know you've seen apple pies but have you seen anything as grand as theirs? A record 22 apples go into each of these pies and they're sharing the recipe with us!
"I said we'd never do tourism and then I said we'd never open a cafe" Ros Sutton, along with her husband David owns the Suttons apple farm. Granite Belt apples are usually marked when they feature in products as they are a hallmark of quality apples. They have many varieties of apple juices available as well as apple products. And their cafe is made up of home made goodies that change according to whatever is ripe or ready to be picked in the orchard. All of the food is made on the premises with nothing at all brought in including tomato sauce and spreads and chutneys.
But what to give some thirsty parched travellers than some lovely apple juice? There are several different varieties that they bottle and the first one we try is the Sundowner apple juice. I love apple juice that tastes like the juice that drips out of a juicy apple when you bite into it and this is just that. There is nothing like it and many supermarket brands taste like you've bitten into an apple that has gone brown.
Ros with her famous apple pie
The apple juice is pure juice and nothing else, no vitamin C acid or ascorbic acid or bentonite that helps to make the apple juice lighter in colour by clarifying it. Their apple juice is also cold pressed and they freeze the apples just prior to pressing. We try the summer delicious and a few others and they're all distinctly different but the Sundowner is my favourite. Customers can try any of their juices in the store before purchasing them and they retail for $4.50 per litre.
Apart from the apple juice they also make an apple jelly and a divine apple butter and apple chutney, apple cider (using an old English method and wild yeast) and apple brandy (whew! this is strong!) and apple vinegar which smells strong but tastes quite pleasant and mild-like salt and vinegar chips.
Ploughman's Platter
But enough of this juice, let's eat! I choose the ploughman's platter which features some gorgeous, perfectly cooked, tender corned beef, three relishes and pickles with the favourite being the cucumber relish, two types of cheeses and house baked bread which is soft and moreish. It's just the right size for someone like me that also wants a bit of variety.
Sausage roll $4
The beef sausage roll is homemade and housed in a flaky pastry. The mince is soft and it comes with a homemade tomato sauce.
Chicken sandwich
Lamb patty salad
Apple pie with apple cider ice cream $8.50
_
_
"Do you want to have dessert now or later?" "Now please!" we all say. After all we've been tempted by the sound of the apple cider ice cream and the sight of the beauteous apple pie. But not just that we also get to try the apple pancake, apple muffin and a peaches and cream cupcake made from fresh peaches in the garden. The apples are plentiful and custard powder in the pastry gives it a brighter yellow colour and a softness. The pie is very good, the apple pieces are a good texture and not too achingly sweet but I go a bit mad for the apple cider ice cream which is blissfully good.
Apple pancake $10
The apple pancake comes out as a thick pancake with grated apple in it and a vanilla ice cream also made for them by Lick. We pour the thick apple syrup on it which is an item that takes them 10 days to produce and reduces by 8 times with 4 kilos of apples used per bottle. The apple syrup has a slight acidity to it and complements the apple pancake and creaminess of the ice cream well and cutting into the pancake one can see how light and fluffy it is.
Apple muffin $5.50
The apple muffin is soft, fluffy and aerated and topped with a brown sugar streusel topping. I was rather taken by this especially with the cinnamoney apple butter and whipped cream.
_Peaches and cream cupcake _
There were slices of peach at the bottom of this cupcake and whilst it was fresh, I admit that I preferred the stronger flavours of the apple desserts.
A sign says pick your own apples for $2 a kilo. What a score! And if I'm going to make this apple pie I'd be better get going with picking 22 apples. Luckily my fellow traveller Jenna is an expert apple picker having picked apples for 3 years here and she shows me the rolling action needed. You literally roll the apple along the axis and the aim is to get the apple off with the stem attached which helps to keep it fresh.
And let me be honest, I'd probably be fired as an apple picker as I was so slow. I think Jenna picked about 16 of the 22 apples that I ended up with... David tell us to avoid the black spots and tells us that this is the first year that they've had black spot on the apples as it has been unseasonably warm and humid.
We have to hustle because our next stop is afternoon tea or more correctly a wine and cheese tasting at Summit wines which is one of James Halliday's favourite wineries. Started in 1997 it was formerly a vegetable patch it was bought by a group of four families who were serious wine drinkers as an wine making project that turned serious.
In 2000-2002 they started pressing their first grapes and now they press 50 tonne of grapes and bottle 40,000 bottles of wine which mostly goes to the local domestic market. The injection of European methods from their new winemaker Paola gives their new range gravity and depth.
We make our way into La Cave which is a warm, welcoming looking room which is set to a cool 16c temperature for their wines. There are some great matches including their verdelho with a blue vein stilton cheese. All of the cheese used in this tasting is from the Granite  Belt cheese company.
This whole thing...for moi?!
We pull up in front of our accommodation. Everyone is staying at different places and I happen to be staying at Olive Grove estate, which features 3-4 bedroom villas. Inside is modern and clean and the villa is built with an upstairs with the three bedrooms and downstairs with the living, kitchen, laundry and garage.
And thanks to Michelle from the local tourism board there is a container of freshly picked strawberries and muscatel grapes for us that were only picked that day. They are superbly fresh and I have to resist eating them as I know Mr NQN will want some (I do have moments of being a good wife ;) ). There is a bottle of complimentary chocolate port and the toiletries selection is quite comprehensive. A chocolate mint is left on the pillow on the first night and the apartments are serviced on every third or fourth day.
They are ideally suited for groups of 3 to 4 couples but that would also mean that you would have to share the time on the massage chair! Yep I used to leave Mr NQN sitting in these whenever I would go shopping at DJs and would find him happy as a clam half an hour later. Needless to say I am very happy when I see that I have one.
Despite the fact that this sky photo looks very ominous, it was actually a lovely slightly cool evening. We make our way to Shiraz restaurant where we are to start the evening's eating with some canapes and wine. Yep they love their wine here!
Oysters
The oysters are fresh and briney and topped with sashimi salmon, creme fraiche, caviar and dill (although this isn't quite dill). I love oysters and these are very good indeed although I always prefer them just fresh without adornments. Did I really just say that and eschew caviar?
Scallop
The scallop is ambrosial. It sits on a bed of creamy, thick puree and is topped with fried leeks and caviar. Yes a dozen of these plates and I'd be happy. It is usually served as an entree with four of these.
Mushrooms
The mushrooms were stuffed with a rich cheese sauce and are moreish although I do resist-after all I know that there is dinner up next and then I see the next item coming to the table...
Lamb cutlets
Succulent lamb cutlets with a thick yogurt sauce! I must have looked as if I were in heaven when eating these because I am offered the last one by my fellow dining companions. The lamb is perfectly cooked and I pick up each piece by my fingers and eat heartily.
Our last stop is at Vineyard Cottages and Cafe where we'll have our main and dessert and our last stop for the night. It's a lovely converted church with pretty stained glass windows. Inside it is welcoming with owners having taken this over in the past 6 months. Chef David Black turns out lovely, honest country fare but with a twist and things such as pork belly, duck and steak feature as well as unusual accompaniments such as a butterscotch jus roti. Their emphasis here is on local food and from all research with customers, they want to know more about where the food comes from and how it has been treated. Grass and pasture fed beef is particularly popular here.
Salad: Home grown figs, pancetta, walnuts, Brass Monkey Blue,LiraH cider dressing $16
I know we have already had an entree at Shiraz but I figure if we order this as a salad to go with our mains this wouldn't be so silly would it? I happen to be an utter fig addict-I wish I was Italian so that my parents would grow a fig tree in our backyard and I could snatch dozens of them come summer. So when I hear that these are figs picked just today from their tree and home cured pancetta I have to try it. Some of the figs are just right and some are a little underripe but the pancetta is very good indeed with a lovely concentration of flavour.
Winemaker Adrian Tobin
Joining us this evening is Adrian Tobin and his wife Frances. Adrian's winemaking is a passion of his and he is what others may consider a purist. He does small runs-some varieties have as small a run as 600 or so bottles. His emphasis is on premium wines and everything is done with style. He is also famous for this dry rock wall which he built himself which reaches over 1200 metres in total. Mr NQN would go nuts for this wall...
Tobin wine bottle
Individually numbered bottles
Pork: Twice cooked Pasture Perfect Berkshire pork belly, warm potato and pudding salad "ala Waldorf" $33
I did manage to steal some of Michelle's plate of pork and it was divinely soft. Pasture Perfect pork is gorgeous pork and I met the producers in our Tamworth speed dating ahem speed eating event. The pork comes from free range Berkshire/Kurobuta pigs whose meat is more marbled, redder in appearance and higher in omega fatty acids. It is served with a crushed warm potato salad, slices of black pudding and they just combine beautifully.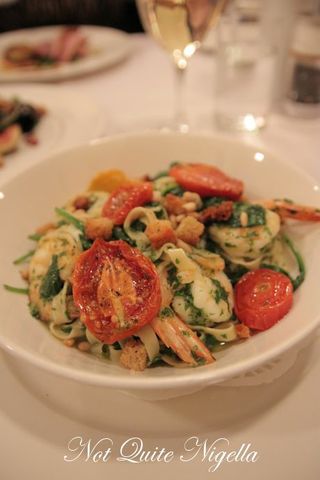 Prawns: Wild caught banana prawns, fettuccine, Heritage tomatoes, gremolata, pine nuts , spinach and croutons $36
My main is the wild caught banana prawn with fettuccine, semi dried heritage tomatoes, gremolata, pinenuts, spinach and croutons which is good. There is a generous amount of prawns, and the fettuccine, whilst not quite house made is al dente. The red and yellow heritage tomatoes combine with the garlickly, oily gremolata and croutons which give the dish some crunch. There is a slightly sour taste to it, perhaps it's the verjuice whereas I would have perhaps preferred lemon as a natural pairing to prawns as verjus has a different sort of sourness. I do like the generous amount of spinach in it too.
Lamb: Braised shoulder and grilled rump steak of Mallow Organic lamb, Mediterranean vegetables, crushed potatoes and LiraH balsamic $36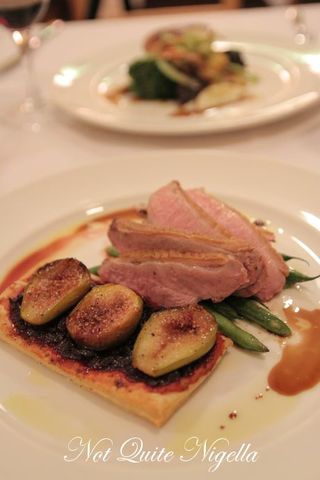 Duck: Pan fried Lockyer Valley duck breast, homegrown beetroot and fig tartlet $34
Eye Fillet 200g: Dalveen grass fed, Angus X Charolais 38
Seasonal fruit & nut crumble with cinnamon anglaise 14
I was going to order the peaches with the butterscotch jus roti but I have the need to try  crumble. They have two flavours: rhubarb or plum and I choose the rhubarb. This comes out just like I like it- like  a brulee where you get maximum topping. For me I just love the buttery, sugary nutty topping. This one features toasted almonds, oats and brown sugar on the top and is just lovely with the cinnamon creme anglaise. The rhubarb is just the right amount of sweetness and again it's all about the ratios as this has the right ratio of delectable topping to fruit.
Apple and blackberry pie with orange cardamom ice-cream $14
Vineyard Cottages Crème Brulee - scented with lavender served with Severnbrae honey "mead-elines" $ 15
Vanilla roast peaches, butterscotch jus roti, lemon verbena ice-cream, biscotti $15
Can you believe that we ate all of this in one day? OK that was perhaps why the treadmill from yesterday's story was needed! ;)
So tell me Dear Reader, do you like visiting the country?_
_
_ _
Chef David Black
NQN travelled to and explored The Granite Belt as a guest of Tourism Queensland
Suttons Juice Factory & Cidery
10 Halloran Drive, Thulimbah, QLD
Website - www.suttonsfarm.com.au
Phone +61 7 4685 2464
Open 7 days
Summit Estate
291 Granite Belt Drive, Thulimbah QLD
Phone +61 (07) 4683 2011
www.summitestate.com.au
Olive Grove Estate
Website www.olivegroveestate.com.au
5 Harris Street, Stanthorpe QLD 4380
Phone+61 61 7 4681 0133
Shiraz Fine Foods
28200 New England Highway, Ballandean Qld 4382
Phone +61 61 7 4684 1000
Vineyard Cottages & Cafe
Website www.vineyardcottages.com.au
28126 New England Highway, Ballandean QLD
Phone +61 7 4684 1270