There is one thing I never do when I eat out. It's dine alone. Call it extreme self consciousness combined with the fact that the best meals to me are the ones shared with friends or in company. My mind automatically thinks that people will stare (and let's face it they stare enough when the camera comes out) and they may think "Poor girl, she has no friends." I know it's silly, after all many people that travel dine solo. But just not me. Until tonight.
Through lack of organisation on my part I find myself in Brisbane one evening without a date. When I walk into The Euro on Mary Street they ask me where I'd like to sit. Apparently solo diners like sitting at the bar but I want somewhere where there is good light. The best light is of course at the table at the very front of the restaurant in the window. Of course! ;)
Euro is the more casual version of the 10 year old restaurant Urbane which is a fine dining affair (complete with a dessert degustation-lust!). Sitting side by side The Euro has an attractive design with a metal door with cut outs of knives, carrots, duck and pretty much anything you might find on their menu there. The design aesthetic goes through to their menus and coasters which feature a genuine Russian matchbox cover.
Jamon, manchego and pea croquettes (2) with green chilli mayonnaise $11
Listed under amuse bouche, this course, usually complimentary, the amuse is an item that you pay for (I think they'd do better listing this under appetiser). These are more substantial than a typical amuse though which often fits in a shot glass and these are more tapas style sizes. I start with the crunchy deep fried golden balls filled with jamon, manchego cheese and green pea which sit on a green chilli mayonnaise. They're wonderfully crunchy and addictive although I don't really get much of a chilli kick from the green chilli mayonnaise which would have been lovely.
Veal carpaccio
The veal carpaccio is appealingly pink centred with carrots in several forms: dried carrot and carrot jam and fossilized carrots. What? Fossilized carrots? Yes not carrots dug up from prehistoric times, instead they're carrots that have been kept in a calcium dioxide solution for 24 hours to have all of their pectin removed. They then add moisture back into the carrots and scrape out the inside and then the outer is deep fried and served to give the dish crunch. The crunch from the bark like fossilized carrots and the thin croutons does add a nice crunch as well as the crumbs and the creamy labne and tender thinly sliced veal.
Hervey Bay Scallops
A gift from the kitchen this is apparently not on the menu which is  a shame as it's really good. The Hervey Bay scallops are succulent and plump and are topped and tailed with thin slices of granny smith apple and topped with deep fried chicken skin. Don't get me started on chicken skin, I love the stuff and all three elements work well together and they do need each other to balance the crunchiness, sweetness and tanginess.
Tortellini of pumpkin, with maple braised pumpkin, organic goats curd, candied walnuts, almonds and shaved roasted chestnuts $26
I had to stare at this dish for a few moments as it was almost too pretty to eat. Well almost right? ;) Said to be one of their star dishes this was five plump delicate skinned tortellini filled with silky smooth pumpkin puree along maple braised pumpkin chunks, herbed organic goats curds, a veritable bushel of candied walnuts, toasted almonds and thinly sliced roasted chestnuts. And to top the whole shebang off there's the come hither aroma of browned butter. I mean if there was a fragrance that I would wear it would probably be nutty browned butter. The only criticism of it was that there was almost too much candied walnut for the ratio but if Mr NQN were here with me he'd just polish off the extra quite happily.
Reef fish, ragù of mushrooms and crisp duck leg, chestnut velouté $36
The main came out next and it was red emperor fish, succulent and tender with a sprinkling of garlic chives and splodges of potato puree and a ragu of crisp duck leg with mushrooms. As much as I loved the simplicity of the fish (and that's how I love fish done) the ragu totally won me over with its rich flavours from the double duck stock, thyme, garlic and butter. I know duck and fish aren't usually served together-perhaps this is a modern version of the surf and turf. The dish is finished with thinly sliced dehydrated red onion and charred leeks and in the onion cups are a foamy chestnut veloute.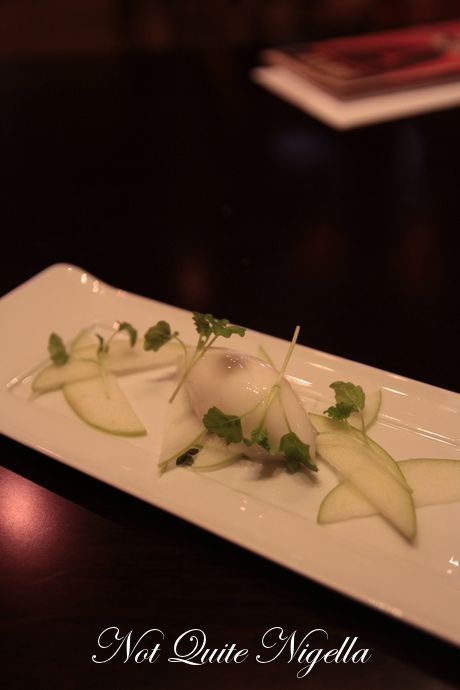 Apple, marjoram and lemon balm sorbet
A pre dessert this was very refreshing with the lemon balm sorbet, thin slices of granny smith apple and marjoram.
Banana whip, caramel, hazelnut crumb and chocolate gelato $15
I couldn't resist the sound of the banana whip and it is fresh banana and vanilla whizzed around in a paco jet (normally an ice cream maker) served like a mousse. The banana whip itself is not particularly dessert sweet and it tastes just like fresh banana. The part that stole the show for me was the sublime chocolate gelato which was just the right level of sweetness with a velvety smoothness.
So tell me Dear Reader, do you feel comfortable dining alone? And if you could wear one food fragrance, what would it be?
The bar
NQN dined as a guest of The Euro and travelled to Queensland as a guest of Tourism Queensland
The Euro
181 Mary Street, Brisbane, Qld
Tel: +61 7 3229 3686