Dear Readers. while I am writing to you I am vibrating. I should clarify I suppose and no I haven't stumbled upon some untoward establishment in Brisbane's Granite Belt. I am writing to you from the comfort of my vibrating chair at my accommodation at Olive Grove Rstates. and whilst I admit I haven't been out there in the mines or doing hard labour, it is a welcome way to relax after a busy day.
So what exactly have I done in labour to deserve this treat? Well nothing too taxing mind you, more fun if anything. We started the day off at Mason's winery where Jim and Brandy Salmon (how's that for a rock star name?) operate a vineyard, cellar door and accommodation. They starting growing grapes about six years ago and the winery itself is just three years old with some 10 year old vines.
Brandy Salmon
"Would you like a coffee or tea or would you like to start with the mimosa?" Jim asks. Well orange and champagne pretty much trumps it for most (although I do have to slip in an order for Earl Grey tea).
Mimosa cocktail
_ _The Mimosa cocktail is made with Mason Wines Davadi sparkling chardonnay and a lovely freshly squeezed orange juice.
Creamy scrambled eggs served on brown toast with smoked salmon and oven roasted roma tomato and fresh basil
The eggs are generously portioned (and I have to pace myself-after all there is a third course!) and come with two pieces of smoked salmon and gorgeous sweet semi dried roma tomatoes (we're in roma tomato country apparently) on a thick, high wedge of lightly toasted bread. The eggs are lovely and creamy and of course pairing it with smoked salmon is a classic combination.
Late summer berry cobbler served warm with a jar of heavy cream on the side
"A jug of heavy cream on the side". Yep that them there are happy words albeit not very diet conscious! ;) I used to make cobbler for a living and here they do a fabulous mixed berry cobbler. The star is the cobbler topping which is like a pie topping but here they sprinkled demerara sugar on top to give it an added crunch. I'm stealing that tip for when I make cobbler again ;)
Lavender Cheesecake
Brandy has had a former career in restaurateur in Sequim near Seattle Washington which is only about 75 miles from where the book Twilight was set and she used a lot of lavender in her cooking. We asked if it was possible to squeeze in a bit of her famous lavender and lemon cheesecake and she obliges. She brings out a slice as well as the recipe for us! The cheesecake is smooth and scented with lemon-the lavender appears more in the cream topping although in the recipe it is in the cake. She decorates the edge of the cake with a pretty whipped cream collar too-ok I'm pinching that decorating tip!
We must depart as we're off to our next stop, observing some winemakers for a weekend. This is a class that is held every weekend at the Queensland College of Wine tourism. Now wine buffs you might be scratching your head at the idea of Queensland wines. I must admit that I knew nothing about Queensland wines as the industry is quite young and most of the product never makes it across the border. Still they're passionate about their wines here in the Granite Belt as it is the coolest area temperature wise in Queensland.
The QCWT started four years ago as a joint venture between the Queensland Department of Education and Training and the University of Southern Queensland. High school students from the neighbouring high schools can also do course work here. Cann you imagine how much fun this would be in high School? except of course they can't technically taste anything that they make... This was the first college that combined wine, tourism and food and they realised that they needed to address wine as a tourism concept. 80% of the wine in Queensland is sold through cellar doors.
They're mid class at the moment and about to pick some grapes to crush. Peter Orr from Felsberg winery who is himself from the Hunter Valley shows us the correct way to cut the bunches of grapes. The snips are very sharp and can cut through to the bones on fingers so you find the bunch you want and find where the stem is and snip-and if you can't see the point end of the snips, then don't snip as you never know where your fingers are in a grapevine!
Kerry and I pair up and we call our team the "Bloggers". We are to crush the grapes with our hands and sadly not our feet which I was actually hoping to do this one day. But first things first. how do you tell if a grape is ripe enough to harvest for wine? Before they start, winemakers have a style of wine and an alcohol level that they want to make. They then test the grapes to see whether they are right for this wine. This can be done several ways. First you can press down on a whole grape gently and if it springs up to its original shape then it needs more time on the vine. If the skin is crunchy then it needs more time and if the seeds inside are green instead of brown they need more time on the vine too.
Also removing on grape from the bunch and seeing how much pulp remains on the stem is a good indicator. Here we are testing out chardonnay grapes to see if they are ready. They use a beaumais scale and one point on the BM scale equals 1% of alcohol. For a chardonnay we would want it to be a 12 beaumais.
Kerry and I drain the mushed up grapes and extract the juice. We pour it into a pipette and add the beaumais reader swirling it around to get rid of any air bubbles. Peter then tells us that the team that measures the correct beaumais reading to his gets a bottle of wine each. Kerry and I go last as we were too busy taking photos (oops!) and we clock in our measurement of 10.6. The answers range from 10 to 13 and Peter reveals the correct beaumais to be 10.7 which is closest to ours. Hooray! Wine!
But before you think my head gets too big, we're off to the science lab. Images of my former science teachers flash through my mind. We are to taste three white wines and three red wines. Here they like to highlight diversity by focusing on the "Strange Birds" variety which targets grape varieties that make up less than 1% of Australia's total grape varieties.
We won!
We are going to be taught how to taste wine from a sensory assessment perspective rather than a hedonsists perspective (i.e. wine judging tasting to just regular drinking of wine). The first thing that judges mark on is colour and appearance. We hold a glass horizontally and look at the colour, a younger wine should have an almost green colour and as the wine ages it from green to pale yellow to straw to yellow to gold to orange. When we hold the glass over the paper we should look at the colour at the top of the tongue shape that the wine makes and that is the colour we judge it on. We're trying a marsanne from Victoria.
The second thing that wine is judged on is nose which is marked out of 7. Nose can be broken down into aroma which comes from the winemaking process and bouquet which comes from the grape itself. The last aspect is of course the taste which accounts for 10 points making it a grand total out of 20. Most wines score between 14-15.4 with a bronze being awarded for a 15.5-16.9, silver for 17-18.4 and gold for 18.5-20.
We then try some red wines where Peter asks us to guess which one is a tempranillo, pinot noir and a petit verdot. He starts by asking us what are the characteristics of each wine before taking guesses. My fellow traveller Jenna nails it straight away and she gets a bottle of wine! But that's enough school, it's time for some lunch.
We have a two course lunch (good thing as I'm still full from breakfast) which consists of a main with three separate components each matched to a wine.
Duck spring roll and salad served with Banca Ridge 2010 Rose
My favourite item from the three was the roasted duck and summer vegetables wrapped in spring roll pastry and served with a sticky orange and cardamom sauce and a salad. Despite the fact that I didn't feel like something deep fried the blend of flavours in the spring roll were excellent with soft duck and crunchy vegetables and a crunchy coating on the outside. The accompanying salad was quickly wolfed down and it was generous in creamy feta, tomatoes, cucumber and onion.
Prawns served with a Banca ridge 2009 semillon
The Australian green tiger prawns wrapped in prosciutto and grilled, served on steamed jasmine rice and coated in a sweet pineapple salsa are too salty for me. I also didn't go for the pineapple salsa that went with this too.
French trimmed lamb cutlet marinated in Mediterranean spices, char grilled til pink and served on a fattoush salad with tzatziki dressing.
The lamb cutlet was spiced in what tasted more to me as Moroccan spices rather than Mediterranean spices and it was juicy although my piece wasn't very pink as it was cooked through. It came with a fattush bread salad and a tzatziki yogurt dressing.
Apple pudding
The apple pudding was an ramekin of sweetened apple slices with a topping of crunchy butterered breadcrumbs and a pot of vanilla egg custard.
And if you don't believe me, we're in for one last stop for the afternoon before we have a little break. An award winning berry farm called Bramble Patch which lies at the end of a road paved with rhymes on signs. Their speciality is pretty much anything that you can put in a jar or bottle and they have 50 products in their range. They use the fruit that they grow as well as other local fruit. We sample a variety of their jams including their award winning eggplant kasundi which is similar to a lime pickle.
The Stirling family
The picks are a gorgeous raspberry vinegar which I buy to give to Queen Viv as she has a memory of a delicious NZ raspberry vinegar which is so lovely you could really just drink it. The red capsicum relish is wonderful in its flavour and versatility. But perhaps Hayley could see our eyes looking towards the "Iceburger".
Ice burger $8
Yep ice burger is an enormous ice cream sandwich made up of a double layered chocolate sponge filled with a blackberry, raspberry and boysenberry sorbet and vanilla ice cream with a raspberry sauce on top. It's ginormous but the berry sorbet and the sauce stop it from becoming too sweet while the sponge is light and fluffy. The sponge is heated and served warm while the ice cream trickles down the side.
Waffles with berry compote $8
The Belgian style waffle has berry sauce poured over it and a scoop of vanilla ice cream. It is perhaps a bit too tart for me, I prefer really sweet waffles and sauce as a combination although non sweet lovers would probably go for this.
After I reluctantly get off the vibrating chair, I head off to dinner. We're headed to the Felsberg winery which is owned by today's winemaker Peter and his wife Karen and it is housed in a magnificent building on a granite hillside at an altitude of 875 metres above sea level.
We start off with a wine tasting. I'd love to partake but as I've tried so many today I don't think my body could cope (I know, terrible isn't it?). We also try some Mt. Stirling olives who have 3,500 trees plus a nursery at their site. The olives are really interesting-they are very soft in texture and unlike any other olive I've tried-it's almost like a ripe tomato in texture!
We also try some Granite Belt Dairy cheese including a washed rind, cheddar and a blue accompanied by the Jam Factory's quince paste. I particularly like the washed rind and the paste or the blue with the fig without the cracker. They are said to be Queensland's coldest and highest dairy farm with an altitude of 925metres and night-time lows of -9C in winter. This is Queensland don't forget so cold weather is not common in the state!
We meet the chef Tony who comes from many stints overseas and here in Queensland. He tells us excitedly about his plans to grow his first truffles this year as well as purple congo potatoes and saffron. We've been eating a lot today so they give us smaller sizes of the food.
Quail
I order the quail for my entree which is cooked in maple syrup. It's wonderfully tender and juicy and these quails are quite meaty too and not the smaller stringier quails. The maple syrup is just the right amount of sweetness never verging into too sweet and in fact you can't really taste the maple flavour it is so subtly sweet. The couscous has eggplant, Spanish onion and chickpeas and is wonderfully flavoured throughout.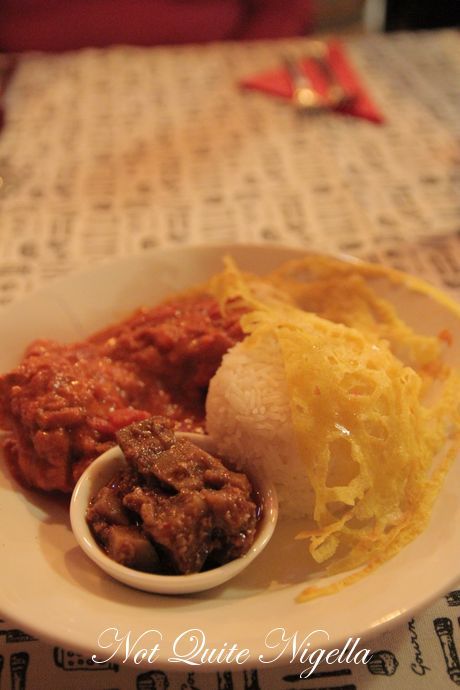 Fragrant butter chicken curry with lace roti $16 entree size
We're crossing India with Malaysia here with this dish. The Indian butter chicken curry is divine and lightly spiced and is accompanied by an absolutely heavenly eggplant chutney. Tony's experience with Asian food really comes to the fore here. I didn't try the lace roti but Tiana tells me that it was very good indeed.
Japanese Miso burger $20
I was torn between this and the duck pie but I am glad that I ordered this as it was the perfect thing that my body needed. It was a low fat beef mince patty (usually two of these are given for the price of $20) and it is flavoured with a lovely balance of ginger, garlic and miso. The clincher for me though was the cabbage salad with house made wafu dressing which is one of my favourite salad dressings. It's a Japanese vinaigrette dressing made with sesame, soy, vinegar, lemon and oil and the thinly sliced red and white cabbage just dances with flavour.
Latte cheesecake $7.50
Ahh you saw my ulterior motive for ordering the salad didn't you? Well I figured that if I ate salad I could have the latte cheesecake for dessert. It's fabulous with a cloud like tiramisu top with a lovely, bold, creamy coffee flavour on the bottom but it is never too strong. This was a definite hit.
White chocolate and pistachio tart $7.50
The other one that was equally as swoonworthy was the white chocolate and pistachio tart. The filling is fudgey and gorgeous and with a wonderful balance of the nutty pistachios and a creamy white chocolate ganache filling. And yes I can confirm that I slept like a baby that night.
The next morning we get a little sleep in and depart at 9am for our final day on the Granite Belt. Our first stop is the Hidden Creek Winery & Cafe in Ballandean. But before that, Magic Michelle has arranged for us to have a look at a converted train carriage at Harrington Glen! There are three bedrooms and three bathrooms and pulling up to it we see that it is indeed a converted train carriage! Isn't it special!
They say that being in the country makes you hungry and it's true although I know that I have to pace myself today as lunch is just a couple of hours after breakfast. Our breakfast is at Hidden Creek's Cafe where a lovely couple Therese and Michael Lynch serve up home made delights. Therese is the baker here and she makes the breads. They use local and house made products as much as possible which is quite common here in the Granite Belt.
We start with a refreshing cloudy apple juice which is just divine.
French crepes with local peaches poached in Hidden Creek Moscato and raspberry yogurt
The crepes are fantastic-perfectly thin with a lovely crisp edge to them they are served with a moreish, sweet, thick raspberry yogurt and lovely poached peaches that have a hint still of the sweet dessert moscato.
Scrambled eggs and prosciutto on toasted home baked foccacia
The star of this plate is the prosciutto which is addictive stuff. The eggs are also good although I do wish we had a little butter or oil on the foccacia as I do love buttery toast. A sweet cherry tomato tops off the plate.
And guess what Michelle has brought? A tray of figs! Yes it turns out that here you can buy a tray like there for a mere fraction of what we pay back home! swwoooon Thankyou Michelle!
Joining us for Breakfast is Hidden Creek winemaker Jim Barnes whose winery James Halliday has rated 4.5 stars out of 5. Jim tells us that even thought most of Queensland's wines don't make it outside Queensland, in five years or so when they can produce enough to meet demand they may look at taking it out of state. Even now some restaurants have approached them asking for the wine.
He explains about the strange bird trail which is a collective of wineries with alternative wines established in 2007. Some grape varieties are quite unheard of here such as jacquez, barbera, sylvaner, tannat and nebbiolo and they have created a brochure which explains a bit about each grape variety and how to pronounce it and what it is best served with. The varieties must represent less than 1% of Australian grape production to qualify for strange bird status and some grape varieties like pinot gris which have now become popular are now moved out of the strange bird status as they are no longer an alternative varietal. It reminds me of the rediscovery of heirloom breeds of vegetables.
Well you guessed it, we're off onto our next stop and it's lunch believe it or not! We arrive at Ballandean Estate, the oldest family owned and operated winery in Queensland. It is owned by the Sicilian Puglisi family who great grandfather Salvatore Cardillo bought the Scottish named estate in 1929.
And you know what Sicilians are good at right? Food and feeding people. In fact what we initially thought was a five course lunch ends up being a nine course lunch. We're lucky enough to get a preview of their Pranzo Italiano (lunch in Italian)  where you can have a nine course lunch like this with table wine for a mere $40 per person.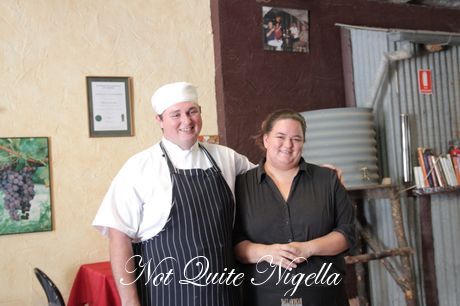 Matt and Bobbi-Lee Wells
Antipasto
Leanne from the Puglisi family joins us for lunch. The antipasto plate is full of flavours and textures. The chef Matt Wells and his wife Bobbi-Lee run the restaurant and he explains that everything is made on the premises. There are marinated olives and capsicum (the capsicum is divine and they sell it in their store), a garlicky eggplant dip, prosciutto, spicy salami, foccacia, marinated octopus and confit tomatoes. I chuckle at how they've naughtily sneaked in extra courses (two for each course number-so Italian!) so I try not to go back for more but the marinated capsicum and eggplant dip are just so, so good.
Prosciotto, pumpkin, mozzarella, thyme arancini
I do like arancini balls but I prefer them with the crust a bit crunchier and there was a bit too much thyme in this for me. I think a bit more melted mozzarella strands might have been good too or even a gooey mozzarella centre.
Field mushroom and truffle infused soup
This was heaven and hands down the richest, more flavoursome mushroom soup I've had. When Bobbi-Lee set it down she said "This is the best mushroom soup you'll ever have" and of course I figured everyone probably says that but it is absolutely amazing. And they always get requests for the recipe and the chef Matt's response is "Sure, but you have to join a cooking class." I give them "But I live in Sydney!" excuse and a recipe is sent to me. And with their permission I'll share it with your Dear Reader in an upcoming recipe post because it will become your favourite mushroom soup too I think ;) It's strong with truffle and mushroom and is so lovely and creamy and powerful that you remember it for ages afterwards.
Seafood risottto with lemon and mascarpone
The creamy, lemony seafood risotto has a slight bite to the rice. The prawns and scallops are perfectly done with that succulence that you just can't beat and the amount of scallops is generous.
Spinach and ricotta cannelloni
The cannelloni is good but I get some lemon flavour in it which is a little unusual and I don't find really suits the cannelloni.
Braised lamb shanks with confit garlic mash, green beans and onion jam
Holy heavens these were wonderful. Slow, slow cooked the meat falls off the bone and is deposited into the rich, thick sticky sauce. And yes I went back for seconds of this. I figure that I'm not going to be fed on the plane although if I were really smart, I'd just ask them to put some in a takeaway box for the flight and risk the glares of other hungry passengers that have bought extortionately priced sandwiches.
Roasted pork medallion, gorgonzola polenta, braised red cabbage and figs
OK time to fess up. I ate some of the figs that were in the fruit bowl on the table (although they said I could Your Honour!). The polenta gorgonzola is wonderfully creamy with a hint of the lovely blue cheese and the pork gets a welcome sweetness from the braised red cabbage and figs.
Tiramisu
As you might have guessed, I had little to no space for the dessert but of course I had to try it right? The tiramisu is soft, creamy and boozy with a strong liqueur flavour in it.  It is paired with muscatels and a separate serve of coffee gelato which has chunks of dark chocolate throughout it.
Crostoli
Those of you that have had crostoli in packets won't be too impressed by the idea of crostoli but once you've had freshly fried crostoli it's an entirely different matter. Crispy, light and sweet they're moreish to the end. And yes this whole meal was $40 per person (the next one is in July)! Leanne also tells us of a new programme that they are starting tentatively named "The Italian Cousins" where three times a year, members get a recipe and ingredients for the recipes as well as half a dozen bottles of wine. There will be an annual family reunion and every two years they will guide a trip to Italy.
Mt Stirling Olives
Our very last stop in the Granite Belt is at Mount Stirling Olives which we tried last night at Felsberg. We tried their manzanillo olives which are very soft but they also have a variety of other olives to try too as well as the most expressive looking dog!
There is also quite a shop there with all means of olive themed and not goodies. I pick up a Scandinavian looking bowl set and a pate knife as well as an item that Kerry recommended to me and I adored the second that I tried it which was their Mt Stirling Asian dressing. Made with their olive oil and actually produced by them by Bramble Patch it is so good that I buy a three pack.
OK that's enough dog photos!
It's a goodbye to the Granite Belt now and that should be the end of the story shouldn't it? But as often happens, things don't always go as planned. On our drive home we stop behind a long trail of cars on the Cunningham Highway. A semi trailer has overturned only 15 minutes before we arrived and we lose an hour waiting for the RTA to turn up. Luckily no-one is hurt. Kerry calls Michelle who calls us back telling us that we will get a police escort out of there although the police officer that drives up to us seems reluctant to do so so we wait. Ah well, we were all excited there for a moment! :P
I check in online in the car on my iPad and we make it to the airport a few hours later with not a minute to spare. And they say that life is an adventure and that my Dear Readers it is!
So tell me Dear Reader, have you ever had a police escort and if so, tell me all about it!
NQN explored the Granite Belt as a guest of Tourism Queensland
Masons Cellar Door Cafe
27850 New England Highway
Website www.masonwines.com.au
Phone+61 7 4684 1341
QCWT
22 Caves Road
Stanthorpe Queensland 4380
Phone: +61 7 4685 5050
www.usq.edu.au/qcwt/contact
Bramble Patch
381 Townsend Rd, Glen Aplin
Website www.bramblepatch.com.au
Phone+61 61 7 4683 4205
Felsberg Winery & Bell Tower Cafe
Felsberg Winery
116 Townsend Rd, Glen Aplin
Website www.felsberg.com.au
Phone +61 (0)7 4683 4332
Hidden Creek Cafe & Winery
Hidden Creek, Eukey Rd, Ballandean
Website www.hiddencreek.com.au
Phone+61 61 7 4684 1383
Ballandean Estate
354 Sundown Rd, Ballandean
Website www.ballandeanestate.com
Phone+61 7 4684 1226
Mt Stirling Olives
Collins Road, Glen Aplin QLD
Phone: +61 7 4683 4270