The United Los Angeles terminal 7 lounge is a boutique sized lounge conveniently located near the gates for international flights. Take a look to see what's on offer in the a la carte dining room!
Please note that this story was written before the start of the COVID pandemic but the lounge featured is still in operation.
Al I can think about at this hour after spending all day running around LA is a shower. As we have arrived around 8pm the staff gently remind us that the dining room closes at 9pm while the shower suites close at 9.30pm. Eat or shower? It's a tough one.
We quickly order our meals. Our group orders Paper Plane cocktails made with Amaro, Aperol, bourbon and lemon juice with a tiny paper planes as well as glasses of Piper Heidsieck. The menu at each lounge changes according to each location and this one reflects the diversity of Los Angeles.
Pupusa
There are items like pupasas (masa cakes) with tomato concasse, cortido of cabbage, carrot, onion, oregano and lime juice and stuffed with sautéed soyrizo (a soy based chorizo) and Monterey Jack cheese. This is quite mild in flavour but once you add a bit of seasoning it's tasty.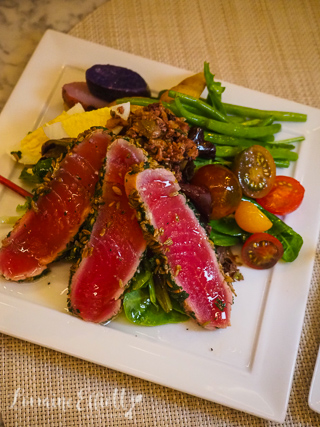 Ahi Tuna Nicoise Salad
The offerings are on the whole fresh and tasty. This ahi tuna nicoise salad has seared ahi tuna, mixed greens, fennel, a big scoop of olive tapenade, cherry tomatoes and a boiled egg.
Fried Halloumi & Shaved Heirloom Salad
We also tried the pan fried halloumi salad with a pickled heirloom carrot shavings and a whole grain mustard vinaigrette.
Mexican Street Corn
There's also Mexican street corn with buttered corn, tapatio mayo, cojita, cilantro and lime. Like the pupusa once it has seasoning added it's very tasty.
Cauliflower Crust Pizza
Hey it's LA so pizzas come as cauliflower crust pizzas. This one is topped with burrata, tomato, cauliflower florets and basil.
United Polaris Burger
And of course the United Polaris burger makes an appearance. It's a beef patty with cheddar cheese, lettuce, tomato, pickled red onion, aioli, bacon and a fried egg on a brioche bun with sweet potato fries. It hits the spot and I can see why it's so popular.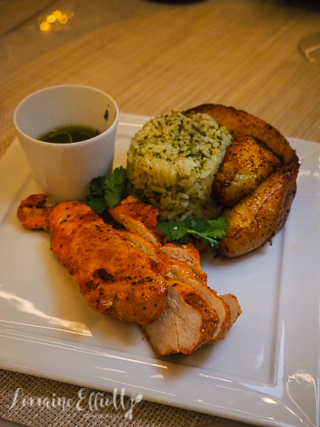 Adobo Roasted Chicken Breast
Out of everything though my pick is the spiced adobo chicken breast with a timbale of chimichurri rice, pickled red onion and roasted plantains. The chicken is moist with a lot of flavour and we give it extra points considering we arrived just as the kitchen was about to close.
Double Chocolate Skillet Cookie
And dessert wise we can't resist ordering the signature skillet cookie. It's a double chocolate skillet cookie with vanilla ice cream and orange blossom white chocolate sauce.
Chocolate, Cinnamon and Habanero Pudding
I adore the chocolate habanero cinnamon pudding that is aromatically spicy.
If the dining room is full as it is quite small, the buffet offers a tasty range of food like matcha pudding trifles with red bean, bbq chicken salad sliders, adorably cute campfire cupcakes and snap pea, watermelon, radish and feta salad.
I quickly have a shower - it's best to put your name in the line before 9pm to ensure that you get a shower because if there are no showers available at 9:30pm then you will miss out and there are only six showers available.
The bathrooms are spacious with plenty of room to get dressed. They have all the basic amenities like shampoo, conditioner, body wash, soap and lotion and any additional items like hair straighteners, vanity kits and dental kits etc can be requested by the staff.
Each shower had two types of shower heads and I enjoy washing off the grime from the day out with the loofah provided. The sink taps work automatically and there are slippers and Saks fifth avenue towels and mats.
Next to the six showers are two sleep suites where guests can have a 45 minute nap. In each sleep suite is a clock, eye mask, sleep spray and water.
There's also a larger lounge area with a bar attached to it past the fruit and hydration station. This offers tea, water, juices and fruit. After my shower I am fed, watered and clean and ready for the flight home.
So tell me Dear Reader, if given a choice of eating or showering before a flight, which would you choose? Do you have a favourite airline lounge?
NQN was a guest of United Airlines but all opinions remain her own.
United Terminal 7 Polaris Lounge
https://www.united.com/en/au