It has been a while since I last visited Chatswood. It's the lure of noodles that puts Mama Mulan on my radar (Mr NQN is team dumplings, I'm team noodles). But the way to Mama Mulan is not immediately obvious. I find myself pressing the car park elevator button trying to get up to level 1. Then a text arrives with instructions to head towards Willoughby library and use their elevators to find my way there.
Located a level above the library, the restaurant sits all on its lonesome at the base of a block of apartments. It's surprisingly busy without any foot traffic passing.
I am seated in the light soaked "outdoor" section (not outdoor but they keep referring to it as that) and wait for Mr NQN, Louise and Viggo to arrive. Service is sweet and helpful but later, when the restaurant is heaving, there aren't quite enough floor staff so tables are half cleared and the bill requires a couple of prompts.
So the noodles...well the bad news is that they're only available at lunchtime because they are hand pulled noodles. The good news is you can order vermicelli noodles with your live tank seafood if you wish but they're not the same as the lunchtime noodles.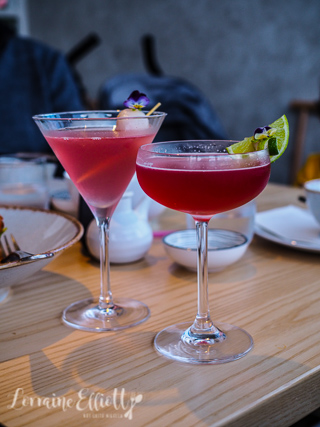 We order a couple of cocktails: a Mama Mulan for Mr NQN (Paraiso lychee liquor, Vodka O, martini bianco, lychee & lemon juice) which is sweet with floral lychee and a Mulan Rouge for Louise with Pama, Grey Goose vodka, vanilla and citrus (she asks for no egg white). Viggo has a beer and I stick with sparkling water because I've had a few days of drinking already. The chef here is Marble Ng formerly at Lotus and you can definitely see similarities here.
The food comes out surprisingly quickly and the first dish to arrive is the ice plant salad with crisp, slightly salty ice plant with a sweet dressing on it and two seared scallops. The ice plant is refreshing and good and it almost doesn't really need the scallops (which at two seems a little tight).
When we ordered this dish our waitress suggested that we change this for a healthier vegetable dish but said "Do you want delicious or healthy?" and we all answered with a resounding "delicious!" and so it was this eggplant dish over wok fried greens. It's battered eggplant batons with a sweet and sour sauce. The eggplant is piping hot and melts in the mouth inside the crunchy batter. Everyone loves this dish.
There are two types of fried rice and we went with this one as it has wagyu and XO sauce along with asparagus, baby corn, snow peas, coriander, spring onion and egg. It's a very good fried rice, a little on the oily side and the wagyu is good in it although there isn't much XO sauce flavour in it at all.
Viggo is a pork fan so we always make sure to order pork whenever we eat out with him. The braised pork belly comes as a bowl of thickish pork belly slices with cinnamon, star anise, Brussels sprouts and bamboo shoots. It has the flavour of char siu but with a sauce with it too. The bamboo shoots are nice although the Brussels sprouts don't go so well with it. Mr NQN remarks, "Do you think they accidentally put them in?".
A surprising favourite are the Mongolian style lamb ribs covered in toasted cumin seeds with a chilli sauce on the side and a somewhat incongruous red cabbage salad. The lamb is served on the long bone and the meat is wonderfully soft and melting. The chilli sauce provides a nice spicy counterpoint to the fatty meat. We all found that the creamy dressed salad didn't really suit it as something acidic or pickle-y would have been better.
We also ordered a bowl of pippies in black pepper sauce because we thought we were getting our fix for the XO sauce with the fried rice. We also ordered some crispy fried vermicelli noodles as I was still craving noodles. The pippies are excellent-fat and meaty while the sauce is very bold and spicy, perhaps a little too strong for us. I do like the spicy tingle though and even with the three of us eating (Viggo abstained as he is allergic to shellfish) we can barely get through half of this dish.
We have just enough room to share one dessert and the one that appealed to us the most is the deep fried ice cream and is a collaboration between the restaurant and the Duo Duo fried ice cream food truck. It's a creamy vanilla bean ice cream in a layer of panko crumbs. On top is a tasty sea salt caramel sauce topped with crunchy caramel butterscotch popcorn. It's definitely a step above the usual fried ice cream and we all really enjoy this leaving no trace behind.
So tell me Dear Reader, are you team dumpling or team noodles? And would you go for delicious or healthy if you had to choose one?
This meal was independently paid for.
Mama Mulan
The Concourse, Level 1 above Willoughby City Library, Chatswood NSW 2067
Monday to Saturday 11:30am–3pm, 5:30–10pm
Sunday 11:30am–3pm, 5:30–9pm
Phone: (02) 9157 1488