Spicy Joint is a Sichuan Chinese restaurant in Chatswood. Part of a chain of restaurants from China, Spicy Joint has an enormous menu with pictures which help you to make your selection. There are noodles, soup and plenty of chilli laden dishes (although it's not ferociously spicy). The space is outfitted with cute booths and they don't take bookings. And a little warning: the bill will be a real surprise!
Spicy Joint is located in District Dining above Chatswood train station on level 1 of Chatswood Interchange right next to Amah. Spicy Joint doesn't take bookings so we put our name down and wait for around 10 minutes for a table for 6. This is the first meal out since lockdown 2021 began for Mr NQN and I and I am excited while he is nervous. Monica, Marco, Rachael and Vange arrive and we take a seat. The restaurant has booths designed for groups of two or four although since there are six of us they lead us to the centre room with bigger tables.
The menu comes in the form of a book. You flip through the picture menu and then tick the selections on the paper sheet given. Everyone leaves ordering to me although Monica and I like the look of a lot of the same things anyway as we flick through the menu. I am a bit rusty at this so I do my best to try and narrow things down and not go overboard. There are a couple of items unavailable: the first being hot corn juice which I had ordered out of curiosity and a corn pancake. Once we hand over the menu the food comes out surprisingly quickly considering how many items there are on the menu.
Cold Chicken with Chilli Sauce and Sesame Dressing $22.80
I'll start with one of my favourite dishes: the cold chicken sliced and served with a chilli sauce and sesame dressing. This is pitch perfect with tender, cold chicken and a delightful chilli and sesame dressing. It's a massive serve too and the texture of the chicken and sauces make for compulsive eating.
Cucumber with Garlic Dressing $6.80
The cucumber with garlic dressing is fresh, crunchy and full of flavour. We ordered it in case things got too heated and we needed a bit of a cooling item (although this has a touch of chilli too). Having said that, nothing is ever too spicy here out of everything that we ordered and the most we got was a tiny little tingle. However it is a possibility that they may have lowered the spice levels for our table because our waitress seemed to think that we wouldn't like spicy and kept point out non-spicy dishes to us.
Roast Lamb Chops $26.80
They recommended the roast lamb chops or lamb ribs. It's a large serve of lamb ribs with roasted potatoes. I may have gotten a dud piece but mine was quite chewy which can happen when lamb rib isn't cooked long enough or perhaps it was just an odd piece out. I do however love the potatoes with their coating of spice and chilli.
Beef Tendon and Tripe with Chilli Sauce $15.80
The beef tendon and tripe with chilli sauce is also a large bowl with soup and sliced of beef tendon, tongue and tripe. This is also served cold and it's tasty with tender tripe and tongue. Admittedly I didn't go searching for other interesting pieces submerged in it since the food was arriving thick and fast.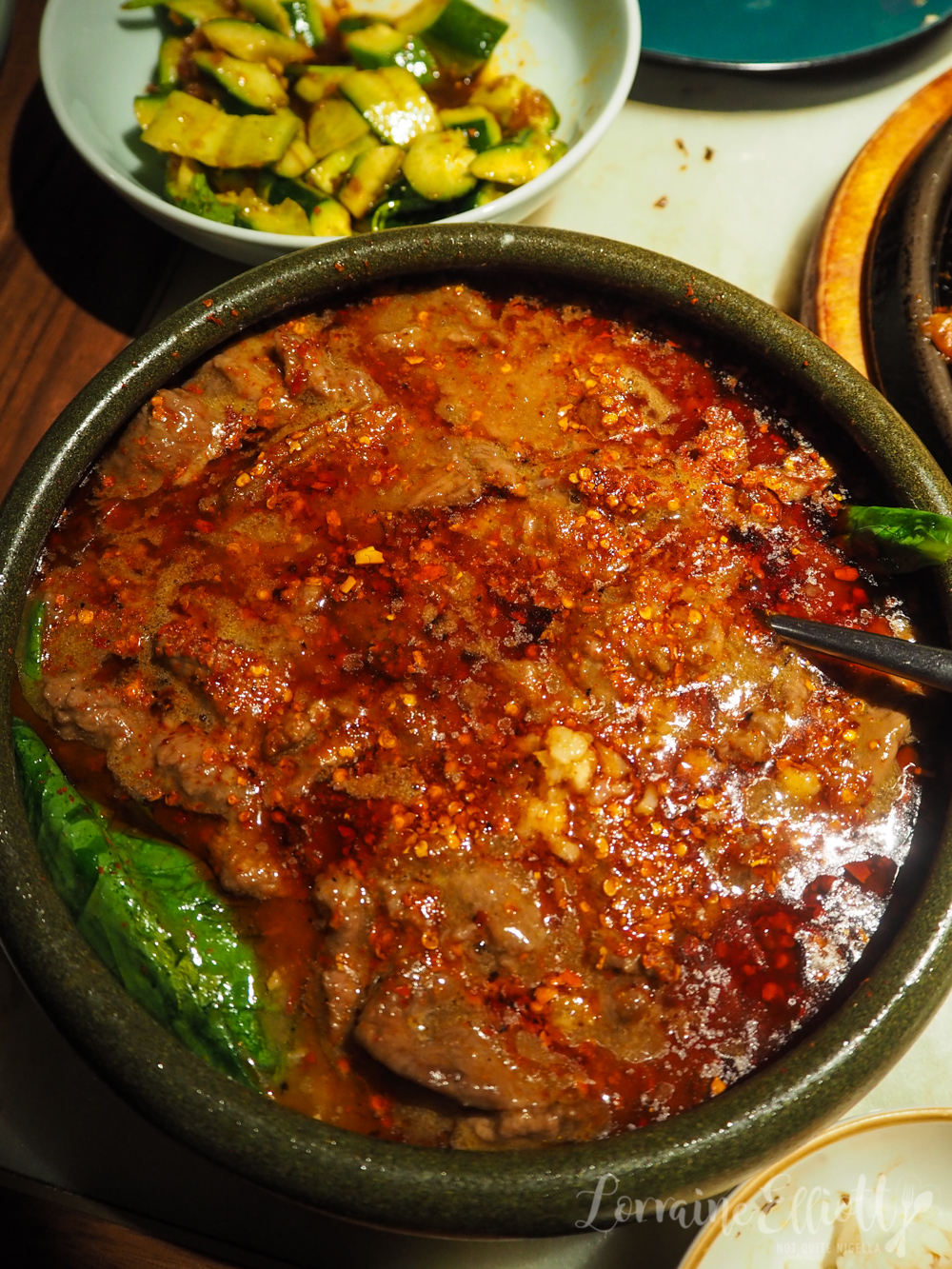 Sliced Beef in Hot Chilli Sauce $19.80
The sliced beef in hot chilli sauce is similar to the dish above but with slices of tender beef in a hot soup. Out of this and the dish above I preferred this for the tender beef and the comforting hot soup.
Sliced Pork Belly with Pickled Vegetables $16.80
The sliced pork belly is very thinly sliced pork belly layered on top of a mound of pickled greens including mustard greens. The soy sauce cooked pork belly is delicately texture just melting in the mouth. It could have used a touch more seasoning.
Fried Cruller Stuffed with Minced Shrimp $29.80
"Prawn churros!" says Marco when he sees the fried cruller stuffed with minced shrimp or prawns. We dip each piece into the sweet and sour sauce and it's delicious as expected and one of the favourites at the table with not a skerrick left. Pure yum cha vibes.
Steamed Pork Ribs with Glutinous Rice $19.80
Sometimes I don't know if I enjoy a dish because it's nostalgic and I'm not sure if other people will enjoy it like glutinous rice wrapped in lotus leaves. I open up the package to see that the rice is so soft and mildly sticky with very soft baked steamed pork ribs. Even the white bone or the pork ribs is soft and edible. I'm surprised and delighted to see that everyone else really likes these too. This along with the cold chilli chicken are my two favourite dishes.
Hot & Sour Potato Shreds $12.80
The hot and sour potato shreds are nice but they do need seasoning as potatoes tend to do. I do like the sour flavour of these and the bitey texture to the potatoes.
Steamed Pork Ribs with Pumpkin and Millet $19.80
We were clearly on a run with pork ribs and pork (Monica and I both love pork) and although we had another pork rib dish I kept going back to the picture of steamed pork ribs with pumpkin and millet. This is a mild, comforting dish, perhaps best eaten before the spicy dishes or ordered for someone that can't eat spicy. The pork ribs are soft and melting much like the ones above but this is served in a pot with chunks of soft pumpkin and millet which is similar to rice in texture.
Pepper Salt with Oyster Mushrooms $13.80
We've never really seen mushrooms at a Chinese restaurant served like this so we decided to give it a go. Firstly, it's an enormous plate of battered oyster mushrooms and there's some pepper salt on top but not a lot so not every piece is seasoned. If there's one criticism it's that the seasoning is a bit inconsistent and some dishes need a bit more salt added to them.
Glutinous Rice Dumpling Ball $3.80
We had intentions of ordering the shaved ice dessert but given the onslaught of food that I ordered we just got the glutinous rice dumpling balls filled with black sesame. It would have been nicer with more sesame filling as the outside is unsweetened and plain but I they have a satisfyingly chewy texture.
And the bill? It's a very pleasant surprise at $88 per couple which considering the amount of food we ordered, ate and took away was quite incredible.
So tell me Dear Reader, what was your first post lockdown meal out or what will it be?
This meal was independently paid for.
Spicy Joint
75A & 76A, Podium Level, 436 Victoria Ave, Chatswood NSW 2067
Open 7 days 11am–2pm, 4:30–9pm
Phone: 0416 494 886