Nahji Chu's newest restaurant post Miss Chu is located at Easts Leagues Club in Bondi Junction. Cha Li Boi offers yum cha with a twist (and at night too). Dumplings have fillings like wallaby and saltbush, Duck a l'Orange or they may be Pac Man ghost shaped prawn dumplings.
"I think it's finished," I whisper to Mr NQN, Viggo and Louise. We are looking around the interior of Cha Li Boi. Viggo disagrees and he thinks that they will still be doing work to it. "Put some umbrellas on top of the lights, and it'll be just like Blade Runner," he says and his wife Louise concurs. We spend so long guessing that we have to ask the staff. They tell us that this "unfinished look" was the space the Nahji intended, with exposed gyrock walls and "popcorn" ceiling. Nahji says, "(it) looks very different from other yum cha eateries even for Hong Kong or New York so it's a great gift for Sydney. It's quite raw in architecture so it feels like an occupied empty warehouse. With the interior being so raw the focus is then all about the food, service and beverage offerings."
I'm trying to avoid using phrases like "Rising like a phoenix from the ashes" but it's actually quite fitting. After losing her Miss Chu business in a very public way, Nahji Chu has come back with a new offering away from her Vietnamese heritage. Cha Li Boi is located on the first floor in the Easts Leagues Club.
Nahji says, "An opportunity was offered to me at the Easts Leagues Club to take over the lease at an existing Yum Cha restaurant called the Oriental Jewel. This was December 2016. At the time I was actually designing my new restaurant and brand called Cocochine and planned to open Mar 2017. So my focus shifted from the Cocochine projects ear marked for opening in Aug 2017." She enlisted former Billy Kwong chef chef John Leong to create the menu.
It's an enormous space with snappily dressed staff that almost look like they wandered in from a clothing boutique. Service is friendly and they explain that there will be a yum cha lady rolling through the restaurant with the steamed selection. One of the friendly yum cha ladies pops up straight away and shows us a selection of goodies. We pretty much order one of everything. The prices are higher than regular yum cha and there's even a charge of 90c for a hot towel that raises some eyebrows.
Drinks arrive and Louise and I try the two bubble tea mocktails. Hers is the Rocket Juice with strawberry, mint, pomegranate, ginger, citrus and mixed fruit pearls which is tart (and you can add a hit of Berocca too).
Rocket juice and Cocohu $12 each, Stiff Rooster $19, Philter Beer $9
The Cocochu is based on the best selling Miss Chu coconut crushie with banana, mint, lychee and cucumber with lychee pearls. It is sweet and my favourite of the two but the pearls in both bubble drinks aren't tapioca pearls but rather spherified pearls that burst open like caviar. Mr NQN's orders a Stiff Rooster cocktail with Johnnie Walker Black, ginger, fresh lemon and pineapple while Viggo orders a Philter beer.
Leather Jacket $12 for 3
We start with the steamed dumplings. The triangular Leather Jacket dumplings end up being the favourite dumplings. Purple black in colour on the outside courtesy of squid ink they have a filling made up of leather jacket fish and curried pumpkin with a nice hit of ginger. They're delightful little morsels.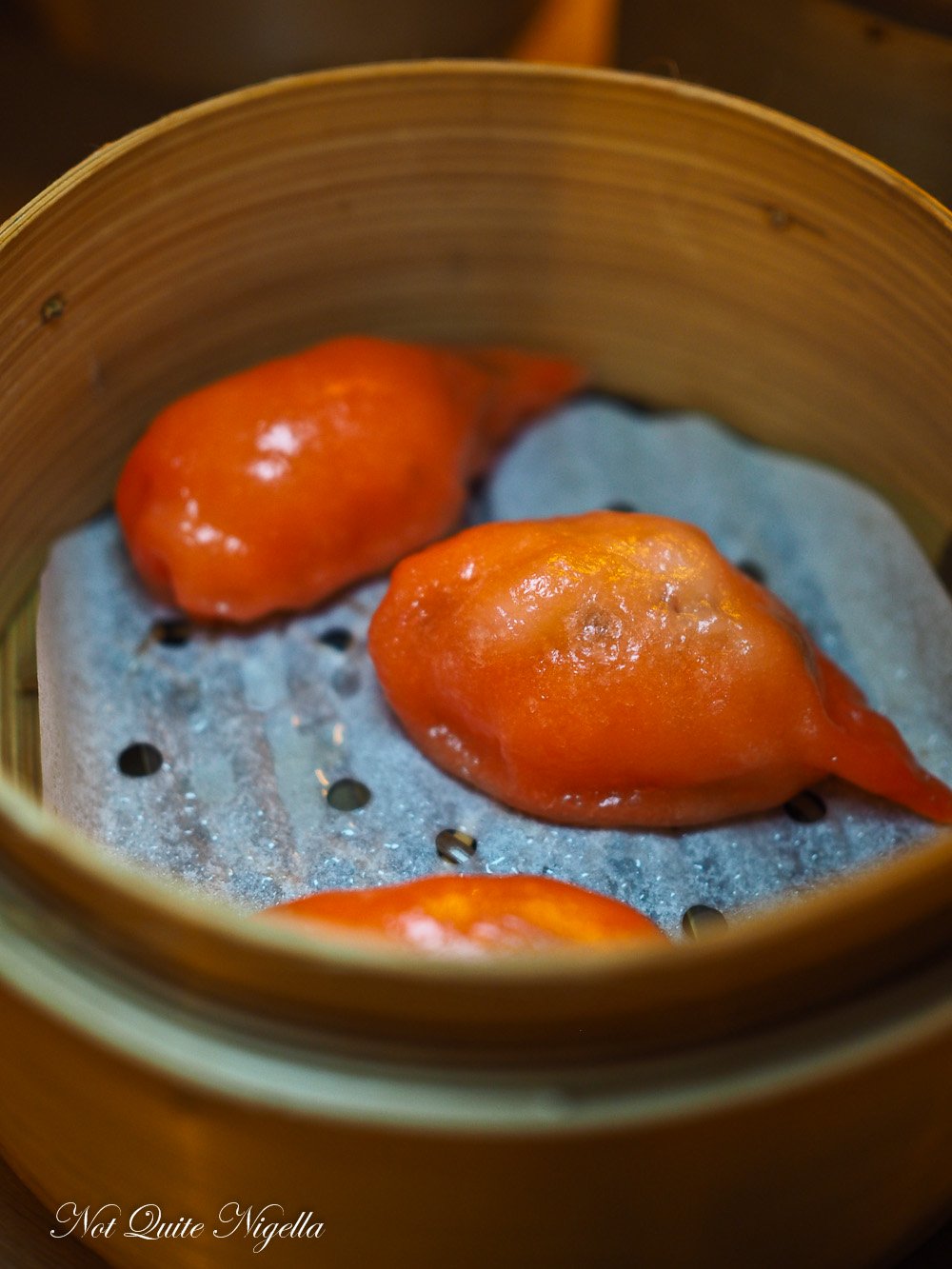 Cray Cray $14 for 3
The crayfish and scampi crystal dumplings aren't bad, full of both ingredients with a sticky gluten free rice based wrapper. Many of the dumplings are gluten free to cater for everyone.
Duck a l'orange dumpling $12 for 3
These little babies are strong in orange and filled with duck. The orange is a bit of a strong hit but they do taste like duck a l'orange.
Pork and Prawn Siu Mai $12 for 3
I like the bouncy, fresh quality of the pork and prawn siu mai. It's quite firm but moreish.
Prawn Har Gau $12 for 3
The prawn har gau aren't quite as succulent as I've had. They're not bad but considering you're paying a premium I was hoping to be wowed.
CLB Specialty Pork Bun $4
These pork buns are very good with a saucy, tasty pork filling and a good bun to filling ratio.
Ants Climbing Trees $13
I think the ants are meant to be the tiny pieces of pork (the ants falling off the tree is the vegetarian version). The noodles are a little difficult to serve as they do tend to clump but they're actually very tasty although the pork content is quite light on these.
BBQ duck pancakes $19
Although the serve says 4 there are actually enough for 6 pancakes which is a nice surprise. And the duck skin is properly done-crispy and appealing and we help ourselves to the pancakes adding spring onion, duck, cucumber and sauce.
BBQ Pork Cheung Fun $9
There are three kinds of cheung fun and we choose the bbq pork as Viggo can't eat shellfish. The bbq pork filling is very good although there is just one roll and you usually get 2 or 3 rolls at yum cha.
Pac Man Prawn $18 for 4
What is said to be one of their signature dishes is the Pac Man prawn with one large pac made made out of deep fried sweet potato sitting in sweet potato mash with four ghosts tinted colours using natural vegetable dyes. It's kind of kooky and interesting. The sweet potato is a bit too firm so I'm not sure if it's meant to be eaten or decoration. The prawn dumplings are like the har gows.
The Shot Wallaby $7 each
The shot wallaby is a wallaby siu mai made with wallaby, saltbush and native greens which really give it a flavour unlike any other yum cha dumpling. It's served in a shot glass with a very mild soup broth that perhaps needs an extra boost of flavour.
CLB Banana Fritter $16
It's dessert time and we decide to share two desserts. The banana fritters come in a very light batter served with a caramel sauce with vanilla and pop rocks ice cream. I like all the components bar the caramel sauce which tastes like a commercial caramel sauce.
Mango Pancake $8
The mango pancake is a single serve of pancake. It light with a big serve of cream and a bit of mango. it's not an overly sweet dessert. Mr NQN prefers more mango in his pancake over the cream.
So tell me Dear Reader, do you have a favourite yum cha dumpling? Which dishes did you like the sound of best? And have you ever had yum cha at night?
This meal was independently paid for.
Cha Li Boi
Level 1, Easts Leagues Club
9 Bronte Rd, Bondi Junction NSW 2022
www.chaliboi.com.au/
Monday to Wednesday 11am – 10pm
Thursday to Saturday 11am – 11pm
Sunday 11am – 9pm