Ever wanted to make fresh, soft pretzels but assumed that they were too difficult to make and shape? With one easy ingredient you'll get the signature chewy texture and shaping pretzels is also ridiculously easy too! In no time you'll impress everyone with heavenly smelling sweet cinnamon soft pretzels!
I can't believe that I'm this years old when I first tried making soft pretzels. I was once told by someone that they were very tricky and hard to make and I think I never really bothered looking into how to make them. Turns out they aren't and when I saw my adopted mum Barbara's recipe for cinnamon pretzel twists I knew now was the time to make them.
All you need to achieve that pretzely-ness is some bicarb or baking soda and it's no harder than making bagels. It starts with a cinnamon sugar spiced dough that is shaped into the signature pretzel shape and then boiled very briefly before being baked. This gives them their signature chewy, soft texture. Soft pretzels can last 1-2 days, just warm them up when you want to eat them and serve them with a dipping sauce. For savoury pretzels you can use mustard but for sweet I love dulce de leche or a smooth chocolate ganache. I always thought that they'd be difficult to twist up as I don't have great dexterity but it's so easy and fun.
My sometime vegetarian friend Laura and I got a bit twisted up recently. We went away for a weekend and we had one night free which was a rather lovely prospect. We got hooked on a rather dodgy show on television so instead of going out for dinner we decided to go out to get some Chinese takeaway and watch more episodes at the house we were staying at.
It was pitch dark when we left to pick up our food. I forget how lit and noisy city streets are compared to regional areas and on this Sunday night it was dead quiet and dark as we drove. I had her phone and was giving her directions. We got to a roundabout with five branches. "Which one do I take?" said Laura. "I don't know!" I cried confused and the compass on my maps wobbled.
"We're going round!" Laura said and we went around the roundabout once so we could try and figure out which exit we wanted.
"I still can't tell! Maybe it's that one? Or that one?" I said.
And we went around again. By that time Laura had figured out the exit as I am hopeless in a crisis. I would have liked to think that I'd spring into action should any crisis occur but the truth was that I turned into a confused mess.
"We're going around a third time just because!" Laura laughed and we turned around the roundabout for the third time because as they say, third time's a charm. However I promise you that if you try to make these pretzels, they will work on the first go!
So tell me Dear Reader, have you ever made soft pretzels before? Are you good in a crisis? And have you ever not been able to figure out which way to go with a map?
DID YOU MAKE THIS RECIPE? Share your creations by tagging @notquitenigella on Instagram with the hashtag #notquitenigella
Cinnamon Sugar Soft Pretzels
Adapted from Barbara Bakes
Preparation time: 45 minutes plus rising time of 1 hour to overnight
Cooking time: 20 minutes
Makes 12 pretzels
3 cups bread flour
1 tablespoon caster or superfine sugar
1 tablespoon ground cinnamon
2 teaspoons instant dried yeast
1 cup lukewarm water
1-2 tablespoons oil
1 teaspoon fine salt plus extra for sprinkling
Egg yolk mixed with 1 teaspoon water
8 cups water
1/3 cup bicarb of soda
1/4 cup raw sugar
Cinnamon dulce de leche to serve
Step 1 - In the bowl of a mixer add the flour, sugar, cinnamon, yeast and water and mix until it becomes a shaggy mixture. Using a dough hook knead until elastic (8-10 minutes). Oil the bowl (I use the same bowl) and roll the dough into a ball making sure that there are no cracks on the top.
Step 2 - Roll the ball in the oil, cover and allow to double in size (I did this step the day before and let this prove in the fridge overnight). When it has risen, knead in the salt and divide the dough into 12 pieces.
Step 3 - Preheat oven to 230C/450F and line 2 trays with parchment. Then place the water in a pot with the bicarb and bring to a rolling boil while you shape the pretzels. These are best dipped just after they are shaped.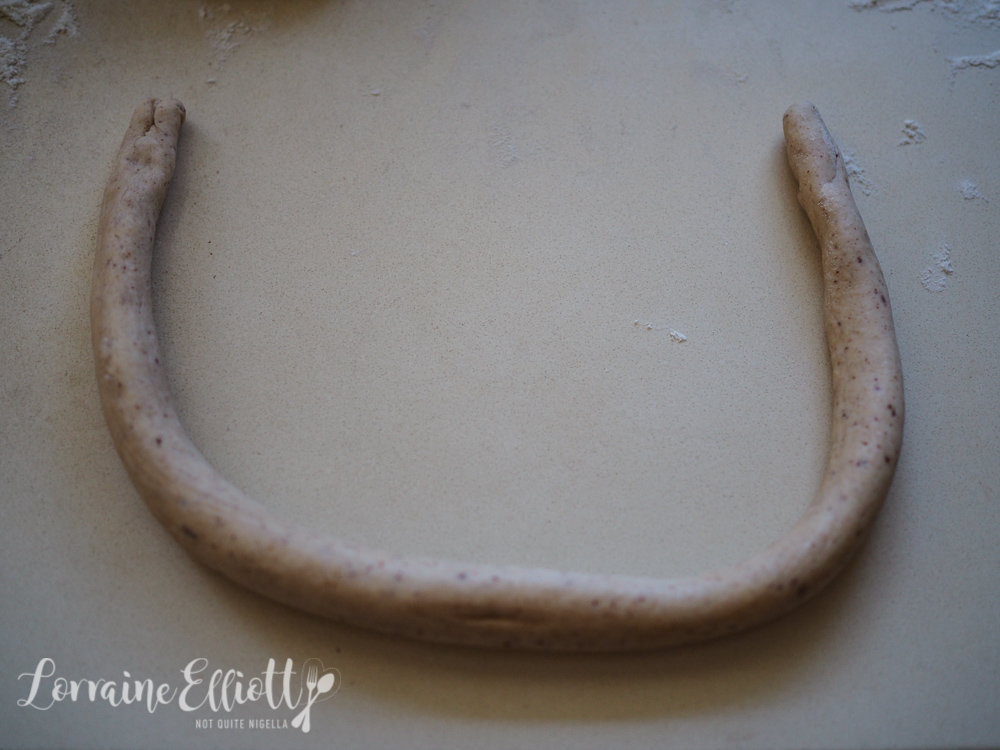 Shaping the pretzels
Step 4 - Roll each piece out into a rope around 40cms/16inches long. Make a U shape and then cross over the two ends. Then twist the ends around each other pressing them down at the bottom of the U shape (third pic above). Pop them straight into the boiling water for 15 seconds or until they float to the top. Take a slotted spoon and remove them from the water and place on the tray reshaping them if needed. Repeat with the remaining dough.
Boiling in bicarb water
Step 5 - Brush the pretzels with egg yolk glaze and then sprinkle with sugar and an extra grind of salt. Bake for 10 minutes. Serve with dulce de leche.