This chocolate mousse cake with honeyed oranges is a stunner. There are two layers to this cake-a sunken mocha meringue cake topped with chocolate mousse and then on top are orange slices steeped in honey! She is also gluten free. I called her Lilja.
This cake is such a lovely balancing act. Sometimes oranges can be a bit acidic against dark or bitter chocolate but the honey mellows the acidity perfectly.
Try to use the best chocolate you have for this cake as the flavour of the chocolate really shines through. The base case has a bit of coffee in it to increase its intensity while the chocolate used is a Guanaja dark chocolate.
Separate eggs carefully for meringue: It is easier to separate egg yolks from whites when the eggs are cold as the yolk is firmer. Also, always make sure that your bowl and beaters are clean before beating egg whites and making a meringue as any fats can inhibit the eggs from whipping up stiff.
Don't want raw egg whites in your mousse? Replace the eggs in the recipe with cream. Whip 250ml/8.8flozs cream and combine with 125g/4ozs melted dark chocolate.
I was first inspired to make this cake by a recent trip to the Blue Mountains. We had eaten at a diner called High Hopes Roadhouse and it was on the menu as a chocolate mousse cake. Truthfully I would not have ordered it if they had mentioned the orange in it because I really don't like chocolate and orange together.
But then I took a bite of this gorgeous chocolate mousse cake topped with a slice of honey soaked oranges. It was until after I had eaten it that I realised that I didn't hate chocolate and orange as a combination. I think the honey really helped temper the orange's acidity to the point where I just wanted more orange on this! And with that slice, suddenly a lifelong dislike of chocolate and orange together died!
So tell me Dear Reader, have you ever suddenly found that you enjoyed a food or a combination that you thought you didn't like? Do you have any food aversions?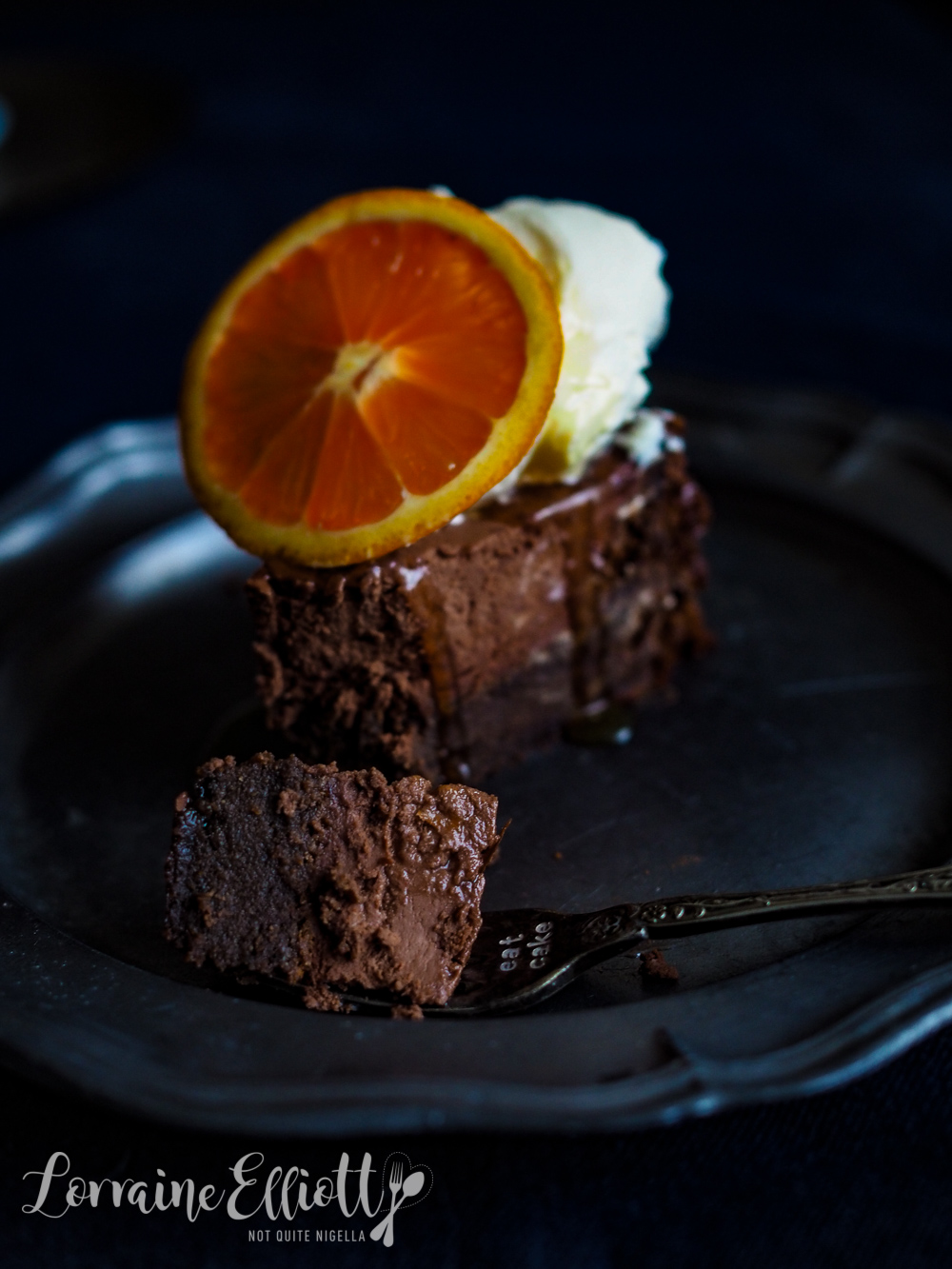 DID YOU MAKE THIS RECIPE? Share your creations by tagging @notquitenigella on Instagram with the hashtag #notquitenigella
Chocolate Mousse Orange Cake
Rated 5.0 out of 5 by 4 readers
An Original Recipe by Lorraine Elliott, adapted from Let It Simmer by Sean Moran
Preparation time: 40 minutes
Cooking time: 55 minutes
Serves: 6-8 people
Chocolate Cake
200g/7ozs. dark chocolate (I used a guanaja chocolate see below)
200g/7ozs. butter
6 eggs, at room temperature, separated
175g/6ozs. caster or superfine sugar
2 teaspoons instant coffee powder
Chocolate Mousse Layer
100g/3.5ozs. dark chocolate (I used a guanaja chocolate see below)
3 eggs, separated
To top:
1 orange, sliced
125ml/4flozs honey
Dark chocolate shavings
Guanaja chocolate
Step 1 - Slice the orange and soak in honey in a container and keep in the fridge. Grease and line a 20cm/8inch springform pan and preheat oven to 180C/350F. In a large bowl, melt the chocolate and butter together and mix until smooth. Whisk the egg yolks together and mix into the chocolate mixture along with the coffee powder. Set aside and allow to cool for a few minutes while you do the rest.
Step 2 - In a clean bowl with clean beaters whisk the egg whites until soft peaks form. Then add the sugar and whisk until you get stiffish peaks. Place a quarter of this meringue mixture into the chocolate mixture and fold to incorporate. Add the rest of the meringue in 3 lots making sure to fold gently but make sure there are no streaks. Scoop into the prepared tin and bake for 45 minutes. Remove from oven and allow to cool and don't worry if it collapses in the centre, it's supposed to. Cool completely.
Step 3 - Make the mousse. Melt chocolate in large bowl over a double boiler or in a microwave until smooth. Whisk in the egg yolks until combined and set aside to cool while you whisk the whites.
Step 4 - In the clean bowl of an electric mixer whisk the egg whites until they reach stiff peaks. With a clean spoon or ladle, scoop out a third of the egg whites and using a large metal spoon, fold the whites into the chocolate mix. Add the next 1/3 of the whites and then the rest making sure that you don't add in any liquid egg white at the bottom. If there is any, return the bowl to the mixer and whisk again to get stiff peaks.
Step 5 - Spoon into the cake hollow and smooth over and refrigerate for at least 4 hours (the mousse will be quite soft at first but then set firmly). I've made this with the cream mousse (above pic) and the egg white mousse and the cream mousse is stiffer and the cake can be eaten straight away. Top with the orange slices soaked in honey (I also drizzle all of the honey in the container over the cake) and fresh cream.