Miss Arda is a restaurant and meze bar on the main street in Kiama on the NSW South Coast. The menu is made up of Middle Eastern and Middle Eastern inspired dishes with dishes like Prawn and Chorizo Dumplings, Black Garlic, Onion Sauce or their gloriously stretchy knafeh.
"I rang the restaurant to let them know it was your birthday so they could write something on your cake plate," said Mr NQN. So far we've made a week of my birthday starting with the Scenic Rim of Queensland but on my actual birthday we would be at Gerroa, staying at The Shed and eating at Miss Arda.
"I had to choose the dessert. I hope I got the right one," says Mr NQN grimacing.
We chose Miss Arda because we love the food at Otis in Kiama. Chef Emily Lewisman opened up Miss Arda because her customers were always asking her to open up for dinner. Otis is however a very small space so Emily started searching for spaces once COVID lockdowns hit. And since then Emily has sold Otis to concentrate on Miss Arda and her family.
We arrive at Miss Arda on Teralong Street in Kiama. It's a windy night so all plans to sit outside are abandoned due to the bitter cold. Instead we take a seat inside, near the bar where our friendly waitress goes through the modern Middle Eastern menu with us. I ask her for some recommendations and we start with mocktails.
Non Alcoholic Mojito and Mrs Cohen $12 each
Mr NQN gets a non alcoholic mojito but covets my Mrs Cohen cocktail. It is made with strawberry, chilli, pomegranate and lemon with chilli powder on the outside. It's sour, sweet and spicy, everything that you'd want in a cocktail let alone a mocktail.
Panko Crusted tuna, yuzu mayo and nigella $22
The first dish to come out is the panko crusted tuna loin drizzled in yuzu mayonnaise and sprinkled with nigella seeds. I love the idea of the crunchy, crispy outer and the yuzu mayonnaise goes really well with this (a smidge more would be great). The tuna is a little watery in flavour however so a bit more seasoning would have been great.
Aubergine Kizatma, whipped feta, date molasses $16, Turkish Bread $7
The Aubergine Kizatma is eggplant batons that are battered and deep fried, served with whipped feta and pomegranate seeds. This is a delicious start to our meal and we grab a piece of the hot and crispy edged Turkish bread to get all of that delicious whipped feta.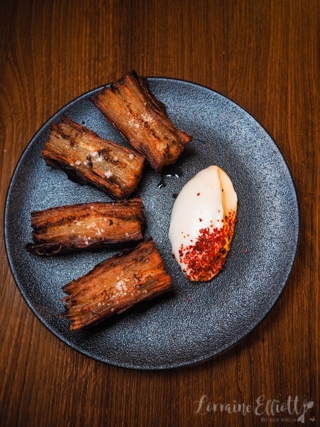 Potato Latkas, Toum $16
If I see toum on the menu I will always order it and when it's combined with potatoes, well that is a match made in heaven. These potato latkes are more potato pavé than potato latkes but I'm not complaining. They're crispy and delicious and a perfect match for the creamy, garlicky toum.
Prawn and Chorizo Dumplings, Black Garlic, Onion Sauce (4) $24
The prawn and chorizo dumplings are Miss Arda's signature dish. There are four plump prawn and chorizo filled dumplings which a very moreish black garlic and onion sauce. The sauce is surprisingly sweet but make sure to save some of the bread for that delectable sauce.
Green Beans, Salsa Verde, Hazelnuts $12
The green beans are cooked perfectly and paired with a flavoursome salsa verde and crushed hazelnuts which gives me a serving suggestion for them at home as I've always got salsa verde in my fridge.
Knafeh $17
Mr NQN eyes the dessert menu nervously. "Now we will figure out if you got it right," he says. "Don't you mean YOU got it right?" I ask him laughing. There's a panna cotta, ice cream, cake and brownie but I've only got eyes for the knafeh. This is baked to order so that the mozzarella cheese is beautifully stretchy and there's also rosewater syrup, rose petals and candied pistachios on top. It's a big dessert so enough to be shared between two and they've thoughtfully written happy birthday to me in white chocolate (and spelled my name correctly!).
"I chose you the knafeh!!" He says happily, holding his hand up for a high five.
So tell me Dear Reader, do you think you could pick your partner's or best friend's favourite dessert on a menu? Do you pick your birthday venue or do you leave that to someone else?
This meal was independently paid for.
Miss Arda
62 Terralong Street, Kiama, 2533, AU
Tel: +61 042023120
https://missarda.com/