The Hawkesbury region is an easy drive away from the middle of Sydney. In just one hour the landscape changes to farming land and big, open spaces. There are also great cafes, restaurants, fruit picking and spirit and cider tastings. Here are six fun things to do in the Hawkesbury!
1. Richmond Good Food Market
Get a tiny taste of the area. Start off your Saturday strolling through the Richmond good food markets. It's a cute, small market with a couple of produce stalls along with honeys, cakes, coffee and biscuits.
We buy some Lady Laura and Lady William apples as well as a Christmas in July and jalapeno and cheese bagel that they warm up for us.
Richmond Good Food Market: 118 March St, Richmond NSW 2753, every Saturday 8am-1pm
2. Brunch at George Street Loft
George Street Loft is located on one of the main roads and has a range of all day breakfast and lunch. I spy a cosy booth as soon as I walk in the door. Its bathed in natural light that keeps us toasty warm.
Banana bread $8.50
Most of the things on the menu are made in-house. That includes the banana bread served warm with butter (usually honeycomb butter but alas they've just run out).
GSL Fritters $19.50
One of the most popular dishes are the zucchini fritters with baby spinach, smashed avocado salsa and a fried egg.
Vegorama Burger $17
The veggie burger is wholesome and delicious with a soft patty and a delicious layer of avocado, salad, beetroot relish and mayonnaise. Don't forget to order a side of fries to go with it, they're very moreish (don't say you weren't warned).
George Street Loft: 7/266B George St, Windsor NSW 2756. Open 7 days Thursday 7am–3pm. Phone: (02) 4587 9222
3. Tastings At Ironbark Distillery
"I defy you to go onto Seek and find a job for astronomers," says Reg Papps of Ironbark Distillery. He was 5 and 3/4 years into his law degree when he decided to pull the plug and go into an astronomy degree. A dearth of jobs in the field led to working long hours distilling petrol for Shell with virtually no Christmases or birthdays with family.
After a redundancy he looked at his specific skill set and decided to swap petrol distillation for spirit distillation. He now has a patent for his unique way of distilling spirits using his self designed copper stills (named Obidiah and Emmaline after grandparents). "The only difference is instead of putting in crude oil you use ethanol," he explains.
Obidiah the still
A wall of trophies and awards attest to the quality of his spirits that include a chai gin, London style dry gin and the bestseller a wattleseed gin which opens up flavours beautifully on the palate. There are also sweet spirits like limoncello which is delicious as well as a passion fruit version made in a similar fashion to limoncello. Visitors to the distillery can get a tasting of the gins, whiskeys and spirits for $20 a person.
In 2014 Iron bark went to market and by 2015 it had won best Australian gin distillery of the year at the Melbourne International Spirits competition. Five years into the venture he merged with Halewood who have brought international distribution channels and he can barely keep up with demand.
"I'm building trees for shade I won't enjoy" Reg says.
Ironbark Distillery: 37 William St, North Richmond NSW 2754 Monday to Friday 9am-5pm, Saturday & Sunday 12–4:30pm. Phone: 0424 345 102
4. Apple Pie and Cider Tasting At Bilpin Cider Co.
Dublin born Sean Prentergast lets out a loud, low whistle and his sheep and alpaca come running. They're just one of the many attractions at the Bilpin Cider Co. On a road lined with apple orchards and vendors selling apple pies of various quality Bilpin Cider Co. stands out.
There's the cider of course of which there are five varieties along with a perry (pear cider) and mead. The most popular cider is the original cider with Granny Smith, Pink Lady and Red Delicious apples which they have on tap and the Blush, a Pink Lady cider that is a sweeter version of cider. All of their ciders are made using apples sourced from here to Orange with no sugar added and each bottle of cider contains 4 apples in each.
For those that like a dry cider there's the Archibald Cloudy apple cider named after Archibald Bell who discovered the area (and who could double as a modern day hipster). Another popular cider is the non alcoholic cider while the bush honey mead is a dry mead without the syrupyness of some meads. If you're looking for a cider to have with cheese, the 750ml bottle of Archibald Extra Brut Cider is made to pair with cheese - described as "as dry as the Simpson Desert."
Bilpin Cider Co. is a very popular place with visitors that either take up a table or borrow one of the rugs and baskets and enjoy a cheese and charcuterie platter or a warm apple pie with cream or brownie.
The apple pies contain just fruit with no sugar added and served with a vanilla bean cream. The grazing plate picnic is perfect for this warm day and the sun casts a glow. Play petanque or just enjoy a drink from the bar. After the picnic say hello to the sheep and the alpacas including the long lashed Princess.
Bilpin Cider Co.2369 Bells Line of Rd, Bilpin NSW 2758. Open 7 days 10am–4pm. Phone: (02) 4567 0704
5. Fruit Picking At Anderson Farms
Farmer Ken Anderson shakes his head as his phone rings for the dozenth time while we are with him. It's customers that are eager to pick fruit on his picturesque citrus farm that lies along the banks of the Hawkesbury River. It has proven so popular with families who make a whole day out of picking and relaxing on his property that he may have to propel himself or at least his staff into using an online booking system to keep up with demand.
There is one fruit Ken is eager for people to take their pick of-literally. His Seville oranges, prized for their sourness and the perfect marmalade citrus were once purchased by Ardmona for making marmalades. Now they're ceasing production and he has rows and rows of Seville orange trees that need picking. These are located on an adjacent property and the fruit is enormous and juicy. We pick Sevilles and sweet mandarins to our hearts' content.
Anderson Farms: 951 Sackville Ferry Rd, Sackville North NSW 2756. Saturday & Sunday 10am–4pm (when in season only). Phone: 0414 503 955.
6. Dinner At Lochiel House
If bread is ever not an option it's at Lochiel House on Kurrajong Heights road. Although we had visited Lochiel House previouslys for lunch, dinner inside by the roaring fire is definitely something not to be missed.
Toasted Sourdough Smoked Paprika Butter $3
But back to that bread. It's a toasted local sourdough perfectly toasted and served with a smoked paprika and mushroom soy butter. I ate most of this including Mr NQN's share.
Pork & Shallot Pot Sticker Dumplings $23
We try some of the house dumplings, made fresh every morning. These fantastic, enormous dumplings are generously filled with pork and shallots with crispy bottoms and come with cucumber and coriander in a black vinegar dressing.
Vietnamese Steak Tartare $23
Our entrees are both from the raw side. The Vietnamese steak tartare is seasoned with fresh herbs and plenty of fried shallots and an egg yolk with a tapioca cracker on the side. It's a little heavy on the fried shallots but we like a novel version of a tartare.
Market Fish Ceviche  $26
I ordered the kingfish ceviche more for Mr NQN who loves raw fish. It is seasoned with an XO sauce rich in mushroom and umami flavours. There's also flying fish roe and a pile of nori wafer squares on the side.
Beef Short Rib $39
The mains are what really excite me though. The beef short rib is perfection - cooked for 18 hours it's succulent, juicy and tender, exactly how you want a perfectly cooked beef short rib to be. The Paris mash might seem too rich but somehow its not at all and the charred shallots help to lighten it up and the best pairing for this is the fried Brussels sprouts with a sweet and sour dressing.
Miso Glazed Lamb Rump $36
Mr NQN usually doesn't really enjoy lamb but he loves this "hands only" main of miso glazed lamb rump slices served with a refreshing apple kinchi and thin pancakes.
Crispy Truffle Potatoes $13, Fried Brussel Sprouts $12
The two most popular sides are the crispy truffle potatoes with Grana Padano cheese and the fried brussels sprouts with a sweet and sour dressing. They are both delicious and go well with the mains and they contrast well with each other too.
Lemon & Pistachio Cake  $13
Our waitress recommended the lemon and pistachio cake that is moist and served with an unsweetened creme chantilly and a plum compote on the side. It's a moist cake flavoured with lemon and pistachio with a layer of glazed pistachios on top.
Plum Meringue $14
But we had to fight over the plum meringue with a perfectly soft and chewy texture. The coconut and chia seed sorbet is very refreshing and the fresh, sliced strawberries the perfect counterpart to this dessert.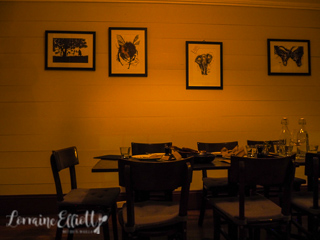 Lochiel House: 1259 Bells Line of Rd, Kurrajong Heights NSW 2758. Monday to Wednesday closed, Thursday to Saturday 12–3pm, 6–10pm, Sunday 12–3pm. Phone: (02) 4567 7754
Where to stay:
The Crowne Plaza Hawkesbury is a large hotel with a range of rooms and friendly staff. We stayed in a deluxe spa room with a spa bath and a comfortable bed.
One of the main features of the hotel is the Thalgo spa. Thalgo uses marina botanicals (hence the numerous fish tanks that line the walls ont eh way to the treatment rooms) and a way to try a bit of both is for their facial and massage with a 30 minute massage and a 30 minute facial.
Crowne Plaza Hawkesbury Valley: 61 Hawkesbury Valley Way, Windsor NSW 2756. Phone: (02) 4577 4222
So tell me Dear Reader, what do you like to do on weekends away? How long will you drive for a weekend away? Which activity or activities in this list appealed to you?
NQN and Mr NQN were guests of Destination NSW but all opinions remain her own.