This no bake lemon and coconut slice is a dream! It takes no time to put together and the lemon cookie coconut base is made of simple pantry friendly ingredients mixed together in a bowl. The lemon frosting on top is an absolute dream and is also done in a few minutes flat! This classic lemonade coconut slice is a pushy recipe Dear Reader!
I used some lemonade fruit in this that were given to me by a friend Valentina but you could also use lemons. Lemonade fruit is like a sweeter version of a lemon. If you have access to Meyer lemons you could use them too. This slice has a lovely balance of lemon tartness, sweetness and biscuit.
I forget how good no bake slices are until I make one (and the easy 4 ingredient fudge was so popular I think you like it too Dear Reader!). To me there's a difference between easiness and carelessness.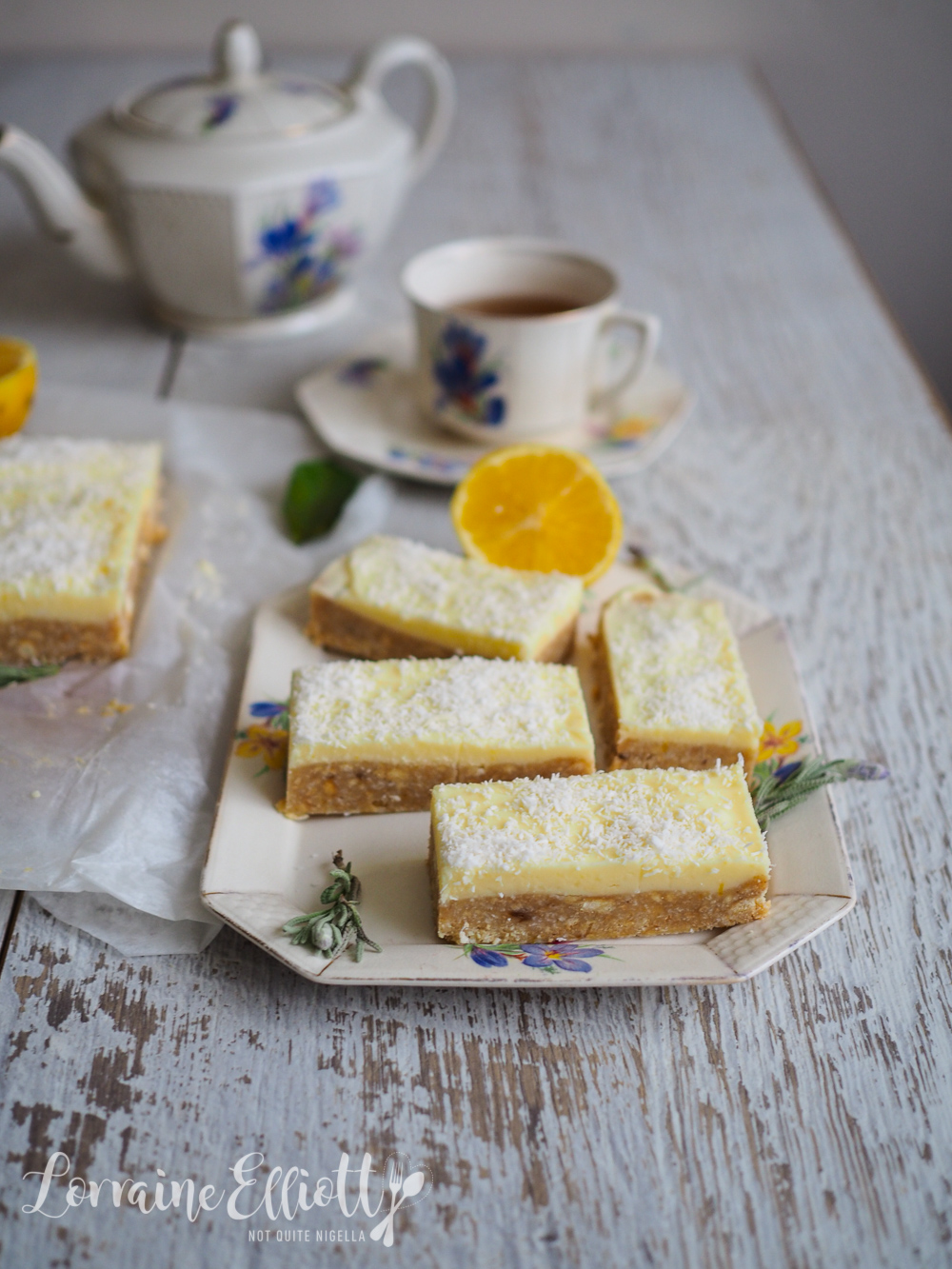 We were in a cafe the other day. We had ordered drinks and food and actually it was a great cafe. But there was one staff member who didn't quite measure up to the rest of the staff. When our drinks were ready he brought them over. Mr NQN had a juice and he put the juice down on the table spilling some of it.
We looked at him, he looked at the spill and trail of dribble, looked at us and then slightly shrugged and walked away. It was like he thought, "Nah, it's fine...". We looked at each other perplexed and then laughed. He never returned to wipe it up nor did he acknowledge it. There really is a difference between getting away with being careless and taking a shortcut!
So tell me Dear Reader, do you want more no bake recipes? Have you ever had service like that?
DID YOU MAKE THIS RECIPE? Share your creations by tagging @notquitenigella on Instagram with the hashtag #notquitenigella
No Bake Lemonade Coconut Bars
Rated 5.0 out of 5 by 1 readers
An Original Recipe by Lorraine Elliott
Preparation time: 15 minutes
Cooking time: 5 minutes
225g/8ozs. sweetened condensed milk
125g/4ozs. butter
250g/8.8ozs. plain biscuits/cookies (shortbread, digestive or milk arrowroot)
1 cup desiccated coconut
Finely grated zest of 1 lemon
4 tablespoons lemonade or lemon juice
For frosting
350g/12.4ozs. pure icing sugar (not icing sugar mixture)
100g/3.5ozs. butter, very soft (not melted)
100ml/3.5flozs lemon juice
Finely grated zest of 1/2 lemon
Pinch of citric acid (optional, gives it a sherbetty flavour)
4 tablespoons desiccated coconut
Base mix
Step 1 - Line a 25x16cm (10x6.4inch) lamington or slice tray on the base and sides. Heat the condensed milk with the butter until melted and stir to combine. Process the cookies finely and place in a bowl. Add the milk and butter mixture along with the coconut, lemon zest and lemon juice and mix to combine. Press into prepared tray and place in freezer for 15-20 minutes until set.
Lemon icing
Icing heaven...
Step 2 - Make the frosting. Sift the icing sugar until very fine (I put it in the food processor) and mix with the butter, lemon juice, lemon zest and citric acid until it makes a smooth icing. Spread on top of the base and sprinkle the coconut on top and place in freezer for 10 minutes or so to set (or you can place it in the fridge to set). This slice will keep in the fridge for 6-7 days or slice and portion up to freeze.