It's lemon season and time to make the most of this fantastically zingy and immune boosting fruit. Drinks-wise there's more to life than just lemonade and hot honey lemon drinks. Try a homemade limoncello, a mint and lemon slushie, rose pink lemonade, a classic home-made lemonade and a refreshingly dry strawberry lemonade! Whether you're in summer or winter, we've got you covered!
Did you make this recipe?
Share your creations by tagging @notquitenigella on Instagram with the hashtag #notquitenigella
Homemade limoncello is one of the best use of lemons. All you need to start with are four ingredients: lemon peel, vodka, water and sugar. And time! Your patience will be rewarded with this beautiful limoncello which is an old Italian family recipe.
Limonana is a Middle Eastern mint and lemon slushie that is just about the most delicious and natural version of a slushie! It's also super easy to make which adds to its appeal.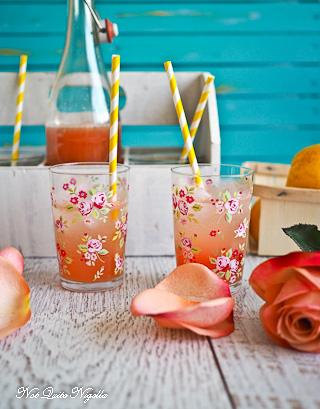 I hope you'll give this rose lemonade a try. The flavour of rose and lemon go so beautifully together and it uses up a whole cup of lemon juice!
Ahh the classic homemade lemonade. My version uses some of the zest in the base to give it an extra boost of zesty flavour!
If you like your drinks a bit drier and less sweet then you'll love this strawberry lemonade. Naturally sweetened with strawberries with a drier finish it's perfect to knock back without sending you into a sugar spiral!
So tell me Dear Reader, which lemon drink do you like the sound of the best?