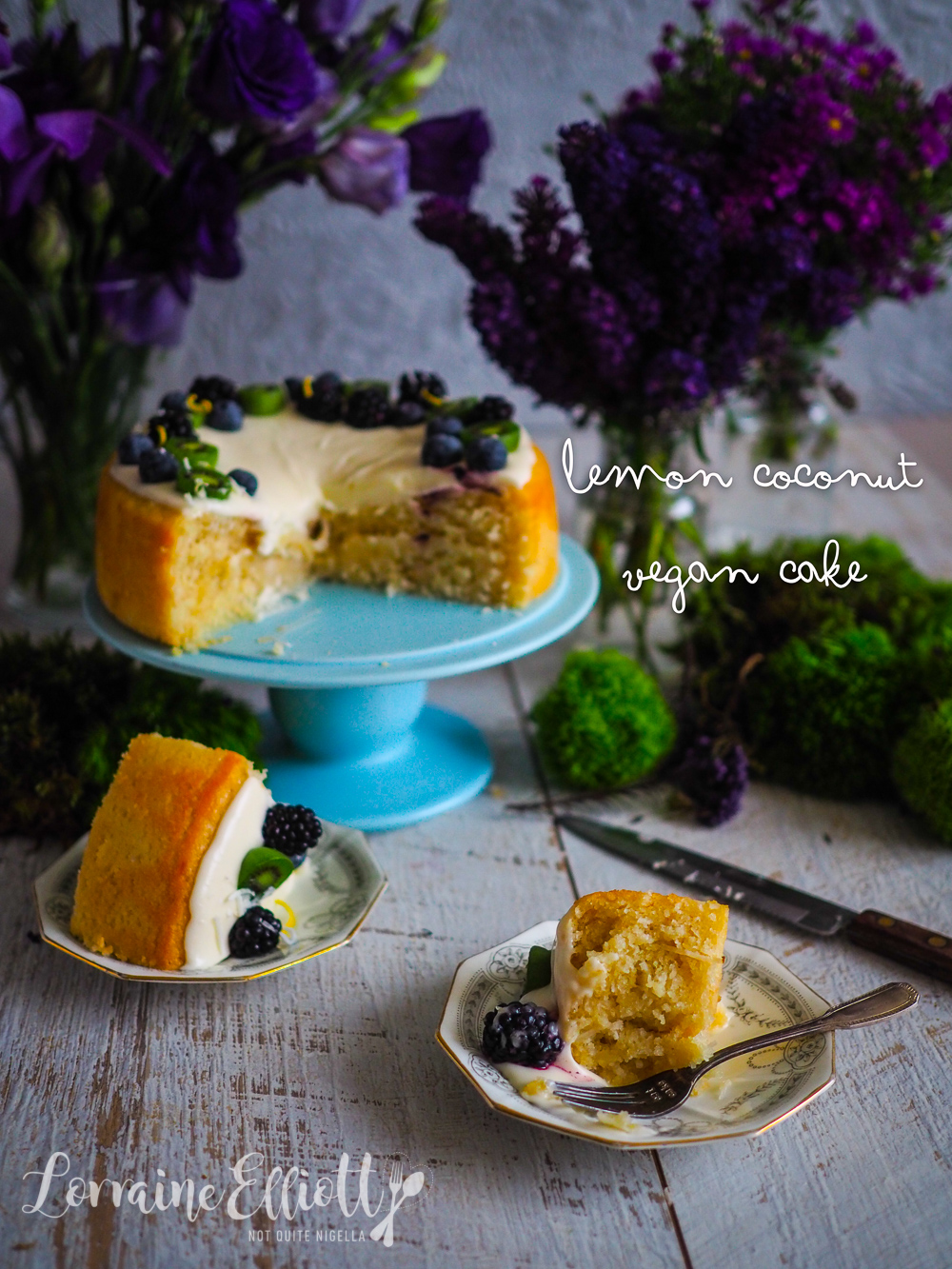 I'm so excited to share the recipe for this cake! Not only is it so easy (1 spatula and 1 bowl easy) but it has the most incredibly moist texture and coconut and lemon flavour and incredible 2 minute coconut frosting! This is a pushy recipe Dear Reader! It may just convert you to this vegan cake it's so easy and delicious. I called her Leena.
This is a version of my vegan chocolate cake which I've had so many people message me about. For some, they use it in place of regular chocolate cake because they prefer the taste of it to the regular version. Plus it is very easy and keeps fresh for days. I love it so much I have made lots of different versions. There's my vegan banana cake with hokey pokey frosting and a vanilla, mango and passionfruit vegan cake, a vegan rose and raspberry cake or if you're looking for a real show stopper there's my Vegan Ombre Vanilla Cake With Tahini Orange Blossom Buttercream Frosting. Not to mention my very favourite cake in the whole wide world aka the Snickers Galaxy cake is vegan!
Also this cake is made without eggs or butter so you can make it if you have a limited amount of things in your pantry. I know I said that this is a pushy recipe but this really is and not only is the cake good but the Amazing 2 Minute coconut frosting™ is a game changer. It literally takes 2 minutes to make (or really less) and just requires three ingredients in the food processor.
I came up with it by accident. I didn't have a lot of icing sugar left (Mr NQN accidentally bought caster sugar) and I had some coconut cream left from the cake. I blended the icing sugar and coconut cream together and it was good but needed something to firm it up so I added butter to it to give it a gloss and so that it would firm up in the fridge and now we have NQN's amazing 2 minute coconut frosting™!
The other reason I am so obsessed with this cake (and it took me so many attempts to arrive at this recipe) is because the best way to describe this cake is with the word moist. Nina once told me that she cringed every time she read the word moist on my blog or Instagram. But there's no other word for it. A word like "wet" is just as bad and humid is strange and really refers to weather.
That got me to thinking about words. There are words for so many things in English but there are omissions. The most commonly discussed example is perhaps schadenfreude or "pleasure derived by someone from another person's misfortune."
In French there is "Sortable" which is a single word used for family members and friends that you can take out without fear of being embarrassed. Or one that relates to me, "L'esprit d'escalier" which is when you think of a perfectly witty response but it's too late (when you're at the bottom of the stairs on your way out). In Thai งอน or ngaawn means a feeling of being sulky towards someone close to you for a slight but it's the feeling before being angry or upset and is used between people close to each other.
Sometimes words or phrases pop up in English. Bootylicious is one that made it into the dictionary (sexually attractive, sexy; shapely) and less formally I also love the phrase "Italian chef kiss" or "chef kiss" which is when someone pinches the fingers and thumb of one hand together, kisses them and then gestures flamboyantly away from the lips. I'm waiting one day for someone to come up with a phrase when you put two fingers to your eyes and then gestures to someone else's eyes to show that you're watching them closely!
And for now we'll have to keep with moist!
So tell me Dear Reader, do you have a favourite phrase from another language or English? Did you know any of these phrases or words?
DID YOU MAKE THIS RECIPE? Share your creations by tagging @notquitenigella on Instagram with the hashtag #notquitenigella
Vegan Lemon Coconut Cake
Rated 5.0 out of 5 by 4 readers
An Original Recipe by Lorraine Elliott
Preparation time: 25 minutes
Cooking time: 50 minutes
2 cups flour
1 1/4 cups sugar
3/4 cup shredded coconut
1.5 teaspoon bicarb
1 teaspoon salt
Finely grated zest of 1 lemon
3/4 cup water
1/2 cup coconut cream
1/2 cup oil
1/4 cup lemon juice
3 tablespoons white vinegar
1 teaspoon coconut flavouring
Amazing and Easy Coconut Icing!
1.5 cups icing sugar
3 tablespoons coconut cream (not coconut milk)
30g/1oz. butter substitute, room temperature
To decorate
Halved kiwiberries, blackberries, blueberries and shredded coconut
Step 1 - Grease and line a 20cm/8inch round tin with parchment and preheat oven to 180C/350F. In a large bowl add the flour, sugar, coconut, bicarb, salt and lemon zest and whisk together. In a jug whisk the water, coconut cream, oil, lemon juice, vinegar and coconut flavouring.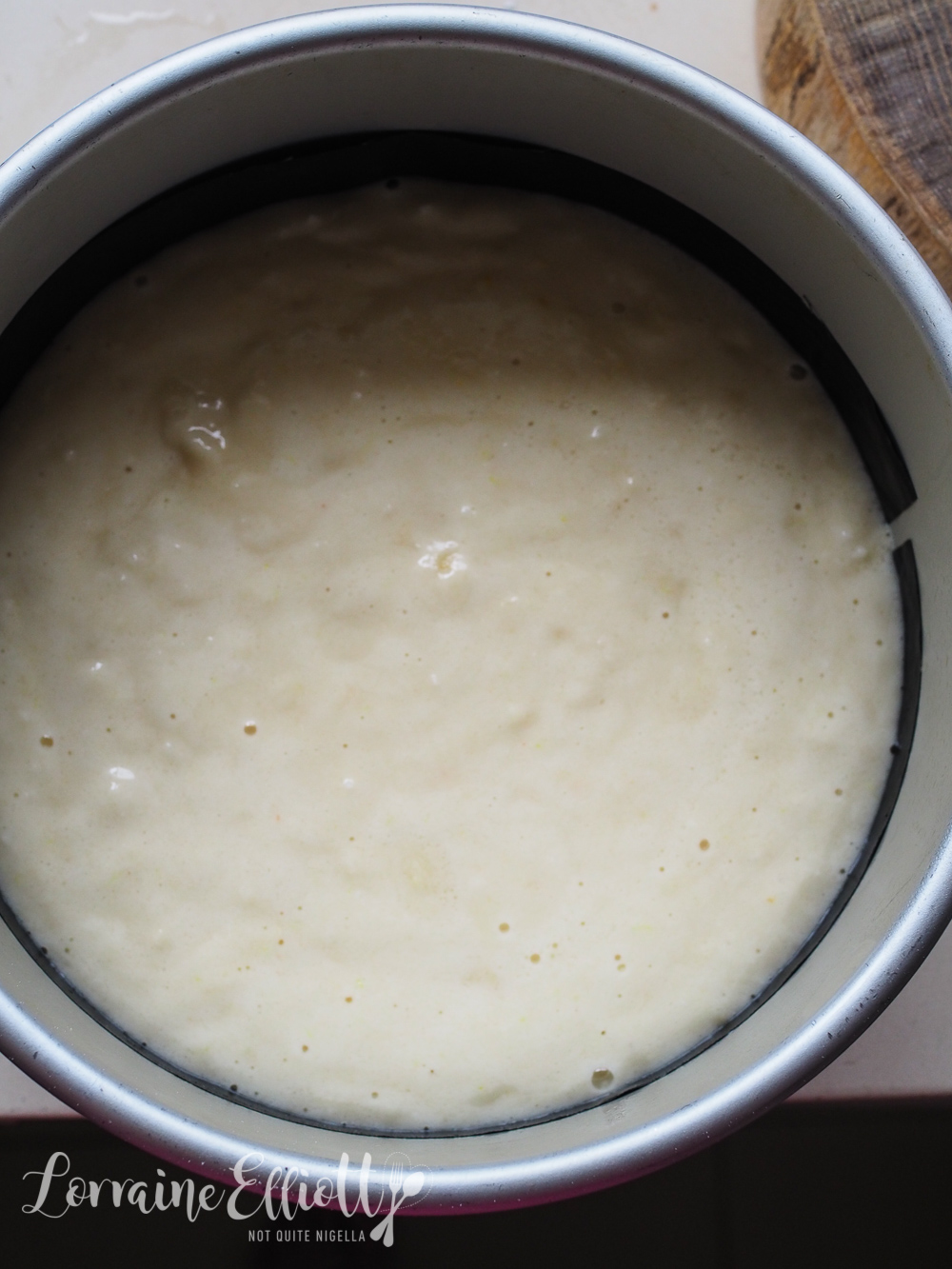 Step 2 - Make a well in the centre of the dry ingredients and add the wet starting with a quarter of the wet mixture to avoid lumps. Add in the rest of the wet in 3 lots. Stir to just combine but do not overmix. Spoon into tin and bake for 40-45 minutes or until the centre springs back when touched. Cool in the tin for 30 minutes and then gently remove. This is a very moist and light cake.
Step 3 - Make the amazing 2 minute coconut frosting™. Add the icing sugar in a small food processor and blend to remove lumps. Add the coconut cream and pulse. Then add butter substitute and process. Spread on top of the cake when cool-if you want this coconut frosting to be firmer just place it covered, in the fridge to firm up as it sets firm but becomes softer at room temperature.