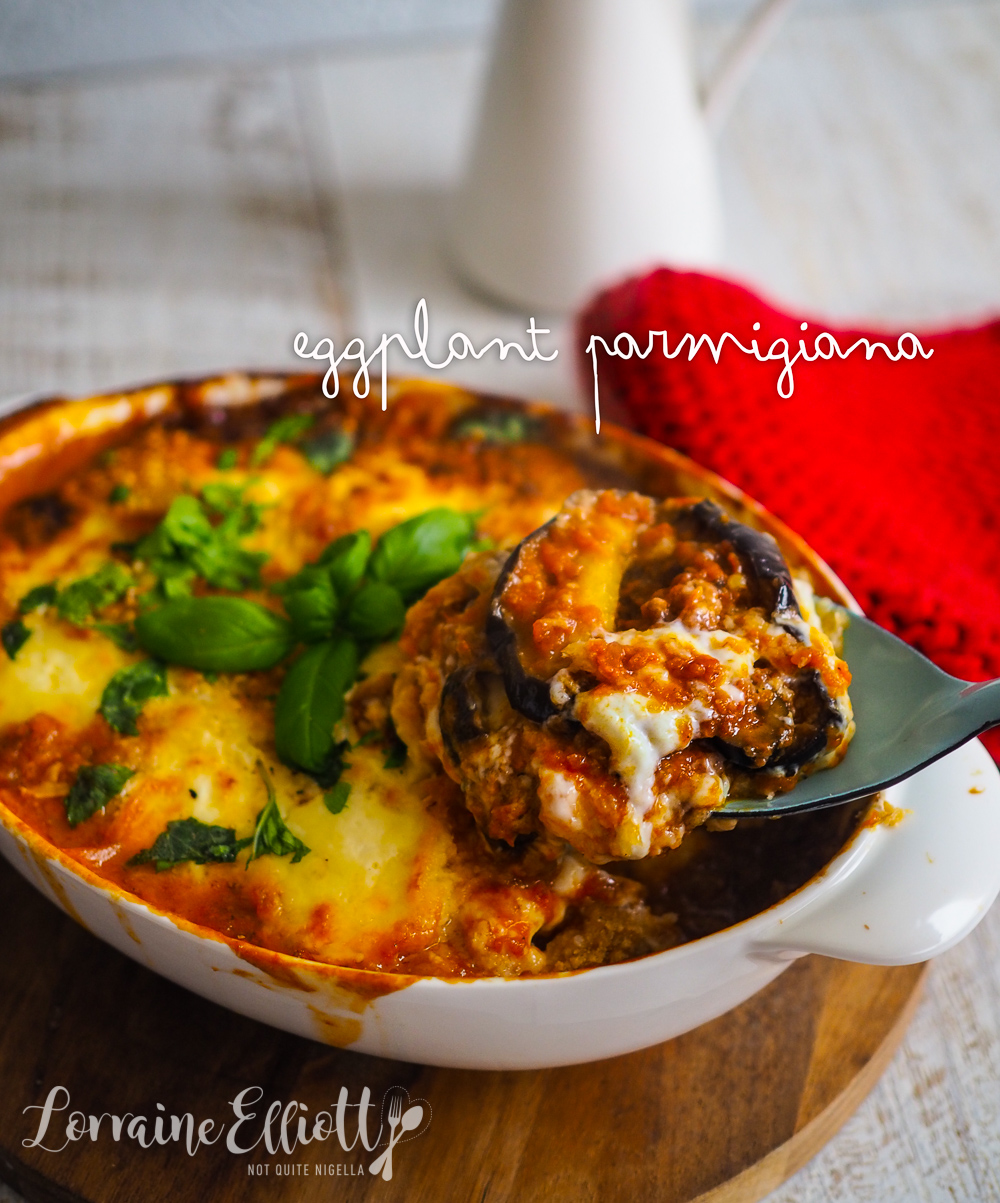 The best eggplant parmigiana you've ever had is right here. Velvety soft eggplant slices are layered with a rich oven baked tomato sauce and a surprise layer of creamy bechamel with crunchy breadcrumbs and parmesan cheese on top! Best of all the eggplant doesn't use up soak up a lot of oil thanks to a tip for cooking your eggplant! If you're looking for a comforting, delicious vegetarian recipe this is a pushy recipe!
How To Make Velvety Soft Eggplant Pieces Without the Oil: Eggplants are also like sponges and soak up a lot of oil. Usually eggplant parmigiana involves pan frying eggplant slices and it is a process that takes time as the eggplant soaks up the oil and then softens gradually. But did you know you can get around that by simmering the eggplant slices in salted, boiling water? You'll still get that velvety soft eggplant without the additional oil.
Week old eggplants-still very firm with green stems
How to pick and store eggplants: I remember the first time I went to Flemington markets and felt a super fresh eggplant and it changed the way I bought eggplants. The eggplant was so firm (so firm that it was like someone had clenched their butt muscles!) and didn't have any give or softness to it at all. It also had a bright green and firm stem. Look for these eggplants, any darkly coloured stemmed eggplants won't last as long and if you buy a firm eggplant with a bright green stem it will last for over a week in your fridge or at room temperature (away from bananas). And yes it is possible to get these at the supermarket, I bought these ones at Woolworths. The ones in the picture above were a week old just stored in my vege crisper.
Easy, Foolproof Bechamel Sauce: The start of a bechamel sauce is a butter and flour roux. You melt the butter and then stir in the flour and cook this mixture for around a minute or so. Then gradually add in milk. I find this easiest if the milk is hot. The only thing to add after this is salt and grated nutmeg. This creamy white sauce can be added to so many things. I've even made a tomato bechamel by adding 3 tablespoons of tomato paste to a bechamel and it tastes fantastic. Also I'm not suggesting that you go out to buy a Thermomix but this machine makes the smoothest, loveliest bechamel.
Lower Fat Bechamel Sauce: Did you also know that you can replace half the milk with water and it will still be a beautiful, creamy bechamel sauce?
We all have a definition of what's healthy. To me, 50g/1.7ozs. of butter and 100g/3.5ozs. of mozzarella still gives you the wonderful indulgent texture of a traditional eggplant parmigiana without the oil or time taking to fry the eggplant. But feel free to omit the butter or the breadcrumbs and just top it with some cheese if that's your will. I'm not going to tell you how to live your life ;)
In the last few weeks I've had a lot of people on Instagram ask me about my fitness routine. I guess now that we're more cooped up lately and winter is coming up people want to make sure that they stay healthy and fit. Although I wrote about it previously, it has been a while since I've gone through it and during that time my HIIT (High Intensity Interval Training) routine has changed too. I like HIIT because I get it done before lunch and when I trvel all I need is a yoga mat and my phone. I use a timer app called Round Timer.
My routine focuses on abs because that's the area I need the most work with. Also the tighter the abs, the more you feel it when you eat! I've also linked each exercise to short youtube videos demonstrating that particular move.
1 - 45 seconds squat jumps followed by 15 seconds of rest
2 - 45 seconds leg raises followed by 15 seconds of rest
3 - 45 seconds bridges followed by 15 seconds of rest
4 - 45 seconds single leg double crunches followed by 15 seconds of rest
5 - 45 seconds mountain climbers followed by 15 seconds of rest
6 - 45 seconds plank followed by 15 seconds of rest
7 - 45 seconds wall sits followed by 15 seconds of rest
8 - 45 seconds knees high running on the spot followed by 15 seconds of rest
9 - 45 seconds push ups against the couch (not floor) followed by 15 seconds of rest
This entire circuit is done three or four times. I also do a warm up routine for 5 minutes (you can find lots of those on youtube, I use one that Nina did with me).
Before embarking on this HIIT routine, I really recommend watching the videos because form is crucial so you can see what the form should be. I have gotten sprains from exercises like push ups from accidentally letting my elbows flare and since you're doing them from home often without supervision it's more important than normal to watch your form. I do this 7 days a week although on weekends I only do two circuits!
So tell me Dear Reader, have you been trying to stay fit while everything has been going on?
DID YOU MAKE THIS RECIPE? Share your creations by tagging @notquitenigella on Instagram with the hashtag #notquitenigella
Healthy Eggplant Parmigiana
Rated 5.0 out of 5 by 7 readers
An Original Recipe by Lorraine Elliott
Preparation time: 35 minutes
Cooking time: 60 minutes
1kg/2.2lbs eggplant
2 teaspoons salt
700g/25ozs. pasta sauce (I used my home made tomato pasta sauce)
1 quantity bechamel sauce (see recipe below)
100g/3.5ozs. mozzarella (I used bocconcini cherries)
3/4 cup/70g/2.4ozs. panko breadcrumbs
1/2 cup/50g/1.7ozs. grated parmesan cheese
50g/1.7ozs. butter, cubed
Bechamel sauce
25g/1oz. butter
25g/1oz. flour
250ml/8.8flozs milk, heated
1/2 teaspoon salt
1/4 teaspoon ground nutmeg
Step 1 - Slice the eggplant into 1cm/1.2 an inch slices. Place a large pot of water to boil and add the salt. Simmer the eggplant slices in batches for around 5 minutes each batch until soft. Place on double layered paper towels once done. Note: you can do this step a couple of days ahead of time and keep the eggplant slices in the fridge which is what I did.
Step 2 - Make the bechamel sauce. Add the butter to a small saucepan and melt. Add the flour and cook the flour in the butter for a minute. Add the milk gradually and stir until smooth. Add salt and nutmeg.
Thermomix bechamel recipe note: add all ingredients in the Thermomix and set to 7 minutes, 90C and speed 4.
Step 3 - Take a baking dish around 6-7 cups in capacity. Place a third of the tomato pasta sauce on the base and then top with eggplant. Layer alternating with tomato, eggplant and bechamel. My order is (it doesn't have to be strictly like this).
1 - Tomato sauce
2 - Eggplant
3 - Tomato sauce
4 - Eggplant
5 - Bechamel
6 - Eggplant
7 - Bechamel
8 - Tomato sauce
Step 4 - The final layer of the panko breadcrumbs, parmesan, mozzarella and butter cubes. Bake at 200C/400F for 30-35 minutes.