The Tea Cosy was formerly called The Tara Tea Room
I'd heard that there is a place, right smack bang in the middle of The Rocks (one of the loveliest, most scenic tourist and historical areas in Sydney) where there is a "secret tea room". One where you can watch the busy world go by whilst partaking of some afternoon tea goodies for surprisingly reasonable cost. And of course one of the biggest lures were the above tea cosies.
](https://images.notquitenigella.com/images/tara-tea-room-the-rocks-sydney/a-taratearoom_clock.jpg)
The scone clock
The reason some consider it to be a secret tea house is because it is only open on weekends (when the Rocks markets are on). It's right in the centre of the action and  there are tables outside right near the market stalls which provides a lovely  buzzing vibe. If you walk through the Irish Design Shop, there are also tables to the right in a leafy walled courtyard as well as an enclosed, cosy looking room with a stove. My friends Lulu and Andrew have ventured into town from the Blue Mountains today to pay us a visit with their baby Audrey so we were excited to see them and find out all about this Secret Tea Room for ourselves.
Menu modeled by Audrey and her dad
The food menu is simple, consisting of 5 light meal choices: scones (plain or scone of the day), soda bread, raisin soda bread or a rhubarb and raspberry pie all paired with a drink of your choice for $9 or you can order a drink by itself for $3- $4 (a steal). We order a selection of everything except for the plain scones and Lulu points out the clock that signals that we have made it in good time, for only minutes ago, did they bake their latest batch of scones, a half hour ritual that lasts all day so that you know when is best to come back for the freshly baked goodies.
Our goodies arrive not long after and of course the Teapot with the ladybirds is the item I covet. My tea is the strawberries and cream flavour (just don't add milk, it will curdle!) made with loose leaf tea as all of the teas here are. It's delicious and very strong with strawberry flavour.
Soda bread with preserves and butter and a drink of choice $9
My Soda bread comes with a raspberry conserve and pats of butter. It's thinly sliced and good and warm.
Raisin Soda Bread with preserves and butter and drink of choice $9
I try some of Lulu's Raisin Soda bread and it's absolutely chock full of raisins and the heady scent of cinnamon and cloves and mixed spices. Out of the two breads, this is definitely the pick.
Scones with double cream and jam and drink of choice $9
Andrew's scones are good, and quite hot as they've just emerged from the oven. As for Sydney's best...well that's a big claim. They are good no doubt and very fluffy and light and served with double cream and raspberry jam.
Rhubarb and Raspberry pie served with ice cream and drink of your choice $9
The rhubarb and raspberry pie is a generous slice served with ice cream and it's deliciously tart (but perfect when paired with the ice cream) with a strong raspberry taste. It is served with Barry's Irish tea, a black tea.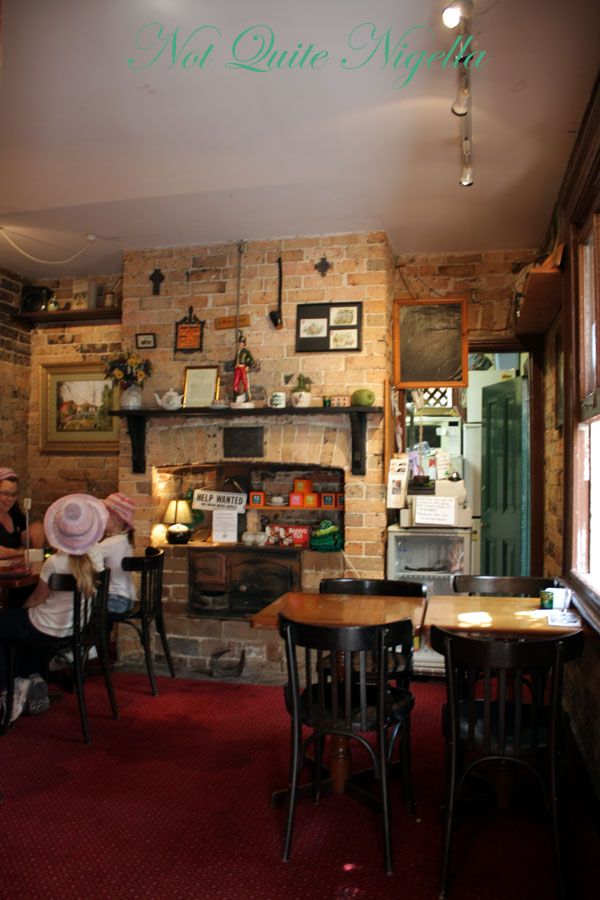 The cosy inner room
We wander inside the building to see what else lies within and it seems that there is also a gallery upstairs.
World name book
There's also a flip book in which you can see whether your last name appears. Curiously, my husband's doesn't so we assume that it's because they are Irish names but Lulu's does and hers is English and there are also non Irish names like Rizzo and Rodriguez. Curious!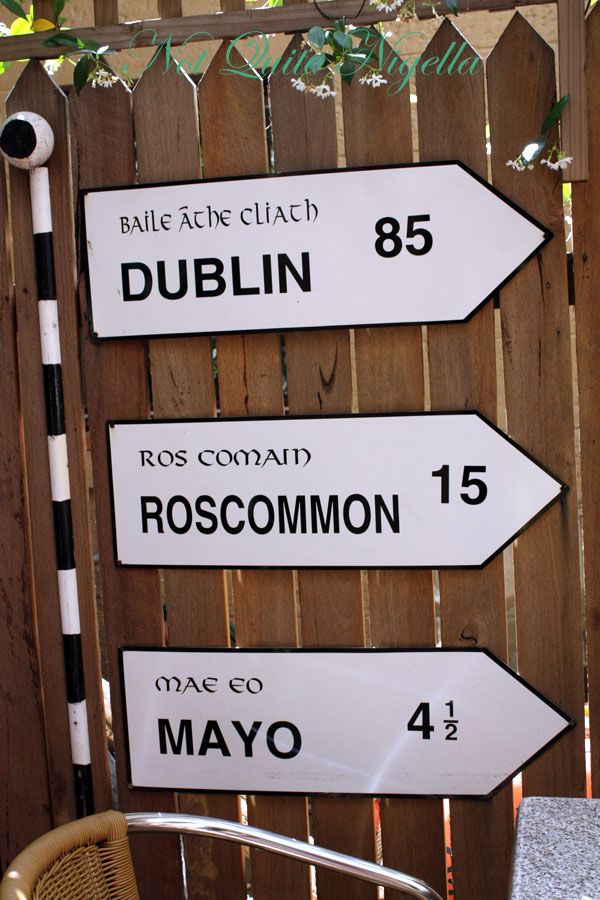 The courtyard area towards the back
"How about some tea for me?" Audrey asks
After 2 hours of simply angelic behaviour, Audrey starts to fidget so we prepare to leave, We check out the markets-as it's a Sunday the food markets aren't on, instead it's the touristy souvenir markets so we don't make a purchase. We still love the romance of playing tourist in our own city though.
Tara Tea Room
Part of the Irish Design Store
33 George Street, The Rocks, Sydney
Tel: +61 (02) 9247 3233
Open weekends from 10am-5pm