Henrietta Chicken is a new Lebanese chicken place on Crown Street in Surry Hills. By the people from Nour and Cuckoo Callay, it promises classic Lebanese style chicken with a range of creative dishes. Think felafel baos, chicken tawouk spring rolls and beef brisket shawarma tacos with zhug!
A reunion of the fried chicken cluckers was in order and there was no better place than Henrietta Chicken to reunite the three crazy souls that did the Korean fried chicken challenge in winter last year. There we were: Laura, Thom and I and we were back to our old tricks.
"Tacos sound good" - Thom
"I really want to try the felafel baos" - Laura
"Let's just get all the dips..." - Me
Usually Lebanese chicken places are more takeaway and casual eat in affairs and Henrietta does have a takeaway window but the restaurant is a bit of a step above a casual eat in. Service is really friendly and lovely and although it doesn't take bookings, we were only waiting 15 minutes for a table to be available.
It's Sunday lunchtime so time for a cocktail. "Can you make my slushie martini not a slushie?" says Thom to our waitress who to her credit thinks about it before he orders it as it is. It's made with Vodka One, passionfruit, vanilla and pineapple and comes in a plastic takeaway cup with the Henrietta logo on top.
Left to right: Strawberry Fool Spritz, Lychee Cosmo and Pornstar Slushie Martini $17 each
Laura's Lychee Cosmo is made with Vodka One, pomegranate liquor, lychee, cranberry and pomegranate juices, rosewater and lychee pearls-basically your teenage years in an appealingly sweet drink. I adore my Strawberry Fool Spritz with Aperol, Cocchi Rosa, grapefruit, Prosecco and strawberry spherification pearls. The drink is lightly bitter with Aperol but the pearls are sweet little bombs.
Clockwise from front: Hummus, Smoked Labneh and Banaganoush $10 each
Our food comes out shortly after. We start with the three dips. The hummus is topped with pine nuts and burnt lemon butter and has a nubbly texture. Both Laura and I prefer a smoother textured hummus but Thom likes it. The Babaganoush is nice with pomegranate and herbs but the surprise favourite is the smoked labneh with sesame, pistachio, chilli and basil oil. It's so moreish with everything, especially the spring rolls.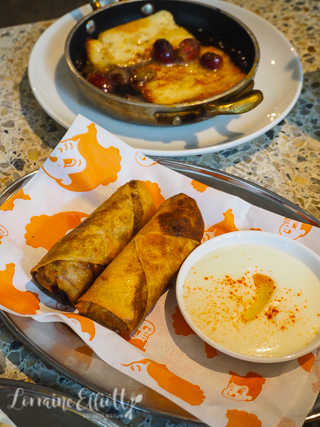 Chicken Tawouk Spring Rolls $6 each
Speaking of the spring rolls, they're filled with chicken tawouk with lots of aromatic curry spices. We also have to talk about the toum. It's not very garlicky and we all love that resounding hit of garlic with our toum. The toum's texture is also smooth and not fluffy. Thom quips, "Toum has big d%& energy," while Laura says, "The sign of a good toum is that you can only kiss the people at the table. It should be so garlicky that it cures you of Coronavirus*".
Please note: toum or garlic does not cure people of coronavirus-we wish!
Fried Chicken, garlic and Lemon Toum, Pickles $15
"I'm not convinced Lebanese fried chicken is a thing" says Laura and then they set down to plate of crumbed, golden chicken tenders, one piece plonked down in the toum. It's succulent, crunchy and moreish and my mouth is just watering just thinking about this all over again. I think, and this is definitely playing to our fried chicken loving crowd, but this is everyone's favourite. Tip: it's also delicious dipped in the honey sauce from the halloumi below.
Halloumi, Honey, Zaatar, Grapes $17
Halloumi is just so good and you'd be hard pressed to find someone that doesn't love this wonderful Cypriot cheese. And this is a simple but delightful way to serve it. It is pan fried with honey, zaatar and roasted grapes.
Beef Brisket Shawarma Tacos $26
The tacos come four to a serve with soft flour tortillas. The beef brisket is soft and saucy and easy to divide into four and we add some pickles, a bit of charred green chilli, toum and zhug.
Felafel Bao $8 each
The felafel bao are a tasty choice for vegetarians. The felafel is crunchy in texture and served with coleslaw, harissa and mint yogurt. The bao part is unfortunately cold and they're so much better warm but I can imagine once they remedy that, it will be great.
Coleslaw $10
Laura always has to have her Lebanese chicken with coleslaw and I'm down with that too because I love anything mayonnaise based. It's a good sized serve and it's a nice coleslaw.
Charcoal Chicken Meal $44
Then our main arrives. It's the Charcoal Chicken meal. It's a whole charcoal chicken with toum, pickles, bread and the cauliflower salad.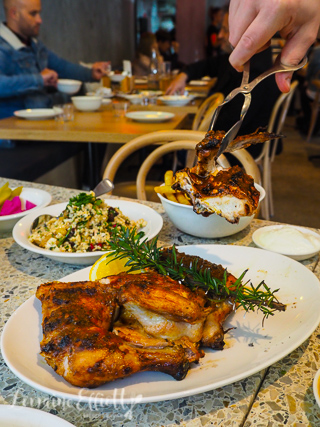 Now about the chicken: it's really good. There's a lot of testing that has been done to arrive at this chicken. The Henrietta chicken lots of spices on the skin and the meat is also very juicy too. Again the garlic toum isn't very garlicky but this time it is fluffier in texture than the previous one. For something so simple (see this 5 minute foolproof toum), it does seem rather odd. There are also instructions on how to eat the chicken on the menu. Tear the bread into quarters and open it up, smear garlic sauce, chilli sauce and use the bread to tear off the chicken with skin and add pickles and chips and eat.
Cauliflower Salad (part of meal)
I have to admit the cauliflower salad isn't really my sort of thing. It's nice but I had a hankering for roasted cauliflower and this is raw cauliflower. All I can think is how tasty this would be with some darkly roasted cauliflower. It comes with herbs, raisins and pomegranate.
Chips $7
The fries are excellent and well seasoned with sumac chicken salt.
Charred Corn $5
The charred corn is actually one whole long cob cut into pieces whereas we thought it was priced per cobette which we've definitely seen for $5 before. It's smokey with smoked butter, cheese and zaatar and the kernels juicy. The corn is nice spread with some toum.
Baklava Sundae $15
There are two desserts on the menu: a chocolate mousse and a baklava sundae. The sundae looks a bit odd and we all tilt our heads at it as it arrives at the table. It could do with some nuts or baklava shards on top or something. Still it is tasty. The honeycomb mousse has a brown butter flavour and it sits on top a warm date pudding that has a nice hit of salt to it. There's pistachios and crunchy bits to add texture.
Chocolate Mousse $12
The chocolate mousse is topped with honeycomb, pistachios and rose petals and is a denser mousse, more like a ganache with a strong rosewater flavour to it.
The bill is around $100 per person (although admittedly we've ordered such a large amount of the menu). "We're not in Lakemba anymore," quips Laura.
So tell me Dear Reader, do you like super garlicky toum? Can you think of another food to do a food challenge on?
This meal was independently paid for.
Henrietta Chicken
500 Crown St, Surry Hills NSW 2010
Open 7 days 11:30am–10:30pm
Phone: (02) 9380 7247