Kurumba is a brand new Sri Lankan restaurant in Surry Hills by the same family from The Fold in Dulwich Hill. Kurumba serves up modern and luxe takes on traditional Sri Lankan dishes from lobster kottu rotti, hot butter soft shell crab to a rich beef short rib curry. So what are the must order dishes here?
Kurumba is a family run restaurant and on this evening it looks like almost the whole De Hoedt family there. Dad Augi (Augustus) is in the kitchen, son Jason is making hoppers and mum Dilki is working on the floor. The final member Travin is in Japan doing a chocolate course. For years the De Hoedts had The Fold in Dulwich Hill which was a Sri Lankan restaurant and pastry shop but that closed in July 2023. The restaurant is named after the word for baby coconut in Sinhala. Travin describes the food at Kurumba as, "Taking inspiration from Sri Lankan street food that we use to eat as children and serving it using Sri Lankan and Australian produce."
At the moment there is only bar seating available; the downstairs of the terrace building has the bar area and kitchen while the upstairs dining room is set to open soon. "I just want half a cocktail," I say to Laura sitting next to me. We are sitting at the bar and the bartender overhears. "I can do half cocktails," he says. Perfect!
Rumba Kurumba $23 Straight From Hell $14 half serve
Laura's cocktail is the Rumba Kurumba cocktail made using Arrak (a Sri Lankan distilled alcohol made from the sap of coconut flowers), pandan, apricot, coconut and lemon aspen and has a familiar appeal. My cocktail is a half serve of the Straight From Hell made with Altos tequila blanco, coconut, Sri Lankan green chillies, curry leaf and verjus. The tequila is sous vided with coconut and then frozen to separate the oil from the tequila and then muddled with green chilli, verjus and curry leaf syrup. This is spectacular, unique and layered with the flavours of the green chilli first giving way to a coconutty finish.
Sydney Rock Oysters $6 each
Laura has just come from a drinks event so she wants something to cleanse her palate so we order a couple of oysters. They are served with a kalamansi, coconut water and coriander root dressing and some extra kalamansi to squeeze on top for extra tartness. The dressing is sweet and refreshing but it does need a bit of salt to balance the sweetness.
Smoked Brisket Pan Rolls $14 for 2
Short eats are one of my favourite categories of Sri Lankan food because they're tasty little snacks often made with pastry. The smoked brisket pan roll is made with a 48 hour slow cooked brisket rolled in a pancake with sourdough bread crumbs and served with a pineapple ketchup. The rolls are delicious and the tangy pineapple ketchup with a slug of chilli oil saves it from being too rich.
Seeni Sambol Puff $6 each
Seeni sambol or spicy onion jam is one of the main sambols or condiments in Sri Lankan cuisine. Here it sits atop a square of layered puff pastry along with buffalo curd and cashews. I think I was hoping that there was something inside the very high stack of pastry but everything is on top so it's a lot of pastry with a small amount of topping.
Hot Butter Soft Shell Crab $28
Traditionally in Sri Lanka they serve hot butter butter cuttlefish but here they use soft shell crab instead. It's a generous serve of soft shell crab paired with housemade chilli paste, banana pepper, chilli and red onion tossed in the work on super high heat served with a black garlic aioli.
Short Rib Curry MBS 4+ $38
The short rib curry is my favourite dish and the beef has been sous vided for 24 hours and then cooked for an additional 8 hours and then finished with Kimbula Kithul (a syrup made from the palm tree), chilli and saltbush. The gravy is rich and the beef just melts in the mouth beautifully. It is a smallish serve so just keep that in mind if sharing.
Hand Stretched Roti $6
The hand stretched roti is fried in coconut oil which gives it a district taste. It's not as light and a bit thicker than other roti that I've had and it is best when eaten hot as it firms up quickly.
WA lobster Kottu $65
We are lucky to snag the last serve of the signature dish: W.A. lobster kottu rotti. Here the chopped fresh roti is cooked in a pan and then chopped up with vegetables, onion, fresh garlic, ginger, chilli and eggs with roasted lobster head curry sauce poured at the table. Augi is proud of the curry powder that he makes as it roasts at very low temperatures for 24 hours. There are big chunks of tender lobster and we fish out everything out of the tail as it's so good and we don't want to waste a bit. The end result is similar to stir fried noodles.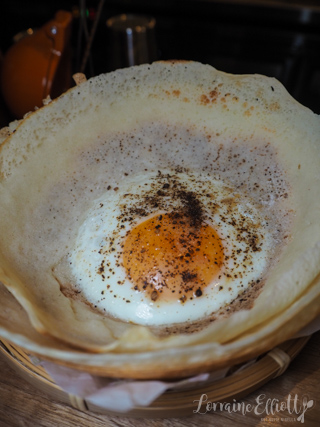 Appa Appa $22
The hoppers come out last and after we've finished most of our food. The Appa Appa plate has 1 egg and 2 plain hoppers with all of the sambols (lunu miris chilli and shallot sambol, pol or coconut sambol and seeni or onion sambol). They've got a good crispy edge to them and are very good although they would have really been better if they had arrived earlier.
Faluda Soft Serve $19
With three pastry chefs in the family (Jason, Travin and Saaya who is married to Travin) you definitely want to save room for dessert. There's a range of desserts from their version of the Watalappam cake to chocolate biscuit pudding but we decide to share the signature dessert, a faluda soft serve. "This was something we always used to drink as kids after school or if we go out for shopping. We took the main ingredients of the drins and basically made it into a soft serve. This took months and months of trial and error to get the right consistency and flavour," says Travin. The soft serve is rose flavoured with rose syrup, praline pistachios and crispy vermicelli finished with a cherry on top. It's refreshing and sweet and I particularly love the spoonfuls with lots of pistachio and crispy vermicelli. Even though we are both full we actually eat a lot of this as it's the perfect dessert after a big meal.
So tell me Dear Reader, do you have a favourite Sri Lankan dish? would you like half serve cocktails?
This meal was independently paid for.
Kurumba
555 Crown St, Surry Hills NSW 2010
Phone: +61 (02) 9331 5737
Monday - Closed
Tuesday - Thursday 5:30pm - 11pm (kitchen closes at 9:30pm)
Friday - Saturday 12pm - 3pm (kitchen closes at 2:30pm), 5:30pm - 11pm (kitchen closes at 9:30pm)
Sunday 12pm - 4pm
https://kurumbasyd.com.au