Guys, guys, the best quarantine dinner idea is here! A Sushi Bake is a fun way to serve sushi that is ridiculously easy. Sushi rice is layered in a baking tray and then topped with three seriously easy toppings and then briefly baked or grilled! Then you scoop some out with a spoon and place it on a crisp nori seaweed square and eat! It's fun, interactive but most importantly it's absolutely delicious. This is a pushy recipe Dear Reader!
A friend Kath messaged me one day and asked if I had ever tried a sushi bake. Truthfully I had never heard of it but after looking it up I could see that it was a super creative idea that has become very popular during quarantine. Making sushi rolls requires a sushi rolling mat unless you are really good at it. This idea is easier but the bit that I liked was the interactivity and fun.
I chose three toppings for my sushi bake but often the entire bake is just the one topping. I liked the idea of having three just to give people choice.
I topped my sushi bake with:
1 - Volcano Prawns With Sesame
2 - Kani Crab With Tobiko
3 - Spicy Tuna With Avocado
I've never made volcano sauce before but I was excited to find out that it's basically mayonnaise and Sriracha that turns yellow once baked-yes it's that easy! And the kani crab dressing is just sour cream and mayonnaise. The spicy tuna has a few more ingredients but is just a matter of processing it all together in your food processor or Thermomix! All three toppings can be done while the rice is cooking.
Korean crispy seaweed: So you can use your sheets of nori just cut up into squares or rectangles but Korean crispy seaweed pieces have a really tasty seasoning on them so use them if you can get them. It is often sold as packets like the picture above but in large bags with 16 individual packets.
What is Furikake? Furikake is a dry Japanese seasoning mix usually made up of nori, sesame seeds, dried bonito, dried fish, sugar and salt. Many types are available and you just need to sprinkle it on top of rice (or anything you want to season).
What is Kani?: Kani is actually the Japanese word for crab but the word is often used in sushi terms to describe Japanese imitation crab sticks. It is what is used in California rolls and is an inexpensive alternative to crab.
What is Togarashi? Shichimi Togarashi is a mildly spicy chilli seasoning made up of chilli powder, orange peel, sesame seeds, Japanese pepper, ginger and seaweed.
Try to use Kewpie mayonnaise: Kewpie mayonnaise is perfect for sushi. Kewpie mayonnaise uses egg yolks to make it richer but has a tang from Japanese rice vinegar. I also use Kewpie sesame dressing on everything. I buy the big bottle because I love it on salads.
Although sushi is obviously a Japanese item, this became really popular in the Filipino community so while it may not be an authentically Japanese item, it is definitely inspired by Japanese style sushi. Chirashi sushi is a similar concept although chirashi isn't baked.
Speaking of giving credit where it is due, what is the name for getting credit for originally saying something? Every time we go to the shops there is hand sanitiser available which we always use. There was one at a shopping centre that had a particularly pungent aroma, a bit like a musty factory floor. "I don't like the smell of this one," said Mr NQN after he helped himself on the way in.
On the way out we also got some and I took a sniff. "Hmm this one smells funny..." to which Mr NQN said indignantly, "I just said that before!!".
"Oh really? When?" I said stirring him. Of course I remembered him saying that but I was also laughing inside. He grumbled and muttered something about saying that before and I had to stifle laughter. You see, usually it's the opposite situation and he says he can't remember me saying something.
As we were buckling up in the car a few minutes later I decided to torture him a bit further. I took a sniff of my hands and said, "You know this hand sanitiser smells a bit funny..." to which Mr NQN immediately shouted, "OMG Whaaaat???" to which I started laughing uncontrollably. He stopped short. "GOTCHA!" I said holding up my hand for a high five.
"You didn't get me...I knew you were joking," he said, a smile creeping at his mouth. And now every time we use hand sanitiser I always comment, "This one smells funny..."
So tell me Dear Reader, do you ever get into a credit situation like that? Do you like the idea of a sushi bake? Please tag me if you make one!
DID YOU MAKE THIS RECIPE? Share your creations by tagging @notquitenigella on Instagram with the hashtag #notquitenigella
Sushi Bake Recipe
Rated 5.0 out of 5 by 3 readers
An Original Recipe by Lorraine Elliott
Preparation time: 30 minutes
Cooking time: 40 minutes
Note: The quantities below are enough for a third of a 30X20cm (12x8inch) tray. If you are making only one or two varieties please increase your quantities accordingly.
For sushi rice:
2 cups/400g/14ozs. raw sushi koshihikari rice
3 cups/750ml/25flozs. water
1/4 cup/60ml/2flozs. sushi rice seasoning
20g/0.7oz. furikake
1 packet Korean crispy seaweed
4 tablespoons/80ml/3flozs. Japanese sesame dressing
Volcano Prawn Topping
300g/10.6ozs. raw prawns, chopped roughly
1/3 cup/80ml/3flozs. kewpie mayonnaise
2 tablespoons Sriracha chilli sauce
1 tablespoons toasted sesame seeds
Kani (Crab) Topping
180g/6ozs. kani or imitation crab
1/3 cup/80ml/3flozs. sour cream (full fat)
1/3 cup/80ml/3flozs. kewpie mayonnaise
1/2 teaspoon lemon zest
3 tablespoons tobiko
Spicy Tuna Topping
200g/7ozs. tinned tuna, drained well
1 stick green onion, roughly chopped or 3 tablespoons red onion
1/4 cup/60ml/2ozs. kewpie mayonnaise
1/4 cup/60ml/2ozs. sour cream
2 tablespoons Sriracha
20g/0.7ozs gari or pink pickled ginger
Half an avocado, sliced
Togarashi chilli
Buyer's note: you can find kani or imitation crab and tobiko in the frozen section of your Asian grocery store. You can find furikake and crispy seaweed on the shelf
Step 1 - First make the sushi rice. Rinse the rice 2-3 times and then cook in a rice cooker with the water until cooked through. Cool for 5 minutes and then stir through the sushi seasoning and spread out on a 30x20cm/12x8inch baking tray pressing down gently with an angled spatula. Top with the furikake and break up packet of crispy seaweed and crumble on top.
Step 2 - While the rice is cooking make the toppings. To make the prawn topping mix the mayonnaise and Sriracha together. Mix with the prawns (make sure that the prawns are dry and pat on a paper towel before using). Set aside.
Step 3 - To make the kani topping strip the kani sticks with your hands into pieces and then mix in a bowl with the sour cream and mayonnaise. Add lemon zest and set aside.
Step 4 - To make the spicy tuna topping place the tuna, onion, mayonnaise, sour cream, Sriracha and ginger until smooth. Set aside.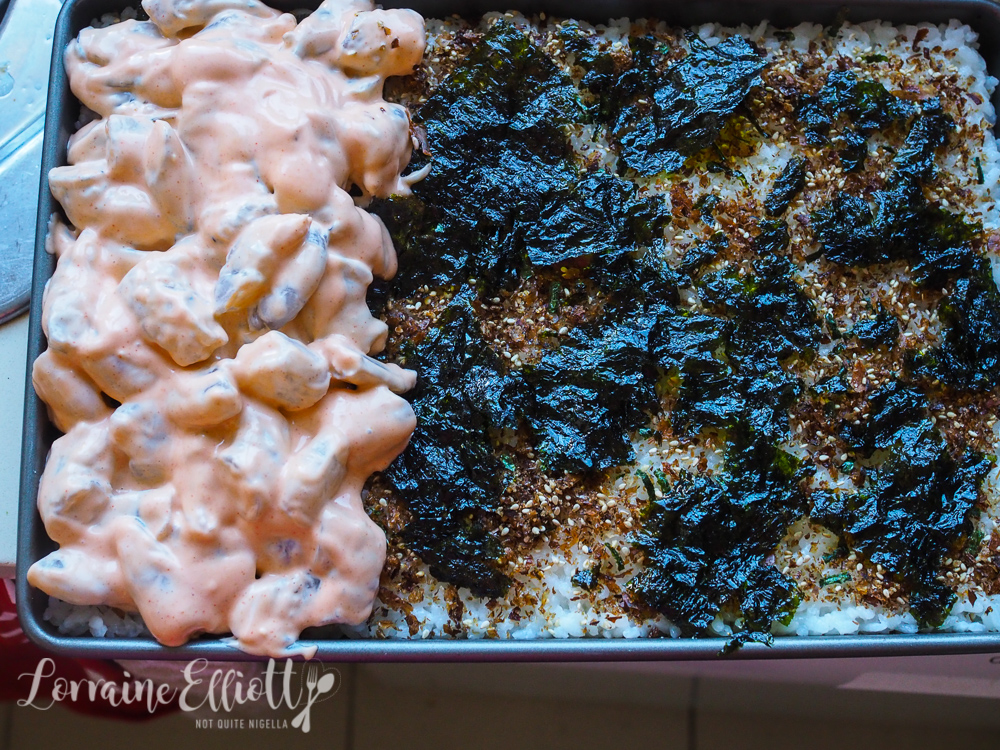 Spread prawn topping over first third of the rice
Step 5 - Preheat oven to 160C/320F. The prawns takes the longest to cook as they are raw so we will bake them first. Spread the prawn topping on one third of the sushi rice. Bake for 10 minutes.
Prawns are cooked above, then add the kani crab topping
Step 6 - Then add the kani topping in the second third and bake for 10 minutes. The tuna is the only topping that isn't baked.
Step 7 - Once the kani is cooked, add the tuna on the final third section of the bake. Sprinkle the tuna with togarashi and avocado slices. Top the prawns with sesame seeds and chives. Top the kani with tobiko and chives. Drizzle the whole sushi bake with the sesame dressing.
Step 8 - Serve with Korean seaweed pieces. Using a spoon scoop some of the topping into your crispy seaweed and eat.