Who misses Hawaii and delicious Hawaiian Garlic Shrimp? Well if you want to get a bit of the taste of Oahu's North Shore Shrimp Trucks at home then give this Hawaiian Garlic Shrimp & Rice a try! It's so easy and tastes just like Giovanni's shrimp truck offering. This is a pushy recipe Dear Reader!
I saw that a friend recently went to Hawaii and ate at the shrimp trucks. She asked me if I had a recipe and I realised that I hadn't but now was a good time as any as I miss going to Hawaii so much! I cannot tell you how excited I am to share this recipe with you as it is SO delicious! The best thing about recreating food truck food is that it can often be easy to make because they have to do it all in a tiny space and this Hawaiian garlic shrimp is no exception.
On Oahu's North Shore there are countless shrimp trucks and each one does a slightly different version of garlic shrimp (aka prawns). I absolutely loved the garlic shrimp and rice at Giovanni's. Their food truck is said to be the first serving shrimp since 1993 and now there is a proliferation of shrimp trucks. Theirs is covered in graffiti and you can add to the scrawlings of customers who fall in love with their resoundingly garlicky, buttery shrimp and rice.
The garlic shrimp at Giovanni's (and most of them) are served shell on and split down the back so that the garlic flavour permeates into the meat through the cut. Giovanni's garlic shrimp are marinated in olive oil, garlic and lemon and then fried. Giovanni's is now owned by the Nitsche family - Troy Nitsche bought the business from John Giovanni in 1997. Romy's shrimp truck is also a hot contender for Giovanni's but I preferred Giovanni's as I found Romy's burnt the garlic and it tasted bitter but it could have been an one off.
Tips for Making Hawaiian Garlic Shrimp!
Which prawns to use? Depends on your preference! I prefer prawns with softer shells as it is easier to cut the backs open. I used king prawns and any large prawns will do it just depends on what you like and what is available. Tiger prawns are brighter red and have a harder shell so I tend to avoid those. I used 750g/26.4ozs. of prawns or shrimp which becomes around 475g/1.05lbs when you remove the heads. You can also use peeled prawns if you like and it will still be absolutely delicious.
Use a very sharp knife to cut down the back of the prawns but take care doing this step. I used a serrated Victorinox knife. Split them open quite deep so that the flavours get through. This is most tedious task of this whole dish so sometimes when I make this I use shelled prawns and it's much quicker.
Use fresh garlic: I'd recommend a good quality, unbleached fresh (not jarred) garlic if possible. Crushed or bottled garlic won't have quite the same flavour. You can chop it fairly roughly, it doesn't have to be a fine dice. Have a look at the Giovanni's garlic shrimp below. And yes a head of garlic is a lot but once you cook it it tastes just right. Please don't skimp on the garlic quantity - this is a dish strong in garlic!
Which Rice to Use? The rice at Giovanni's is like a Japanese short grain rice that is quite "wet". It is served as round scoops using an ice cream scoop. I add a little chicken stock to my rice (it's a habit to add extra flavour) and some coconut milk and it is served with some of the buttered garlic on top.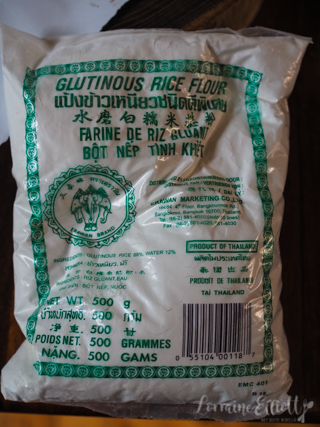 Which flour to use? I used glutinous rice flour (or mochiko flour) which I bought from an Asian grocery store but you can use rice flour or plain all purpose flour. I slightly preferred the texture using the glutinous rice flour but they are still very tasty with plain flour (I tested a few batches out).
Cook your shrimp on medium heat to avoid burning the garlic.
Reserve the heads and make a prawn head stock for soups or seafood curries/stews.
We ate this in the garden on a warm summer's night. So far we love the house but there were some things that we had to change straight away. On the first night I took a shower in the upstairs bathroom which is an ensuite to the master bedroom so it is the most convenient. We were both tired, dusty and grimy from the move and I was desperately looking forward to a shower. I turned on the shower and there was an avalanche of water. The owner Lucy had told us that water pressure was good but apparently we are living atop a geyser. It was aggressively strong with enormous drops of water unevenly spaced with dead patches. There was no fine jet or massage, it was pure unadulterated anger.
I emerged from the shower like a drowned rat that had battled a fireman's hose. "I've come to the conclusion that Lucy was a complete maniac," I said to Mr NQN while drying off. "Just based on the fact that that was the most abusive shower I've ever had and that she was cool with that."
"Let me try," he said and after the quickest shower ever he said, "Yep we're changing that," . And the day after we moved in we bade farewell to the abusive shower head. It was replaced by a perfectly good $17 shower head from Ikea which would do until we renovate further!
So tell me Dear Reader, what would you change in your house if you could? Have you ever tried Hawaiian garlic shrimp and rice?
Did you make this recipe?
Share your creations by tagging @notquitenigella on Instagram with the hashtag #notquitenigella
Hawaiian Garlic Shrimp & Rice
An Original Recipe by Lorraine Elliott
Preparation time: 15 minutes plus 1 hour marinating time
Cooking time: 20 minutes (8 minutes shrimp, 15 minutes rice)
Serves: 4
750g/26.4ozs. shrimp or prawns
15 cloves garlic, peeled and chopped (around 1 head of garlic)
75ml/2.5flozs. extra virgin olive oil
30ml/1flozs. lemon juice
2 teaspoons salt
1/2 cup glutinous rice flour (you can also use rice flour or plain all purpose flour)
2 teaspoons sweet paprika
1 teaspoon cayenne pepper
100g/3.5ozs. butter, salted
Garlic Rice (or if you like things really garlicky, try this garlic rice recipe)
1.5 cups/315g/10.7ozs. sushi or koshihikari rice
1.5 cups/375ml/12.7flozs. water or chicken stock
1 cup/250ml/8.8flozs coconut milk
Step 1 - Remove the heads of the shrimp or prawns and with a sharp knife cut down the back of the prawn removing the grey goo. Be careful doing this as prawn shells can be slippery. Marinate the headless prawns in the olive oil with the chopped garlic, lemon juice and salt in the fridge for 1 hour.
Step 2 - While the prawns are marinating make the rice. Rinse the rice and then add the water or stock and coconut milk and bring to a boil. Knock down to a very low heat and keep the lid on and steam for 15-20 minutes. It should be quite a sticky rice that you can scoop using an ice cream scoop.
Step 3 - When the prawns have finished marinating whisk the flour with the paprika and cayenne pepper in a shallow bowl. Shake the garlic bits off the prawns and place the prawns in a bowl and lightly dust with the seasoned flour. Heat a large frypan on medium heat and add half the butter. Toss half of the prawns in the flour mixture and place in the pan and fry. Remove from the pan and then do the same with the other half lot of prawns and remaining butter but this time also add in the olive oil and garlic mixture and fry the garlic in the butter and oil. Note: if your pan is huge you can do this all at once but mine was a regular sized pan and I didn't want to overcrowd the pan. Serve with extra cayenne pepper sprinkled on top, lemon wedges and 2-3 scoops of rice per person-add extra garlic from the pan on top of the rice.