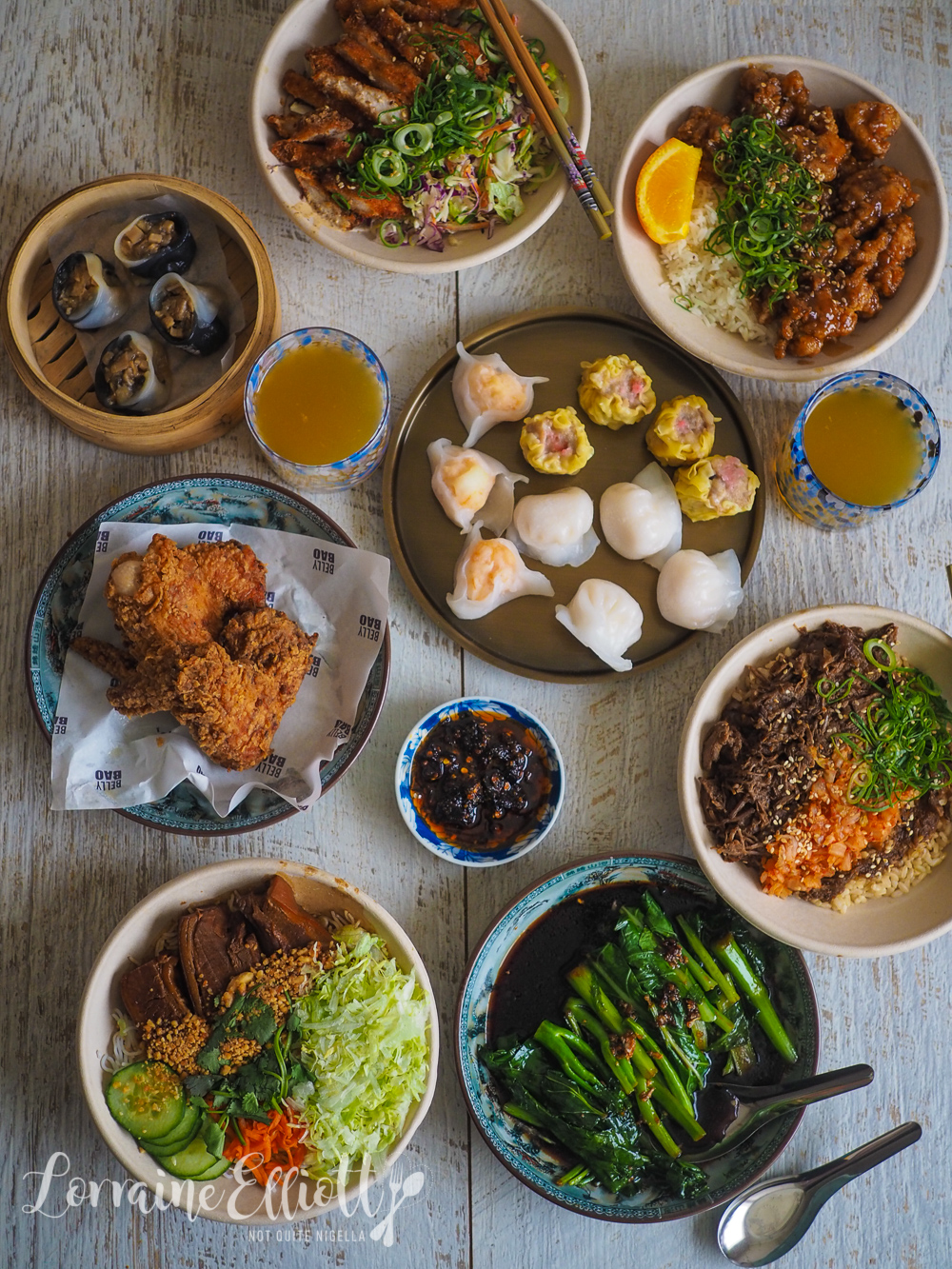 Belly Bao has a new baby brother! Boy Boy Bowls is the newest take away and home delivery option from the team at Belly Bao in Newtown. The menu features a range of "bowl food" aka rice, noodles or salad with toppings like Orange Chicken, Slow Braised Beef Short Rib, soft Pork Belly or Braised Eggplant. There's also a wonderful range of hand made dumplings including a gorgeous mud crab and scallop dumpling and my favourite, the mushroom and truffle dumpling!
Boy Boy Bowls is by chef Sylvia Tran and her partner Kiren Chua. "Boy Boy Bowls was an idea we have been mulling over for a year or so. With the trauma caused to our business during Covid-19, as soon as we launched our delivery services for Belly Bao, we started working hard towards getting Boy Boy up and running too," says Sylvia.
"Boy Boy" is a Singaporean/Malaysian slang term used affectionately for boys. Sylvia explains, "As Kiren's background is Singaporean, and we've recently had our baby boy Levan, the name "boy boy" seemed perfect as it's Belly Bao's first baby too." It is Levan's image that is used in the Boy Boy Bowls logo.
I have to admit that I was so eager to try Boy Boy Bowls even though I don't live in the delivery area that I got it delivered to my friend's house in St Peters and picked it up from there. This was before I realised that you could pick up your order from Belly Bao.
Like Belly Bao, Boy Boy Bowls has a neat, smart menu with just enough choice. Nevertheless, I spent all morning trying to decide what to order. I added things into my basket, took them out when my total ballooned out to $200 and then replaced my favourites.
You basically choose the base (white rice, brown rice, vermicelli or salad) and then select a topping. Each bowl is customisable and you can also add a 63°C egg, fried egg, chicken wing, shiitake mushrooms, fried tofu and kimchi or just extra of the main topping. There are also a range of dumplings and other sides. Delivery was $6.99 and I scheduled it to arrive with enough time for me to get to my friend's house and chose the no contact option.
Clockwise from left: Mud Crab and Scallop Dumplings $12.90, Pork & Prawn Dumplings $10.90 and Prawn Dumplings $11.90
It smells so delicious in the car and I can't wait to get home. The dumplings were a given. It was Mr NQN's birthday weekend this past weekend and he is a dumpling freak. I ordered one serve of each knowing that he could conceivably eat three servings of each dumpling. The handmade Har Gow or prawn dumplings are perfectly made with plenty of springy prawn filling inside. I also love how plump and fat these pork and prawn Siu Mai are. So does Mr NQN and he pops one in his mouth whole while I nibble on mine to make it last longer.
One of my favourite dumplings are the mud crab and scallop dumplings that come four pieces to a serve. Yes there is one missing but that's because I couldn't wait to try these before I photographed them.
Mixed Mushroom & Truffle Dumplings $12.90
My other favourite dumpling is the mixed mushroom and truffle dumplings. These are also vegan friendly and are so full of flavour I'd happily eat these over a meat dumpling any day.
Orange Chicken Rice Bowl $16.80
Onto the bowls! Mr NQN loved the orange chicken which is like a citrus version of sweet and sour chicken with sticky, crispy pieces of chicken served with spring onions and sesame seeds with steamed white rice.
Slow Braised Beef Short Rib Rice Bowl $1.680 + $1 brown rice
I chose brown rice with the slow braised beef short rib bowl and the brown rice soaks up the flavours of the beef really well. The beef is cotton soft and melting and is served with kimchi and spring onion on top.
Chicken Katsu Salad Bowl $18.80
I liked the chicken katsu salad bowl but I think having it on rice with maybe a fried or 63C egg might have been a better idea (I was trying all the options). The salad is a mix of shredded carrots, red and white cabbage, spring onion and sesame dressing but there isn't much dressing on mine. I have sesame dressing in my fridge so I add some.
Slow Braised Pork Belly Vermicelli Bowl $18.80
My favourite bowl is the pork belly. There are three thick slabs of luscious soy braised pork belly topped with chopped peanuts, pickled carrots, cucumber and lettuce with vermicelli noodles. The sauce for this goes through to the noodles and I think choosing the saucier mains like the pork belly and beef to the noodles makes them so flavoursome.
Gai Lan $11.80
Vegans and vegetarians have some choice with the eggplant bowl, mushroom dumplings and gai larn or Chinese broccoli with vegan oyster sauce soy and garlic oil. The gai larn is crunchy and tasty and I add this on top of the rice bowls.
Chicken Wings $9.50
This is a little of Belly Bao brought over to Boy Boy Bowls. It's two pieces of golden fried chicken wings that are wonderfully crunchy. All you need is a little dipping sauce if that's your thing (sweet and sour for me!).
So tell me Dear Reader, do you take smaller bites with food that you enjoy to make it last longer? Do you spend hours choosing what to order?
This meal was independently paid for.
Boy Boy Bowls
http://boyboybowls.com.au/
184 King St, Newtown NSW 2042
Tuesday - Thursday: 5pm - 9pm
Friday: 11:30am - 3pm & 5pm - 10pm
Saturday: 11:30am - 10pm
Sunday: 11:30am - 9pm
Closed Public Holidays