Dear Reader, are you intrigued by fancy focaccias? Here are four designs that range from simple to elaborate (but totally doable). There's a simple flower garden, a bright pink focaccia, a bursting flower focaccia and a fancy Frida Kahlo inspired focaccia. These focaccia gardens are not only fun but delicious too!
One of the biggest trends during 2020's quarantine is the focaccia garden or focaccia art. This is where you decorate a focaccia with vegetables to create a pretty landscape scene. It's surprisingly easy to do and very satisfying to create.
Why is focaccia so popular? Focaccia is a relatively easy bread to make and it can be made quickly and doesn't require any shaping skills as the dough is poured into a tin. Focaccia can also be made without kneading by letting it rise overnight. Most importantly, it produces a delicious bread that is textural and satisfying. Decorating a focaccia adds flavour and texture and also uses up any bits and pieces in your crisper. Plus you can get as creative as you like!
My biggest tip for making a great focaccia garden: Lay out your design on parchment first and you can move pieces around while you figure out what your focaccia is going to look like. This is important because focaccia dough is very sticky so once you lay down a piece of topping, it will be very hard to get out.
Crispy bottomed focaccia-delicious!
Note: laying down vegetable toppings does prevent the big bubbles from forming like a traditional focaccia. If you want to make a plain focaccia you can still use this recipe, just omit the topping and replace with rosemary and salt.
Now onto the four focaccia designs (in order of simple to most challenging):
How to Make a Floral Focaccia:
I used a radicchio make the big leaves (please note that radicchio doesn't quite keep that gorgeous purple hue once cooked) and fioretto cauliflower as the pistil. I used kalettes and rosemary to fill in any blank spaces around the flower.
Floral Focaccia after baking
How To Make A Simple Focaccia Garden:
I used half a zucchini as the tree trunk and fioretto cauliflower as the tree branches. I made a sun out of sweet potato, birds from mushrooms and black olives and trees from broccolini heads and flowers from green onion and cherry tomatoes.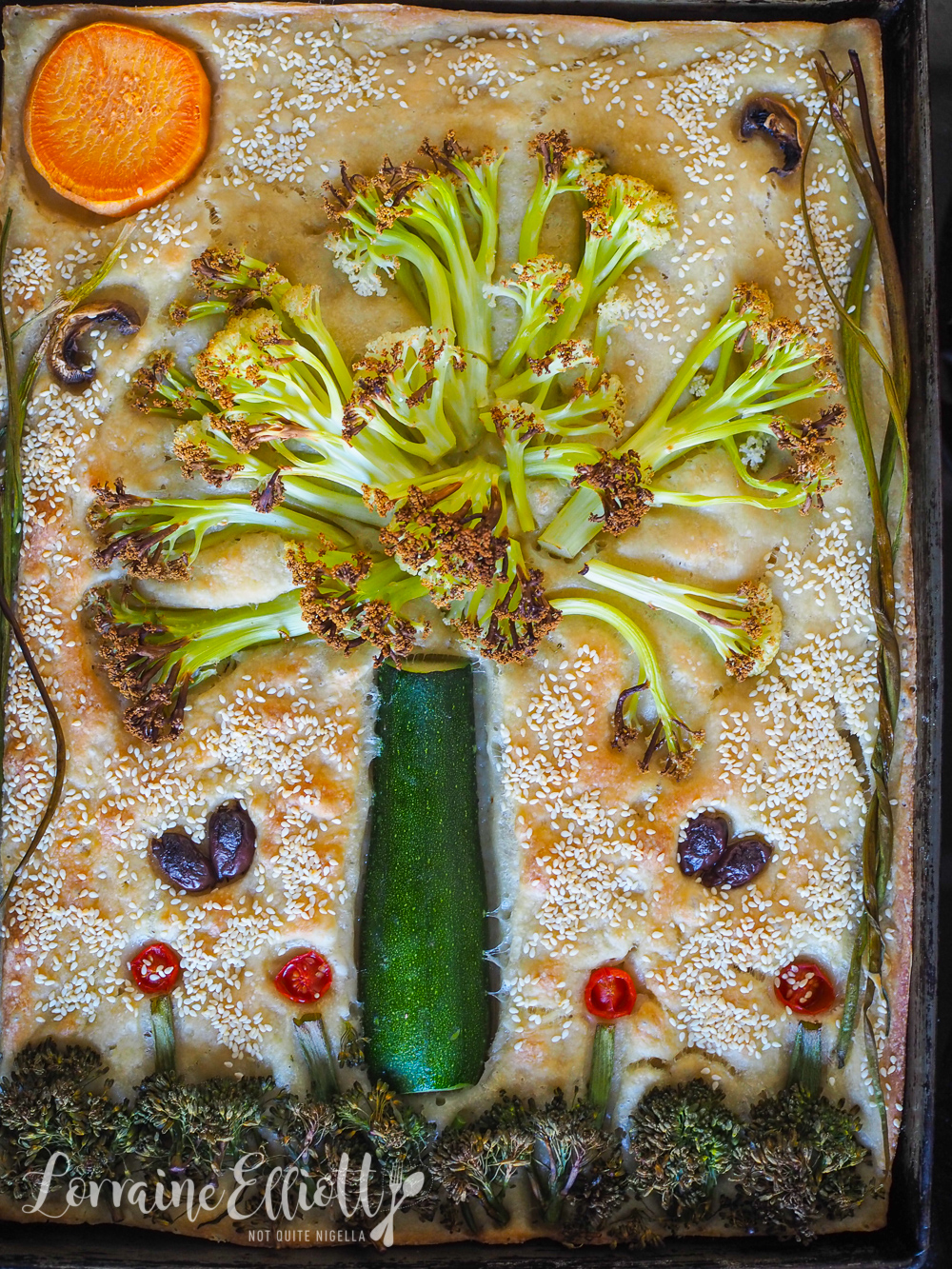 Focaccia Garden after baking
How To Make a Pink Focaccia:
The pink focaccia dough
To make the dough pink replace the water with beetroot and carrot juice. I bought one from a juice store and they used 3 beetroot and the rest was carrot to make up a 900ml/30floz. bottle of juice. The pink colour will darken somewhat but still stay vibrant as you can see below.
I then used golden shallots to make the flowers and green onions for the stems. I also added halved grape tomatoes, green chillies, basil, pistachios and halved kalettes to bring out the pink and green colour scheme.
Pink Focaccia After Baking
How To Make a Frida Kahlo Face Focaccia:
This was one of the most fun focaccias to make and if you're artistically inclined you can definitely start on this one. Begin your face focaccia with the outline of the face. I used zucchini peel and sliced very thin lines of zucchini skin with a sharp paring knife to make the face.
Frida Kahlo face focaccia after baking
Use the upturned bottoms of capsicums as flowers and use cookie cutters to cut out flower shapes in capsicum. The hardest part was getting the full lips just right but just keep trimming with your paring knife and you'll get there!
I loved all of these focaccias but my favourite one was the pink one because I love roasted onions and the beetroot gives the focaccia such an earthy and sweet (but not out of place) flavour.
Other focaccia designs: my first classic focaccia garden, a Mosaic or Mandala focaccia, Potato & Rosemary Focaccia and Sunflowers in a vase focaccia!
Mostly we eat all of the focaccias at home because they're so tasty (by the way they're also vegan but full of flavour). They're great for a sandwich or as a side for soup or salad. Focaccias are also great for food gifts. I made one for Laura as a thank you present for looking after Teddy while Mr NQN and I were away. She loves pink and dubs her apartment block the Pink Palace and I knew that a bright pink focaccia would be perfect for her.
Teddy stayed with her for two nights and she took such good care of him. She would update us regularly with lots of pictures and videos of Teddy. He settled in quickly and it wasn't long before his cheeky self would emerge. Teddy helped herself to her socks and underwear as he does at home. He loved the mirror and would watch himself in it quite besotted with his own reflection. Laura had a little doggie chew handbag for all her doggy visitors and Teddy would take it to bed with him every night.
He kept her on her toes while bestowing her with love and affection (Classic Teddy!). One day he was suspiciously quiet and Laura walked into the lounge room and found that he had created his own art work and strewn the ball of her crochet wool all over her lounge room!
Tiny Teddy always leaves quite an impression. "I miss him!" Laura would message me days afterwards. He may be a tiny, little dog but he has definitely has a big personality!
So tell me Dear Reader, have you gotten into making focaccia gardens? Which one do you like the best?
DID YOU MAKE THIS RECIPE? Share your creations by tagging @notquitenigella on Instagram with the hashtag #notquitenigella
Focaccia Recipe
Rated 5.0 out of 5 by 7 readers
An Original Recipe by Lorraine Elliott
Preparation time: 30 minutes plus 2.5 hours rising time
Cooking time: 30 minutes
700g/25ozs. plain flour
700g/25flozs. lukewarm water
1.5 teaspoons fine salt
3 teaspoons instant dried yeast OR 50-100g (1.7-3.5ozs) sourdough starter (see note below)
150ml/5flozs. extra virgin olive oil, divided in half
Note on sourdough starter: Please use 50g/1.7ozs during summer and 100g/3.5ozs during winter (the dough needs a bit more of a boost during cooler weather).
Step 1 - Line a large inch deep 30x40cm or 12x16inch tray with parchment. Dissolve the salt in water. Mix the salt water with the flour in a bowl and add the yeast and stir to mix. Knead with a dough hook for 5 minutes. It will be a very wet dough.
Alternate overnight no knead focaccia: Pour the mixture into a bowl and cover and allow to rise overnight on the benchtop.
Step 2 - Pour half of the olive oil onto the base of the prepared tin and spread to the sides with a brush. Pour the bread dough over the oil in the tray and spread to the sides with an angled spatula. If your dough springs back and won't stretch to the edges, let it rest for 5 minutes and then spread it out with the spatula. Brush with remaining oil. Cover with another larger tray and then a cloth. Allow to rise in a warm area for 1 hour.
Step 3 - Preheat oven to 180C/350F. Make a pattern using your imagination or use the above designs as inspiration (tag me on socials, I'd love to see them!). Bake for 25-30 minutes. If the focaccia isn't browning enough, increase heat to 200C/400F for the last 10 minutes.