This incredible ravioli lasagna is the quickest lasagna you will ever make! The ravioli is used in place of beef and pasta sheets. Best of all you need is some tomato pasta sauce and I have a quick bechamel that takes 1 minute. You can also use fresh or frozen beef ravioli. This is a pushy recipe Dear Reader!
I am so excited to share this recipe with you! Even though Mr NQN had eaten his lunch really late and wasn't really hungry he went back for heaped seconds scooping up double what I originally gave him.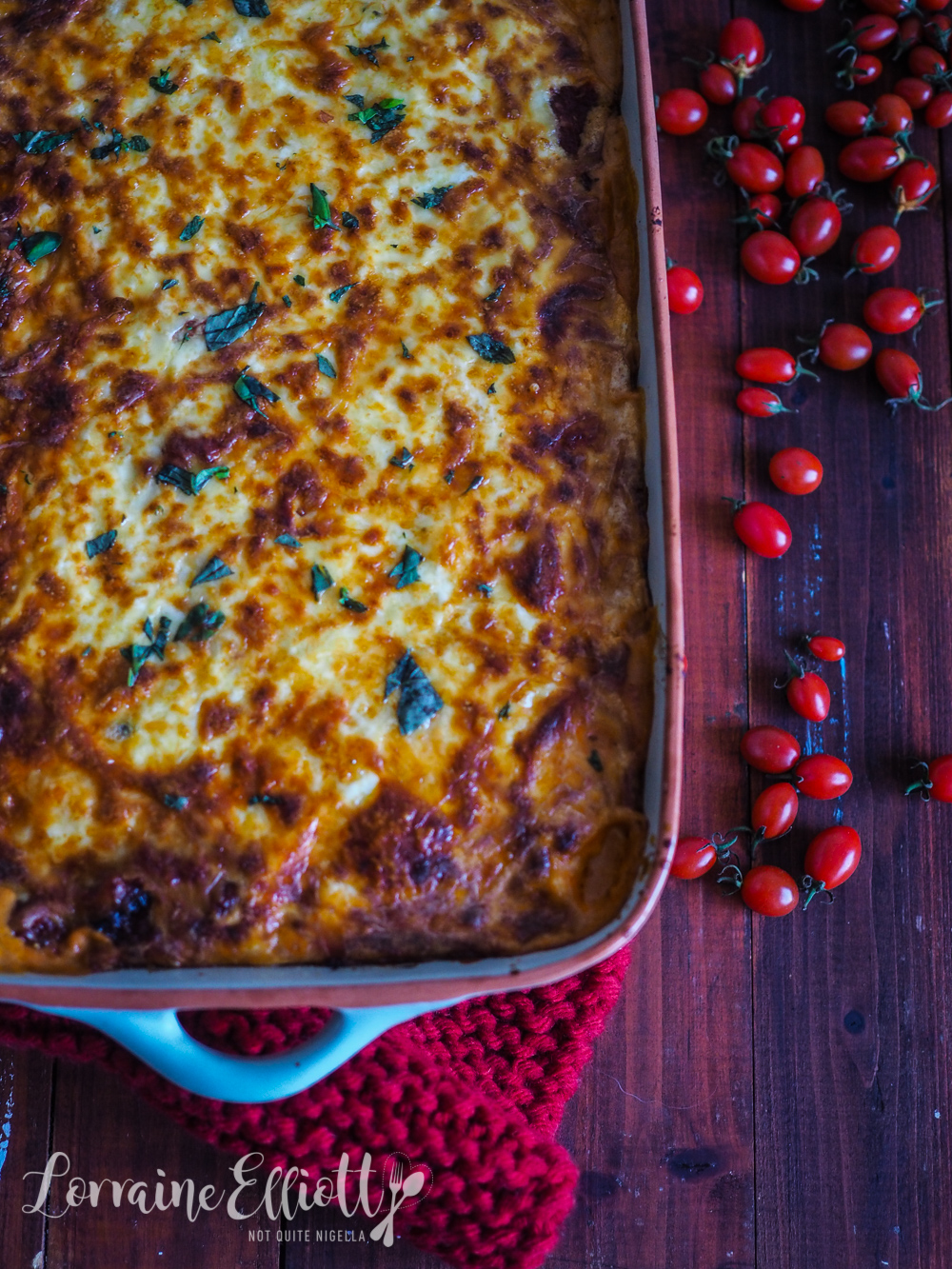 Why is this ravioli lasagna so easy? The ravioli takes place of the seasoned mince and lasagne sheets so that's an entire step taken care of. Best of all this works with frozen, unthawed ravioli so you do not need to thaw or pre-cook it! Yep you take it straight from the freezer and pop it into the lasagna and it cooks perfectly! The bechamel is done in a minute (3 ingredients in food processor) and you can use your favourite pasta sauce!
Try This Quick Bechamel!: It takes a bit of time to make this roux based creamy sauce. But to make this quick bechamel, just whizz up cream cheese, milk and parmesan cheese. It will thicken up once baked and produce a wonderfully creamy sauce just like bechamel!
Tomato Pasta Sauce or Marinara Sauce? Which is correct? While in America they call tomato pasta sauce "marinara", it isn't actually correct as marinara means "in the manner of the sea". Use your favourite tomato based pasta sauce. Note: don't use passata as it is not flavoursome enough and needs to be cooked down with onions, garlic and herbs.
This is the ultimate quick feast recipe and the genius in the title was not with me. I had first heard of this while listening to my favourite podcast My Favourite Murder where one of the hosts talked about making a ravioli lasagna. It may even have been on an ad, I can't remember. But the idea stuck in my mind because it was so clever because it completely eliminates one step. I made this on a really busy day. One in I only had 15 minutes prep time. I would make this then leave it to bake away (the oven has a timer switch off function) and then pick up Teddy from the groomer and then come home and photograph it.
There are days in which I get very frustrated living in our small apartment. As you may know we were looking to move but now seems like a less than ideal time to be making any big property purchases. I became frustrated at the dishes in the single sink and having next to no benchtop space. After making the lasagne I had 2 minutes in which to go pick up Teddy and so I quickly went to the bathroom.
Our apartment block was designed by an exhibitionist because every window looks onto someone else's apartment. Usually I close the bathroom window but I was in a rush and I just forgot. Usually the balconies that look straight into the bathroom don't have anyone on them but as I was mid-pee (you know it's my slight phobia to even discuss this), I looked up and there was a man on his balcony.
I grimaced but then figured he wasn't really looking in my direction so I thought that if I sat still on the toilet he wouldn't really notice me. But then he looked down and saw me looking up at him.
I could see the look in his eyes, sort of like "Oh jeez, I'm not supposed to be looking at this!" and he looked away quickly. But then he disappeared as if he had bobbed his head down. Then I saw the top of his head peer above the partition and a set of eyes looking at me again. I waved at him to let him know that I saw him and then he disappeared - for good this time!
So tell me Dear Reader, have you ever been caught in a compromising position? Have you ever tried ravioli lasagna?
DID YOU MAKE THIS RECIPE? Share your creations by tagging @notquitenigella on Instagram with the hashtag #notquitenigella
Ravioli Lasagna
Rated 5.0 out of 5 by 8 readers
An Original Recipe by Lorraine Elliott
Preparation time: 15 minutes
Cooking time: 1 hour
700g/25ozs. beef ravioli (fresh or frozen)
3x400g/14oz jars tomato pasta sauce (I used an arrabiata sauce)
250g/8.8oz cream cheese
185ml/6.3flozs. milk
100g/3.5ozs grated parmesan
Pinch of nutmeg
500g/1.1lbs. grated mozzarella cheese
100g/3.5ozs. parmesan cheese, grated
Fresh basil chopped to sprinkle on top
Step 1 - Preheat oven to 200C/400F and spray a baking dish with oil. Blend the cream cheese, milk, parmesan and nutmeg together until you get a smooth mixture.
Step 2 - Start layering with 1 jar of tomato pasta sauce and then lay down half of the ravioli. Cover with half of the cheese sauce and then half of the mozzarella. Spread with the second jar of pasta sauce. Add another layer of ravioli which should be the rest of them. Then add the final jar of pasta sauce and then the rest of the cheese sauce and then the rest of the mozzarella and last lot of parmesan cheese.
Step 3 - Spray a sheet of foil with non stick spray and cover with foil oiled side down. Bake for 45 minutes. Remove the foil and then bake for another 15-20 minutes until golden.