Dear Lovelies, I'm so excited to share this recipe hack with you! Although chee cheong fun is fairly straightforward and easy to make from scratch, it takes a drastically easier turn using pre-made Vietnamese rice paper roll sheets! This is a pushy recipe especially if you're missing a dim sum or yum cha fix at the moment!
I decided to share this as a friend Daniela asked for a low carb and keto friendly recipe after Easter feasting. I first saw his on another friend Vivian's Instagram account and it looked so good that I had to try it myself. It was a little too easy so I didn't expect much but then I tasted them and they were so delicious that I made these for three consecutive nights until I ran out of prawns!
Filling variations: chopped up char siu is a great filling but you can use steamed or roast chicken slices, fish balls or seasoned tofu!
Want to make these using rice flour? Try this chee cheong fun with char siu recipe here!
Make other yum cha favourites: Mango Pudding, Dan Custard Tarts, Zongzi Rice Dumplings or Malay Cake.
I'll never take a Sunday outing to yum cha for granted again or just going to the supermarket in a normal manner. Recently I had a heated exchange with a woman in the supermarket. I was walking past her trying not to touch her or her trolley (it was a narrow aisle near a temporary display) when she sniped at me, "Well if it's so hard for you, you shouldn't leave the house!".
At first I didn't realise that she was talking to me because who is going to tell someone off for trying to socially distance? But then I realised that she directed her comment at me and that's when I got mad.
Video how to make chee cheong fun
I gave her a piece of my mind, "!@$ off, I will go where I want!" It wasn't the most eloquent response and if I had thought about it I would have asked her why she wasn't distancing like the rest of the store but sometimes you just blurt something out. Her response was to just put her hands up and said "Okay". I think she was surprised at my tone and my words. Next time I'll save my energy for making things like this!
So tell me Dear Reader, would you try this hack? Have you seen many people not social distancing? Tell me what you miss doing!
DID YOU MAKE THIS RECIPE? Share your creations by tagging @notquitenigella on Instagram with the hashtag #notquitenigella
Dim Sum Prawn Chee Cheong Fun Roll Hack!
Rated 5.0 out of 5 by 5 readers
An Original Recipe by Lorraine Elliott
Preparation time: 8 minutes
Cooking time: 2 minutes
Makes 5 rolls
5 rice paper sheets
Bowl of water with 3-4 drops oil
1 teaspoon finely grated ginger
1 stick spring onion, sliced
2 teaspoons cornflour/fine cornstarch
1 teaspoon lard or oil
1 teaspoon sesame oil
1/4 teaspoon white pepper
20 prawns, shelled
Oil spray
Soaking the rolls in water with a few drops of oil
Step 1 - Place 2-3 rice paper sheets in the water at a time. Mix the ginger, spring onion, cornflour, lard or oil, sesame oil and white pepper in a bowl. Add the prawns and stir to coat.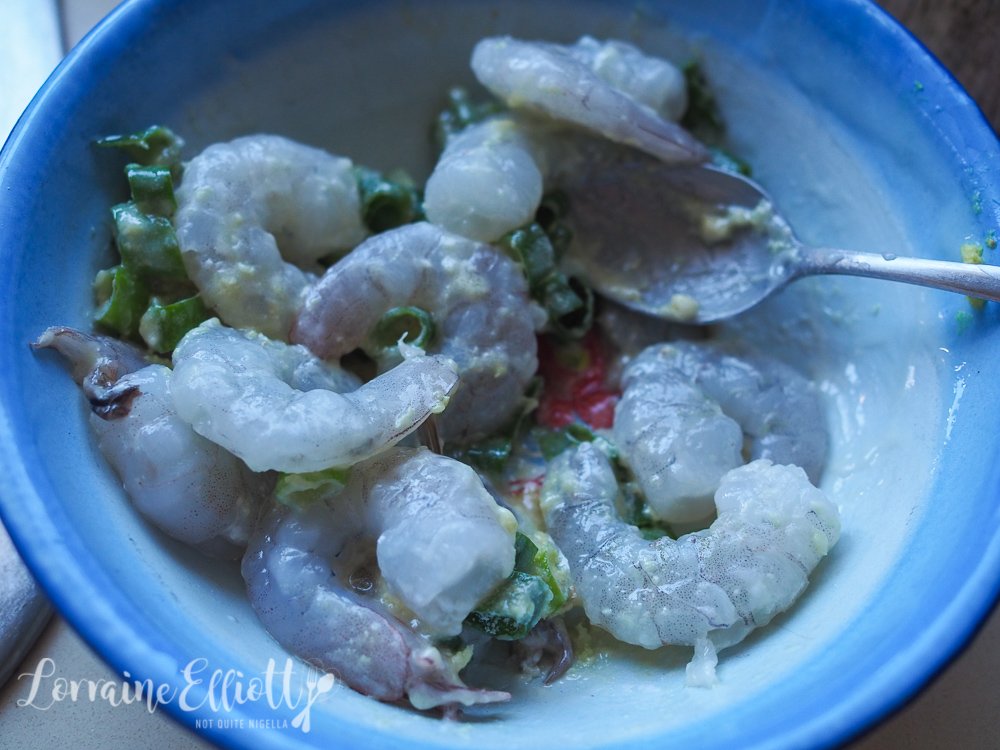 Step 2 - Spray two plates with oil spray. On one plate place a rice paper sheet and place four prawns towards the bottom. Fold up from the bottom and then fold in the sides (like a burrito as shown below) and fold up into a parcel. Place on the other oiled plate and continue until all rolls are made.
Step 3 - If you have a spray bottle of water spray the rolls with water. Microwave on high for 2 minutes. Check if the prawns are cooked (they'll turn pink) and microwave for an extra minute if they aren't (if you make one roll at a time they'll take less than a minute to cook). Serve with soy sauce. I add chilli and coriander too.