Heads up oyster and seafood lovers! Make your way to the South Coast for a day filled with these beautifully briney beasts from the freshest shucked oysters, one of the most delicious seafood platters available and an oyster kayaking tour down the Clyde River!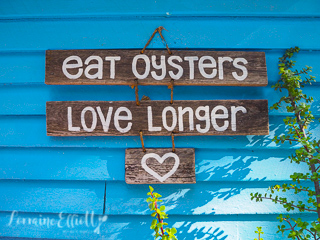 The sign reads "Eat Oysters, Love Longer". It's on the side of Oyster Shed on Wray Street in Bateman's Bay. Set along the picturesque Clyde River oyster shells cling to the rocks. People come in droves to buy freshly caught oysters, prawns and mussels. Oysters can be purchased shucked or live.
The shed has outdoor eating areas and shares the space with the Farm Gate stand that sells coffee and tea and other goodies. I'm convinced that on a sunny day there is no better place to be than planted at one of the big circular wooden tables plucking a morsel of fresh seafood from a platter.
We order a big bowl of seafood chowder in a hollowed out sourdough roll. The bread is still warm and the chowder is thick with skin-on potatoes, herbs and a variety of seafood.
The item that has everyone doing a double take is the seafood platter. It's not on the menu but just ask for it and they'll make you one up. It's so visually striking that another woman stands up to get a closer look at ours and then orders one for her group. It's a platter with kilpatrick, moray and natural Sydney Rock oysters, wonderful smoked and garlicky Italian mussels, a half kilo of cooked prawns, seafood sauce and gravlax salmon.
At $60 it is hands down the best value seafood platter you're likely to come across not to mention it's absolutely delicious and full of fresh and not fried seafood.
I grab the top of the warm roll and make myself a sandwich of prawns and seafood sauce and then one with the smoked salmon. Then I pop the oysters into my mouth and the mussels.
After lunch we head towards the beach for our two hour oyster tour of the Clyde River estuary with Region X tours. Our guide Angus takes us through the safety procedures and explains where we will be heading today. Mr NQN and I are sharing a kayak, he is in the back while I am in the front and he will be steering the kayak with the pedals. I mean thank goodness right. I am not at home on the water and I cannot be trusted to do anything apart from not freak out.
We paddle back towards the Oyster Shed where Jade greets us at the wharf. Jade is a fifth generation oyster farmer whose grandfather Chris Ralston built the shed in 1957. Jade's parents Mark Ralston and Enola Rossiter took over the business and Jade and her husband Greg bought into the business in 2014. There are currently 18 oyster farmers on the Clyde River. It's here that the family farms Sydney Rock oysters, the only native oyster to NSW.
She hands over some freshly shucked natural oysters with lemon. There's a Sydney Rock and there's an enormous Pacific oyster that dwarfs the Sydney Rock oyster in size. "That's the smallest size we can get," she says as I ogle the gigantic Pacific oyster.
They grow the oysters from spats to completion. Sydney Rocks are quite different to Pacifics down to how they are grown and how they behave. Jade explains that Sydney Rock can last for 2 weeks as they reabsorb the liquid to survive. Pacifics last for less time around one week as they spit out the liquid.
The ideal temperature for a live oyster is 15-20C. When buying unshucked oysters, make sure that they don't sound hollow, if they do, they are no longer alive.
While the bushfires devastated the South Coast of NSW it was the floods that followed after in February 2020 that caused the most pain for them. It was chaos as their oyster lines were almost swept out to sea and it was by the grace of many good strokes of luck that they were able to save their lines and their livelihood.
Jade shows us how to shuck an oyster using an oyster shucking knife. She deftly flicks one open and hands it over to us. It's a real treat as by law, oysters that are sold for consumption elsewhere have to be rinsed but on this tour participants are able to try an oyster with all of the original juice intact. I take the oyster juice and all in my mouth and it is intensely salty and rich, reminding me of sea urchin.
After that we kayak over to the Moonlight Flat oysters or the "vineyard". Here the "pillows" are nets that contain the oysters where they grow larger. Angus shows us these and how they work before we kayak across to the oyster processing factory.
As it's a Sunday there's very little happening there but it's a scenic paddle across the river. There's not a cloud in the sky and really we could paddle all day. "Can we go back and buy some more oysters?" I ask Mr NQN wanting to relive that glory of that seafood platter all over again.
So tell me Dear Reader, what is on your ideal seafood platter? How do you prefer to eat your oysters?
NQN and Mr NQN were guests of Destination NSW but all opinions remain their own.
Wray Street Oyster Shed
5 Wray St, North Batemans Bay NSW 2536
Open 7 days 9am–4pm
Phone: (02) 4472 6771
oystershed.com.au
Region X Kayak Tours
Mossy Point Boat Ramp, Mossy Point NSW 2537
regionx.com.au