"It's like a Korean boy band," I whisper to Mr NQN. We are sitting down at Kogi Korean BBQ and one by one each young staff member comes and cooks out meat for us. There's the one with the booming voice and American accent, the other one more softly spoken, the one that's a bit cool and aloof and the one that smiles a lot. "They've even got different looks," says Mr NQN admiringly looking back and forth between them.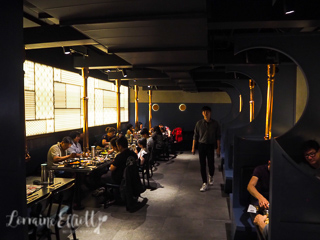 We were here for a dinner with my family and my cousin visiting from Singapore. At first my parent wanted to take him to a Chinese restaurant but I suggested another cuisine as I assumed that he would want to try something else. We decided to try Kogi as it would be fun and interactive.
Firstly, some tips: go to Kogi after 6pm and the parking is free. Also the ideal number of people is no more than 4 because we had a party of six and the charcoal grill was on the left hand side of the table making it harder for people on one side to access the food.
The banchan come out and they're a real treat. The kimchi is good as are the bean sprouts but the standouts are the chilli fish strips, seaweed salad and garlicky potatoes. Sure they're sweet but it's not out of place and it gives a nice refreshing break from all the meat.
Onto the meat. There are two main types: beef and pork. We splash out on the deluxe wagyu platter. They offer to cook it for us and we take them up on their offer. There's a system when cooking the meat. First grill the pieces whole and then cut them up with the scissors provided and when they're ready to eat, push them to the outside of the grill. Retrieve your favourite, glistening cuts of beef or pork and either dip into the sesame oil or bean sauce.
Koreans love to place the meat inside a lettuce leaf, add bean sauce and roll it up for a crunchy, fresh and tasty morsel. There's also a spring onion, chilli and sesame salad on the side.
"This is blaaade!" says the most confident of the boy band (he's definitely the lead singer) and he engages with us asking us which meat is our favourite and giving us tips. Throughout the night, other members of the band come by to flip, cut and serve the meat to us.
On the non-meat front (and truthfully I preferred the non meat dishes to the barbecue because I've been spoilt by Kagoshima Master) one of my favourites is the japchae sweet potato noodles with beef, mushroom, carrot and greens. It has a lot of flavour to this and I go back for multiple serves of this.
Meanwhile my father having his very first taste of Korean food seems rather besotted by the cheese ramen ttebokki. I adore the spicy, cheesy and saucy rice cakes and these ones have some ramen in them tool. If you have dreams of long strands of ramen you may be disappointed but it has all the spicy sauciness that you could want.
The only dish that I didn't overly love was the seafood and chive pancake. I've had some really good ones in the past and this wasn't as crispy good as I would have wanted.
There's no dessert but that's a moot point because there's also no room in our tummies!
So tell me Dear Reader, do you like it when they take care of the barbecuing for you or do you prefer to wield the tongs yourself? And if you were in a band, which instrument would you play or would you be the lead singer?
This meal was independently paid for.
Kogi Korean BBQ
Level 3 Market City, 9-13 Hay St, Haymarket NSW 2000
Monday to Thursday, Sunday 11am–10:30pm
Friday & Saturday 11am–11pm
kogi.com.au
Phone: (02) 9042 1637