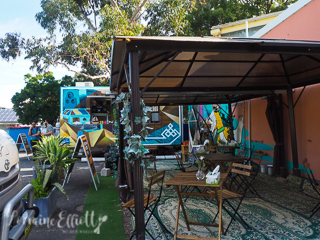 Koshari Korner is an Egyptian food truck located within the Addison Road Community Centre in Marrickville. The focus here is on vegan Egyptian street food and signs offer home style food and shade. There is Egyptian mint tea, Turkish coffee and rose hot chocolate as well as a delicious range of vegan platters, shakshuka, breakfast rolls and pastries!
I drive into the community centre following the signs to Koshari Korner. During the week when there aren't markets there is plenty of parking directly in front of the food truck. There are around half a dozen tables under covered canopy. It's a popular spot with every table taken on this Thursday lunchtime.
The owner of Koshari Korner is Waleed Elsabbagh, a marine engineer by trade in his home country of Egypt. He is very friendly and patient when Ivy and I go up to choose what we want to order. The truck has been located here for 1.5 years but the business started in 2016.
There are some standalone dishes like the shakshuka, breakfast wrap and sambousek or if you're undecided you can order the mixed plate with a little bit of most things on it.
Smoothies $8 each
For drinks there are smoothies, Egyptian mint tea, Turkish coffee and rose hot chocolate. It's a warm day so we both go for smoothies. Ivy's is a Mango Magic with coconut milk, mango and banana which is delicious.
Mine is the Turkish Delight with almond milk, banana, berries, rose water and tahini. It's light in the rosewater and leans more towards berries and tahini.
Sambousek $12
The Sambousek pastries are dainty little crisp pastries that are also ridiculously tasty. They're filled with sweet potato, onion, cashews and spices and sit on a bed of rocket with a chilli sauce to dunk them in. They're actually my favourite thing on the menu along with the felafel and breakfast roll.
Mixed Platter $22
The mixed plate is beautifully presented and it's the second thing we dive into. There is felafel, bread, pickles, tahini, fried eggplant, salad and a bowl of koshari. The felafel is made fava beans in the Egyptian style and is bright green inside and herby and spicy and rolled in sesame seeds. The koshari, after which the food truck is named, is a mix of macaroni, lentils, fried onions, chickpeas and flavoured with a tomato based sauce and has a nice texture and it's a comforting dish full of goodness and carbs although I like a bit more seasoning.
Shakshuka $19
The shakshuka is made with tomato, chickpeas, eggplant and olives with chunks of tofu. One thing: if you want it spicy, let them know. We asked for our shakshuka hot and it wasn't hot at all and very mildly flavoured (I know my chilli meter is broken but Ivy's isn't). We end up adding the chilli sauce from the sambousek and that adds the requisite heat. On the side are bread, pickles and salad.
Breakfast Roll $14
We both really liked the breakfast roll made with ful or fava beans and a spiced scrambled tofu, rocket and house made tomato sauce all wrapped up in a Lebanese pita bread. It's soft and luscious and the tofu is a nice addition to make it moist.
Baklava $2.50
The baklava here uses a vegan coconut butter substitute instead of butter and is light, nutty and delightful and not overly laden down with syrup so it feels just right at the end of a big meal in the heat.
So tell me Dear Reader, how often do you eat vegan food? Have you eaten much Egyptian food?
This meal was independently paid for.
Koshari Korner
The Addison Road Community Centre
142 Addison Rd, Marrickville NSW 2204
Open 7 days 8am–4pm
Phone: 0404 440 008