Want a creatively tasty way to cook fennel? This fennel tarte tatin is all about slow roasted fennel, garlic and onion and is the laziest (but delicious) tarte tatin you will make!
This fennel tarte tatin was an experiment and one I wasn't sure was going to work. However it turned out even better than I expected and now I almost want to receive a fennel every fortnightly vege box so that I can make this!
The oven does all of the work with this fennel tarte tatin. You slice up the fennel and onion and slow roast it in the oven with a garlic, brown sugar, balsamic and brandy glaze. It caramelises the fennel, onion and garlic beautifully and then you just arrange it on a springform tin and put the pastry on top and bake.
This may seem like it takes a while but I like slow roasting my fennel in the oven rather than pan frying the fennel because I want the slices to remain intact. That way you get that gorgeous swirl effect from the fennel.
Eagle eyed readers will know that I like using a springform tin to make my tarte tatins rather than skillets. I find skillets can be a bit unwieldly to flip upside down. A springform tin is a cinch. I hope you'll give this method a try at least once and it may convince you too.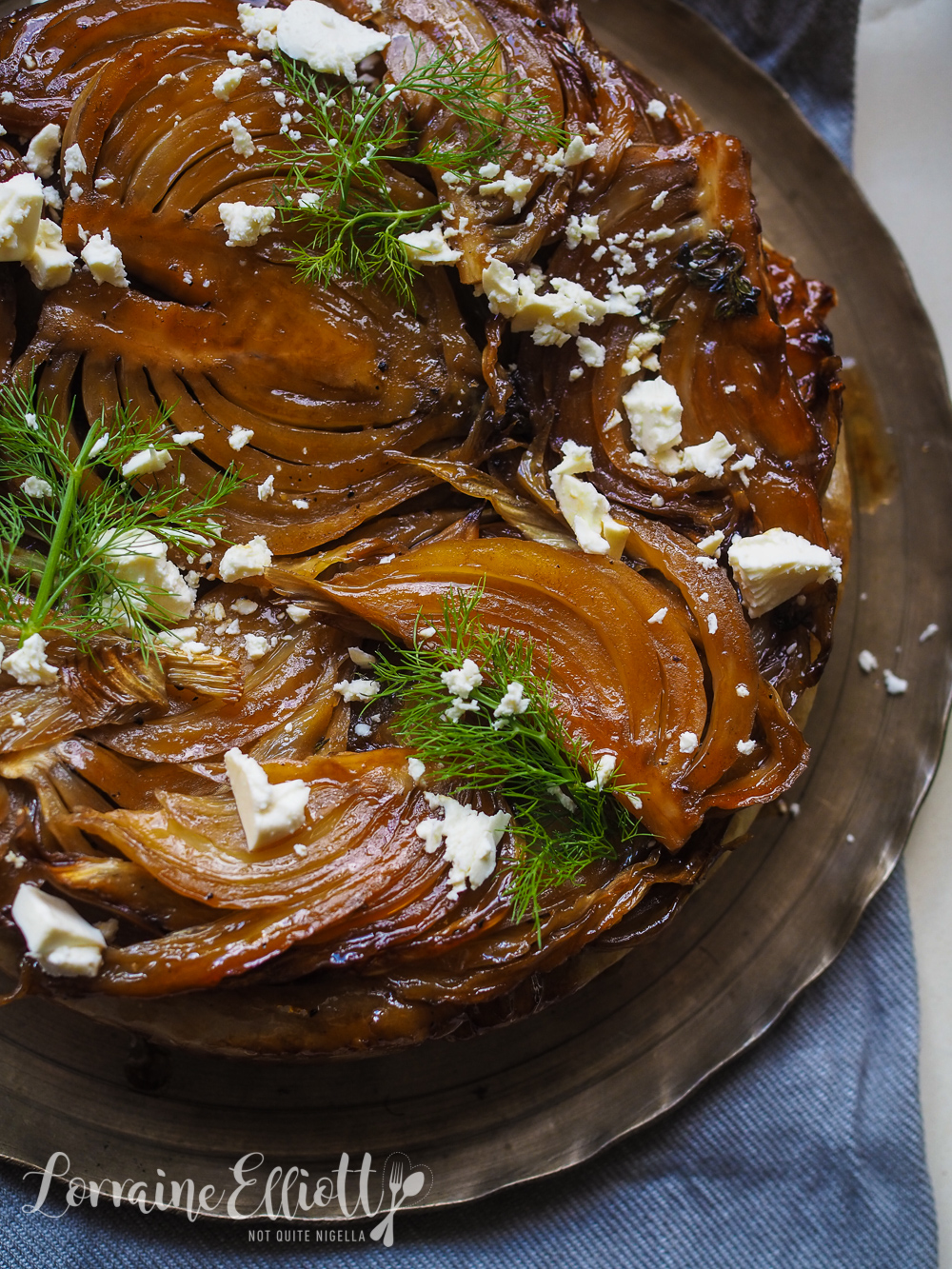 What is balsamic reduction? Balsamic reduction is a sweet, syrupy version of balsamic vinegar. If you don't have access to this you can make your own balsamic reduction by simmering 1 cup balsamic vinegar with 1/4 cup brown sugar. Simmer for 10-15 minutes with the lid off. It also makes for a fantastic salad dressing when mixed with olive oil.
Although fennel is more an autumn winter vegetable, Northern Hemisphere readers will be able to get it now and you do find smaller baby fennel available in spring and summer.
I don't know about you Dear Reader but I'm very glad that we're in spring in Australia. I am not fond of colder weather as I feel the cold easily and I've looked forward to the warm rays of spring with great eagerness because my optimum operating temperature is around 28°C/82.4°F.
There was a time when the temperature proved a challenge. Mr NQN and I had checked into a hotel room. I have two pet hates when it comes to hotel rooms: music already playing and air conditioning that you can't control. The first thing I do when I enter a hotel room is either turn the air conditioner off or set it to 28°C/82.4°F. This hotel room was cold, freezing cold and the thermostat showed 11°C/51.8°F!
I quickly turned the temperature up and the panel started flashing. After waiting 5 minutes it was still freezing cold and Mr NQN had sat down and turned on his laptop. I was frustrated at his lack of attention to this matter of great importance. "Just wait, it will sort itself out," he said.
I usually like his chill attitude to things but I was ready to throttle him. "I'm DYING!" I said dramatically, punching in the number for the hotel's reception. They were very nice and said that they would send someone up to take a look at the system. Then they rang back a minute later and said that they were moving us to a new room as the air conditioning system was broken in that room. Within minutes they brought up new keys. The women handing them over to me apologised and then shivered and warmed her arms. "Oh it IS very cold isn't it? I can feel it from here!".
I quickly rolled my suitcase up to the new (and better) room and left Mr NQN behind to go at his own pace! "Byeeee!" I said waving. Yep I am ruthless when it comes to my optimum operating temperature!
So tell me Dear Reader, what is your optimum operating temperature? What is the first thing you do when you enter your hotel room? And do you like fennel?
DID YOU MAKE THIS RECIPE? Share your creations by tagging @notquitenigella on Instagram with the hashtag #notquitenigella
Fennel & Feta Tarte Tatin
Rated 5.0 out of 5 by 7 readers
An Original Recipe by Lorraine Elliott
Preparation time: 25 minutes
Cooking time: 1 hour 20 minutes
1 large head fennel (mine was 780g/28ozs.)
1 large onion, peeled
4 cloves garlic, peeled
125ml/4flozs. brandy
60ml/2flozs. cup balsamic reduction
2 tablespoons brown sugar
1 tablespoon oil
Salt and pepper for seasoning
100g/3.5ozs. feta, crumbled
50g/1.7ozs butter, cut into small cubes
2 sheets puff pastry
Cutting out a small triangle at the base of each fennel half and leaving a little bit of the core so that the slices stay intact
Step 1 - Trim the stalks from fennel (keep some of the fronds for decorating). Trim the base of the fennel so that it sits evenly. Halve the fennel from the stalks to the base. Cut out a small triangle of the core leaving a little so that the fennel slices can stay intact and then cut these halves in half again to produce quarters. Slice thinly-around 1/2 a centimetre. Slice the onion into quarters. Lay out fennel slices, onion slices and garlic on a baking tray.
Step 2 - Mix the brandy, balsamic reduction, brown sugar and oil together and cover the fennel slices with this mixture. Bake at 130C/266F for 1 hour. Season with salt and pepper.
Laying out the fennel
Then adding the onion
Step 3 - Preheat oven to 220C/440F. Line a 20cm/8inch spring form on the base and add half of the butter cubes. Line with the fennel and onion slices and garlic cloves. Sprinkle with most of the feta and then dot with the remaining butter cubes and then the pastry folding it over. Place on another baking tray (springform tins can leak a little). Bake for 20 minutes. Place the serving tray on the baking tin and carefully turn over. It should slip out easily. Sprinkle with remaining feta and fennel fronds. Serve warm.