These Tiktok inspired upside down French Onion tarts are amazingly simple and delicious! Buttery, flakey pastry stays earth shatteringly crisp by baking the tart upside down while the onion softens and caramelises in a mixture of olive oil, balsamic, thyme and flavoured cream cheese. This is a pushy recipe Dear Reader, especially if you love low effort, high impact recipes!
These upside down tarts have been made famous on TikTok and I made an apple version that I loved and then decided to make a savoury version as I had seen a few people use onions. They turned out SO well that every time I have extra onions I make a batch of these for Mr NQN's lunch for the week!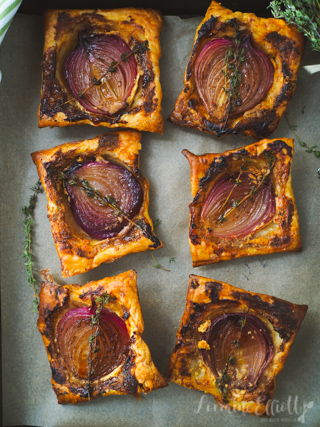 Tips For Making Upside Down Onion Tarts
1 - Use medium rather than large onions as they will soften and caramelise better. Not to sound weirdly precise but onions that are maximum 130g or 4.6ozs are ideal for this. You can also use golden shallots, use one whole shallot cut in half for each tart.
2 - Make sure to peel off any onion skin layer that has the thin skin on it. This won't caramelise and will be chewy and unpleasant to eat. If in doubt, peel it off.
Slicing onions if they are too large
3 - If your onions are a bit larger than mine, slice them around 1.5cms/0.6inch thick. Or increase the cooking time - you can tell when the tart is ready as the round hump will be golden brown to match the edges. Once turned over, the onion layers should be soft and separated.
4 - You can use any flavoured cream cheese here: sweet chilli or spring onion cream cheese works especially well on these.
5 - Soften the cream cheese in the microwave for 10 seconds. This will make it much easier to spread and won't tear the puff pastry.
6 - I know I keep going on about Muraca hot cream peppers but I sometimes drizzle some of this over the tarts just before serving and this really makes them pop!
I made these French onion tarts for our friends Ahana and Saagar who were coming over to catch up and see our new house before they relocate to Helsinki (expat life!). We haven't seen them for a couple of years ever since they moved to Melbourne for work and last time they came to Sydney we were overseas. They turned up with a beautiful arrangement of flowers in a vase and some wine and they arrived exactly on time, really the perfect guests. Apart from seeing the house, it was their first time meeting Milo. They know Teddy as we used to joke that tiny white fluffy Teddy was a twin to their enormous, sleek black Labrador Jamun and Ahana adores Teddy. I had a sneaking suspicion that she might fall in love with Milo. He can be a little shy for the first 30 minutes as he assesses whether a human is ok or not but after that he is your best friend and before you know it he is rolling over for tummy rubs. However he loved Ahana and Saagar straight away and looked so happy as she cradled his head in her hands and cooed at him.
To eat I made some Paloma cocktails as Ahana had mentioned seeing them on my blog and I made a batch of these tarts, some jalapeno poppers and a cheese platter. We chatted about an upcoming trip that we are doing together to their native India in 2025 as well as visiting them in Europe in 2024 as they generously offered their house as a base for our travels. Ahana and Mr NQN both work in data science so they love chatting about that while Saagar and I love talking about food. He had trips to Tel Aviv, Kazahstan and Tbilisi coming up and I pointed him towards some delicious food there and he promised to send me pics of it. It was fantastic to see them again after such a long time and honestly they are such great sports and even laughed as little Milo relaxed on the floor getting a tummy rub and then he passed wind. Oh Milo! But that didn't stop Ahana telling me that if Milo goes suspiciously missing during their Sydney visit we will be able to located him in Helsinki in a few weeks time!
So tell me Dear Reader, who do you consider a perfect guest? Have you tried the upside down tart trend? Would you prefer apple or onion?
Did you make this recipe?
Share your creations by tagging @notquitenigella on Instagram with the hashtag #notquitenigella
French Onion Upside Down Tart
An Original Recipe by Lorraine Elliott
Preparation time: 20 minutes
Cooking time: 25 minutes
4 red onions (around 130g/4.6ozs each)
80ml/2.8flozs extra virgin olive oil
40ml/1.4flozs balsamic glaze
Flaked salt
8 sprigs thyme
2 sheets puff pastry, defrosted in the fridge
200g/7ozs sweet chilli or spring onion cream cheese, softened (in the microwave for 10 seconds)
1 egg beaten, for egg wash
Trimming off the ends
Adding oil, balsamic glaze, salt and thyme to the parchment
Step 1 - Preheat oven to 180C/350F fan forced and line 2 large baking trays with baking parchment. Slice each onion in half from top to bottom and peel off the outer skin layers - if there is any thin skin at all remove the entire layer. Cut the base off of the bottom. Place 2 teaspoons of oil on four positions on each baking tray where you will lay the tarts. Drizzle a teaspoon of the balsamic glaze on top of the oil and then sprinkle generously with salt and add a sprig of thyme. Place the onion half cut side down.
My new pizza cutter that sparks joy
Step 2 - Cut each pastry sheet into four and spread with the softened cream cheese leaving a 1cm/0.4inch border around the edge. Place the pastry on top cream cheese side down and press around the edges. It may not totally stick against the parchment but you want to get a nice "cupping" shape around the onion. Brush with egg wash and bake for 20 minutes or until the dome of the pastry is golden and matches the edges.
Spreading cream cheese over pastry square
Step 3 - Remove from oven and cool on the tray for 1 minute. Using a spatula gently flip the tart over and if it needs it, bake it onion side up for another 5 minutes. Serve warm. These tarts also reheat well if you want to make these a few hours ahead of time. I heat them in a 150C/300F for 10 minutes.