If you thought that tarte tatins were only sweet then allow me to tempt you with a wonderful savoury version using roasted beetroot, caramelised onions, feta and mint on a buttery puff pastry base (or is that top?). It's the perfect dish to serve for lunch or a picnic but is special enough to serve to guests at a dinner party for an entree.
My trainer Nina was telling me that she was seeing a movie that evening. "What is it called?" I asked her.
"Hmm I don't know..." she said looking at me like a child that had been caught doing something naughty. "I can't remember."
The next day I asked her about the movie. "Oh I remember the name but I don't remember who is in it!" she said smiling. "It was some guy and it was about spies," she elaborated. You see Dear Nina hasn't got much of a memory for things (although she does remember my workout routines sadly!).
"It's not so bad, sometimes if I have seen a movie, I won't remember anything that happens in it. It's exciting, like watching it for the first time!" she exclaimed. You have to love her no?
Anyway she was describing a salad to me one day. It had an ingredient that she couldn't name. "What's that vegetable that turns everything purple?" she asked. "Beetroot?" I answered. It turns out that she isn't such a huge fan of beetroot although I feel that with her gluten free/paleo/vegetarian diet, this is a bit limiting. You see she has had trouble cooking it and only tends to eat it tinned so she isn't a great fan. And for those of you that don't like beetroot, perhaps this tart might tempt you?
I made a strawberry tarte tatin a while back and Jan suggested the idea of a beetroot tarte tatin. It made perfect sense, a savoury tarte tatin is delicious (see tomato tarte tatin) and a beetroot one would be visually striking.
I paired it with feta, olives and caramelised onions just to add to the flavours and give the sweet beetroot a more savoury counterpoint. I used a home made puff pastry. Usually I use the kind that you can get at the supermarket rather than something like Carême because while it is gorgeous, it can be expensive but I urge you to use the best puff for this. The simplicity of the ingredients means that the flavours of each item are really pronounced. Beetroot lovers will adore this tart!
And today I am also sharing the exciting results of our first Cook With Me challenge! When I put it live a few weeks ago I was just to myself that I wanted 5 people to join in. I mean really it's like having a party and hoping people will show. And we had much more than that! We had 16 people join in!! Without further ado, here is everyone's version of the pea and corn curried fritters (along with a big sigh of relief that everyone really liked them! :P ).
Sonia Tourney was the first to enter making her fritters in the Thermomix the afternoon that the recipe was posted and putting up the pic on facebook at 1:56pm!
This is Stefanie L.'s corn fritters. A long time reader of NQN she said, "I made the fritters last night, they were delicious so quick and easy although I over processed so mine look a bit like pancakes :) Hubby really liked them also, the curry powder gives great flavour."
Carol Sherritt posted her fritters up on facebook quick smart too! She said, "Curried pea, corn and feta fritters for our dinner tonight accompanied by fresh home grown garden salad and organic beef sausages. Delicious!"
Alison Rodericks (@alisonrodericks on twitter) made them on Good Friday and said "Gobbled in a flash. No leftovers!" Is that not the best response from kids to vegetables?
Helena Finlayson on facebook thought that they were delicious too and served her corn and pea fritters with salad and garlic bread!
lbooker on Instagram described the fritters as, "Simply delicious...easy peasy lemon squeezy!" I couldn't agree more :)
Fran Marshall (@thefoodmarshall on Instagram) fancied her fritters up with chopped pickled pork and served them with a Pinot Noir and bacon and her Grandma's tomato relish from 2009 for an Easter Thursday treat!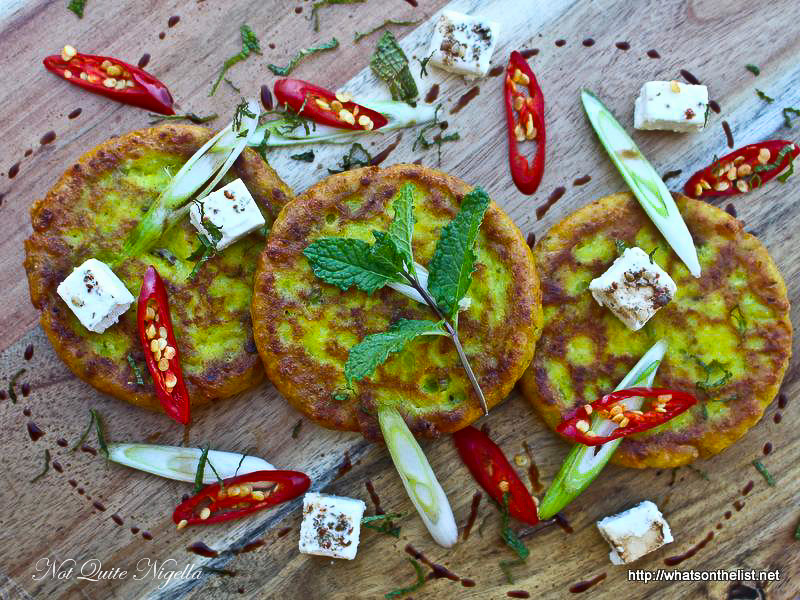 Joanne Ferguson (@mickeydownunder on twitter) said that it was "Always fun 2 cook with friends" and it looks like she added some chilli to the dish too. Great idea!
Kiaraleigh Lambkin (kj1310 on instagram) has also been reading the blog for years made the fritters and said this, "Made these for tea but may have already had a sneaky one and it was delicious! Omitted the mint because hubby isn't a lover and used the #YIAH Bag of Begal curry powder."
LifeasIknowit on Instagram made the fritters and although she thinks that she may have used too much flour they still look great!
Rachel from Rachel's Kitchen made a variation of the fritters on her blog and used coriander instead of mint and she omitted corn because her husband JR doesn't like it. She said, "We loved these fritters – they took next to no time to make and were a great combination of flavours. I made mine smaller than Lorraine's as I served them as finger food."
Lisa (@Mummymadeit on Instagram) made a gluten free version using arrowroot and halved the curry amount to be kid friendly! She reports that the arrowroot worked really well and wasn't claggy!
Evie (Evie71 on Instagram) is a frequent maker of NQN recipes (yay!) and she adapted the recipe to suit her tastes. She said "Being the Singaporean I am I added some Greek yogurt and siracha sauce to kick it up a notch!".
Nancy (@Plusate6 on Instagram) made these for her husband using spelt flour and they were a hit with Rich eating seven of them and Nancy four! :)
Monique Fenn (@sugarcoatedspatula on Instagram) liked how easy it was to make these and added "extra feta because...feta". No need to explain that to us ;)
I loved Muppy Sylvester's (@muppys on Instagram) version using Mexican spices instead of curry powder and topped it with fresh toamtoes, feta, spring onion and coriander! Great idea :)
And here are Leslie Dumm's fritters all the way from Cleveland Ohio! I missed these at first so I'm so sorry Leslie but thank you so much for participating as they look great!
I also missed Charmaine Soh's fritters (clearly I was having a moment). She said, "I made them for lunch when grandmother was visiting. She liked them too! :)". A big win there!
And that's it for the first Cook With Me! I said that I would give away one book but I was so thrilled with the response that I am giving away five books! I asked Mr NQN to choose because it was too hard for me to pick winners. The winners are: Evie, Stefanie, Nancy, Rachel and Sonia! Next time I think I'll give away four books too because it's so hard to choose just one!
Next month is a real goody! I have made the recipe already and I cannot wait to share it with you because it is really one of the best things that I have ever made :) Stay tuned Dear Readers! xxx
So tell me Dear Reader, have you ever made a tarte tatin? Are you a beetroot fan or foe? And would you prefer sweet or savoury recipes for the Cook With Me Challenges?
DID YOU MAKE THIS RECIPE? Share your creations by tagging @notquitenigella on Instagram with the hashtag #notquitenigella
Beetroot Tarte Tatin
An Original Recipe by Lorraine Elliott/Not Quite Nigella
Preparation time: 15 minutes
Cooking time: 2-2.5 hours plus cooling time
6 largeish beetroot around the same size
2 tablespoons oil plus a little extra to grease the tin
2 red onions, peeled and quartered
100g/3.5ozs feta, cut into cubes
1/2 cup pitted olives
500g/1.1lb puff pastry, thawed in fridge
Mint leaves
Step 1 - Preheat oven to 220C/440F. Place the beetroot in an ovenproof pot with the oil and cover with lid and roast until tender-this can take up to 1.5 hours depending on the size of the beetroot and my beetroot were about 7cm/2.8inches in diameter. About halfway through I add in the onions so that they start to caramelise. Cool and then remove the skins from the beetroot (I wear latex gloves while doing this). Cut into sixth of eighths (depending on the size).
Step 2 - While the beetroot is cooking, I roll out the pastry to fit the tart tin and place it covered in the fridge.
Step 3 - Brush a tart tin with some oil. Place the beetroot pieces on the base overlapping them. Wedge the onions between the beetroot and then take 3/4 of the feta and fill up any gaps. Place the pastry on top and bake for 25 minutes until the pastry is golden.
Step 4 - Remove from oven and flip upside down onto a plate. Carefully remove the tart base. Dot with the extra feta, the olives and mint leaves.