Looking for a colourful Hallowe'en idea? These Day of the Dead cupcakes are pretty and cute and a little bit creepy too! Moist and chocolatey rich Black Velvet cupcakes are topped with a sumptuous Black Velvet buttercream. A dainty painted skull is accented with gold and a garland of sugar flowers and gold leaf!
The design references the sugar skulls from Mexico's Day of The Dead celebration. Although the skulls can be fiddly I relish the decorating part the most. Once I have everything ready to paint I can't wait to sit down and do it. This year I've tried to do a few more cute and spooky things rather than creepy. I go through phases though and one day I'll think I want to do an elegant but creepy Halloween and then other days I want to gross people out as much as possible. These came to me on a "pretty" day rather than a creepy one.
I've been thinking about creepy things lately for more than one reason. I've been travelling a lot lately and have met quite a few people. I met one man while overseas and he was my guide for a day. He was a great guide, showing me things and being very helpful. He wasn't inappropriate at all but he did say something that made me pause and I'm not sure if he was being weird or creepy or not.
We were talking about dogs because he saw a picture of Mochi on my phone lock screen (rest in peace my baby girl) and a little later he said to me, "I want to be your pet". I ignored him, because women are conditioned to ignore weird comments from men. I thought perhaps he had misunderstood what pet meant. But then he asked again, "Can I be your pet?". I looked at him, my brow furrowing. He hadn't been in the slightest bit odd or sleazy so I gave him the benefit of the doubt. Maybe he didn't know that that was a weird thing to say (although really who wouldn't think that it was odd even with a language barrier?). After a few hours I bade him goodbye with a wave and thought nothing more of it.
Then came the texts. They were friendly ones asking how I was. But I didn't respond because I dreaded him asking if he could be my pet again. I should have told him that I specialise in senior rescue dogs only!
So tell me Dear Reader, what would you say if someone asked to be your pet? Is it creepy or harmless? Do you ignore strange comments or do you say something to the person?
DID YOU MAKE THIS RECIPE? Share your creations by tagging @notquitenigella on Instagram with the hashtag #notquitenigella
Day Of The Dead Cupcakes
An Original Recipe by Lorraine Elliott
Preparation time: 90 minutes plus setting time
Cooking time: 25 minutes
Makes 2 dozen cupcakes
2 1/4 cups brown sugar (firmly packed)
2 1/4 cups cake flour
1.5 cups black cocoa
3 teaspoons bicarbonate of soda
1.5 teaspoons baking powder
3 eggs, room temperature
1.5 cups buttermilk
3/4 cup oil
2 teaspoons vanilla bean paste
Black Velvet Buttercream
375g/13ozs. butter, room temperature
625g/22ozs. icing sugar, sifted
75g/2.7ozs black cocoa, sifted
3 tablespoons charcoal powder
4-5 tablespoons milk
2 teaspoons vanilla bean paste
For skulls/decoration
100g/3.5ozs. black and white gum paste
Edible gold lustre dust mixed with a little vodka
Pink, aqua and yellow edible colouring
Small sugar flowers
A few drops of water to attach flowers to skulls
Pink, silver and aqua cachous
Gold leaf
Step 1 - First make the skulls as they will need some time to set (ideally, make these the day before). Lightly dust a skull mold with cornstarch and use a brush to brush excess away. Warm gum paste in hands (do white gum paste first and then black) and roll small balls and press into the molds. Remove and allow to harden. Paint patterns with the colours and fill in the eyes with the gold paint. Allow to set and dry.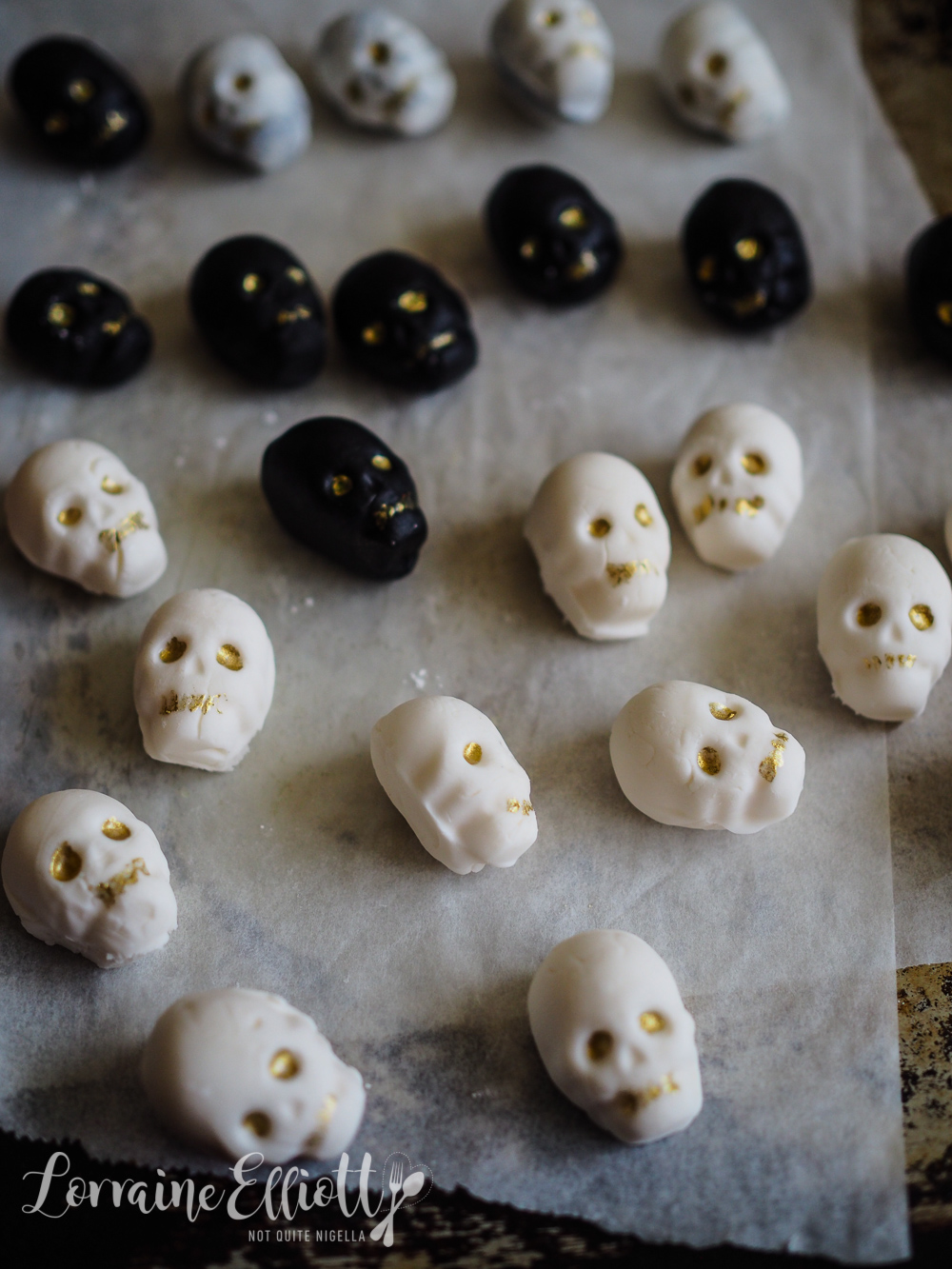 Filling in eye sockets and teeth with edible gold
Step 2 - Preheat oven to 160C/320F and line 2 muffin trays with liners. Whisk the sugar, cake flour, cocoa, bicarb and baking powder in a bowl until combined. In a jug measure the buttermilk. Oil and vanilla and whisk the eggs in. Slowly add the wet into the dry mixture stirring until just combined (make sure to get the flour at the bottom of the bowl).
Step 3 - Pour into a jug and fill the cupcake cavities 3/4 full. Bake for 25 minutes. Cool completely.
Step 4 - Beat the butter until smooth and then on the lowest speed add the icing sugar, cocoa, charcoal powder, milk and vanilla and beat until smooth. Fit a large fluted tip to a piping bag and pipe buttercream on top. You want a nice thick cushion for the skull to rest on. Using a small paintbrush, brush a tiny bit of water and attach the flowers to the skulls. Decorate with cachous and gold leaf.