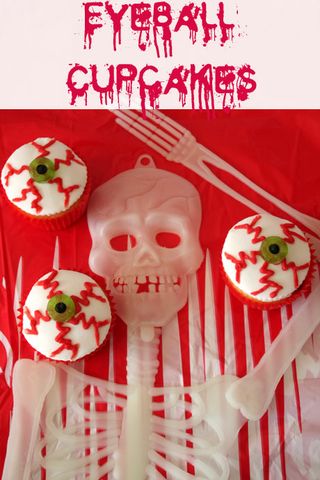 You'll have to forgive me this continuing theme this week. To those new to the site, I usually alternate a cooking story with a restaurant review but this week I'm taken by Halloween. Utterly besotted by it in fact. Halloween along with Christmas are my favourite holidays of the year. So I hope you'll forgive the onslaught of Hallowe'en themed food. I promise you that as soon as the clock strikes midnight on Hallowe'en we'll return back to "normal" (whatever that may have been for me).
The idea is from Claire Crespo's Hey There Cupcake! book, the book for all mad and wonderful cupcake decorating ideas. To avoid having a complete breakdown, I made these ahead of time so I needed a dense and moist cake that would last a few days. I used a white chocolate mud cake and at my husband's suggestion, some red food colouring to simulate the red veins in an eyeball or blood spatter (I blame my Dexter addiction).
The first lot I made wasn't quite risen enough as I filled it 2/3 of the way full. I found that filling it 3/4 of the way up with only a few millimetres to spare at the top actually worked better. The recipe is from the Crabapple bakery's White chocolate mud recipe although the recipe below makes 14 suitably domed cupcakes. The domed cupcakes are what you really need for the eyeball to take full effect. And let me wish you a very spooky Halloween coming up this Friday!
Eyeball cupcakes