0.6 Cafe is spacious cafe and homewares store offering Instagram friendly food and drinks. The Japanese and Asian style food is as delicious as it looks and there are fresh smoothies and interesting drinks as well.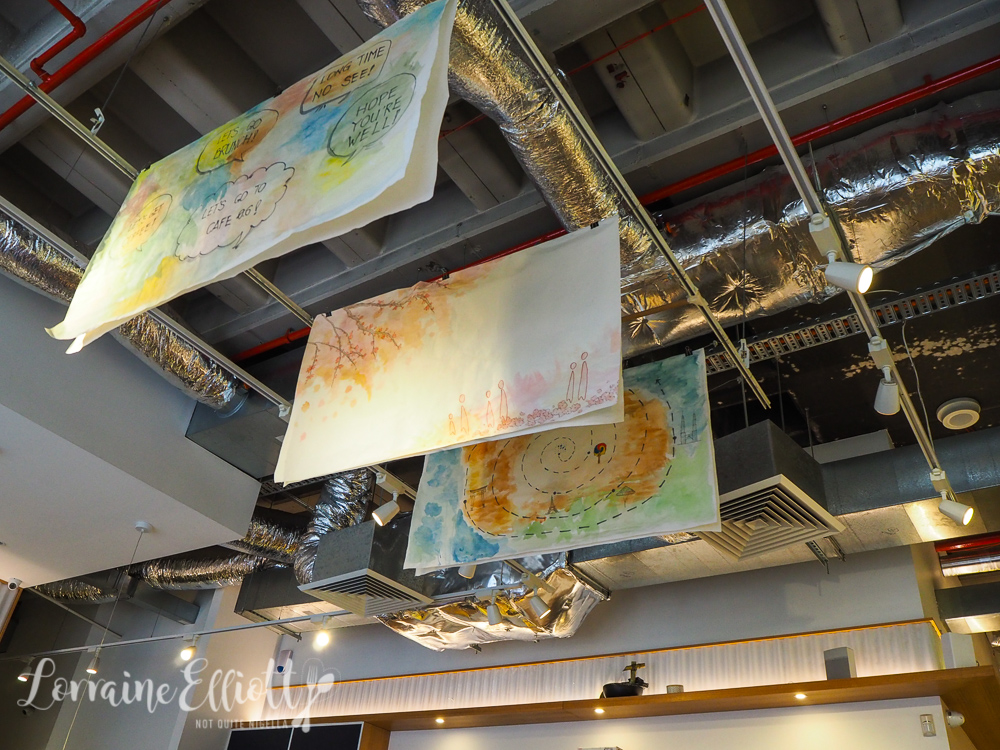 Inside, the cafe is prettily merchandised with pale pinks, blond woods and a range of items from coffee pourers, cacti, wrapping paper and cute socks. Tables are spaced out and during this time of COVID the menus are online although orders are taken by the staff.
"I made a booking for an outside table," I mention to Ivy. While the inside is pretty and cool on this warm day, I am much more comfortable at an outdoor table. Although I mentioned this on my online booking they have missed this and show us to an indoor table but it's no problem to sit outside and we just wait for a table to leave and then take our seat outside.
Minty Crush $6.00
Ivy has ordered a Minty crush that tastes like fresh pineapple and mint with a medium level of sweetness. "Do you sell these glasses?" we ask because it's 2020 and it is only occurring to us now that we need square glasses.
Dazzling Beauty A$10.00
My Dazzling Beauty tea comes with an assortment of glassware on a wooden tray. It's a white peony tea with lychee and mint and they explain how to pour it. Of course we get carried away and don't notice that we've totally overfilled the glass and that it has spilled all over the tray! It's a nice drink, quite subtle in flavour and very, very lightly sweetened with a little bit of lychee juice.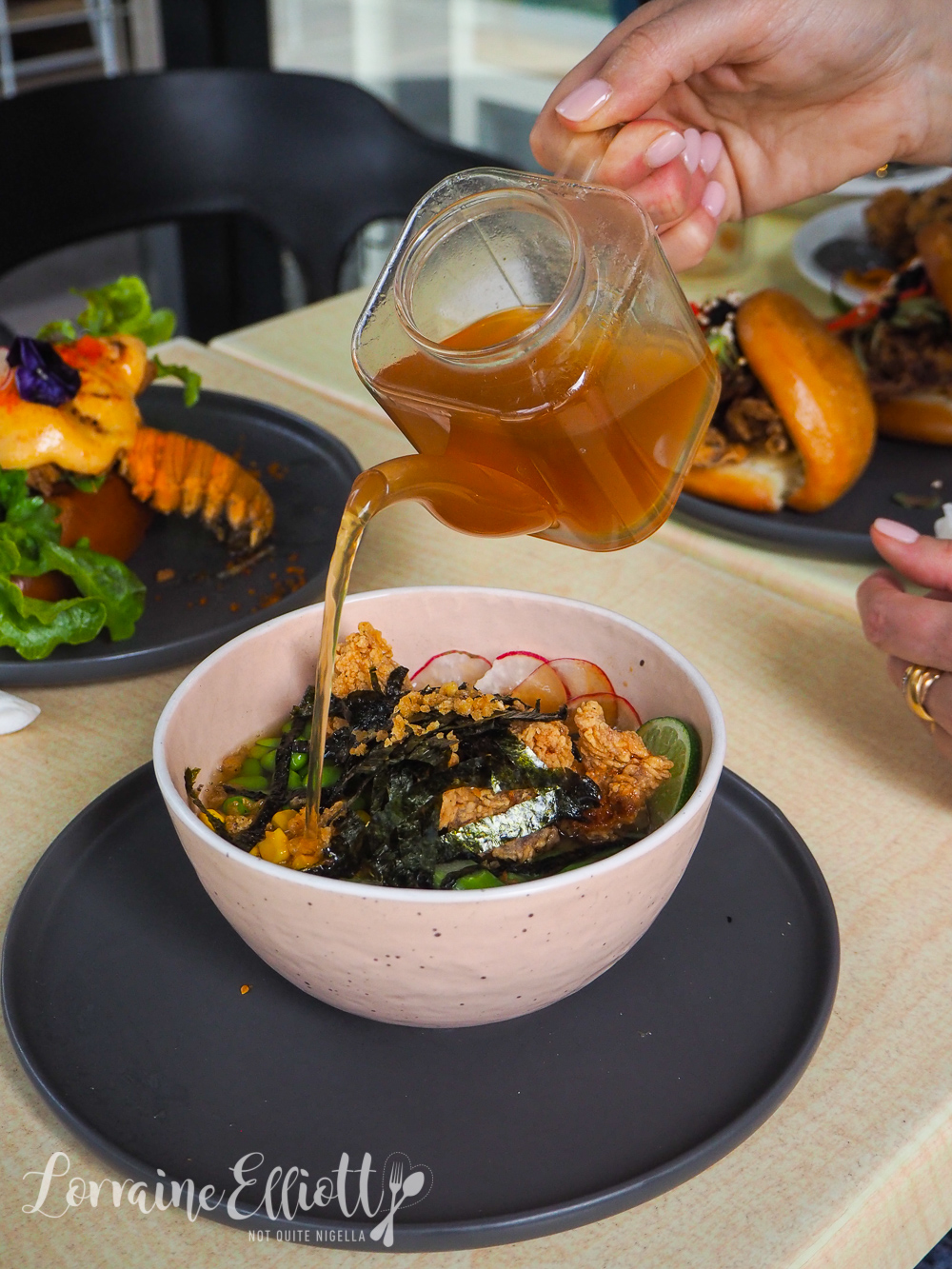 Udon for Spring A$18.00
Ivy has been here before so we order some things that she really enjoyed like the udon for spring that can be served with hot or cold soup. It's thick udon with asparagus, corn, edamame, lime, nori and a choice of salmon or chicken karaage. As soon as she mentions chicken karaage both my and Ivy do a simultaneous double take and say, "Chicken karaage?" because we both adore it. It's very tasty and one of my favourite dishes with a tasty broth, good noodles and enough texture and flavours to make it interesting.
Horrorscope A$20.00
I also really enjoy the Horrorscope. These are two large deep-fried bao filled with soft-shelled crab tempura, cucumber, mixed nuts, puffs, black tobiko and yuzu mayo. It's perfect for sharing and very tasty and textural especially with the crispy edged deep fried bao breads and tempura soft shell crab.
Fried wings with black mayo & sweet potato crisps A$12
I had to go with a small order of wings because fried chicken is life. This is a small serve of chicken wings on a bed of sweet potato chips. They're very crunchy with almost a sweet aspect to the crumbs but they aren't oily at all. There's a dab of squid ink mayonnaise on the side too (I also like it dipped into the Sriracha mayonnaise and tobiko from the Fairy Tale below).
The Fairy Tail A$22.00
The positioning of the deep fried lobster tail is perpendicular to the soft hot dog bun so you have to do a bit of rejigging to eat this. It is smothered in a lot of spicy mayonnaise and there's some tobiko on top too. There is also some butter lettuce although the edges have seen better days which is odd because everything else seems fresh.
So tell me Dear Reader, how do you feel about eating out? Do you only do it if you can sit outside or do you not mind sitting inside?
This meal was independently paid for.
Cafe 0.6, Alexandria
1a/11 Bowden St, Alexandria NSW 2015
Monday to Friday 7am–3pm
Saturday 8am–3pm
Sunday 9am–3pm
zeropointsix.com.au
Phone: (02) 8205 9681