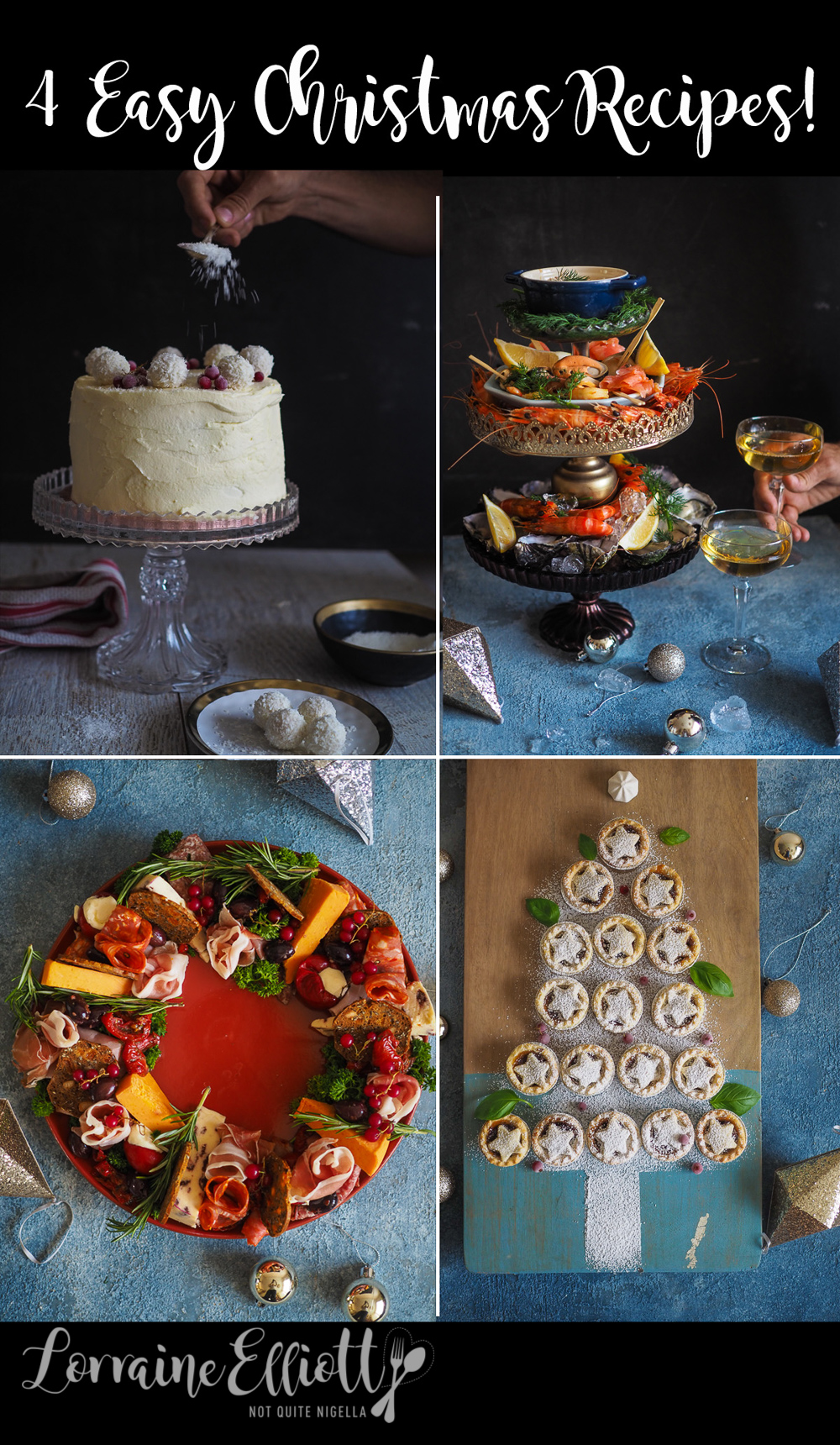 These recipe ideas are brought to you by Woolworths
Christmas is such a crazy busy time but you can entertain with aplomb and make a visual impact using these four creative time-saving Christmas ideas! To start there there's a beautiful antipasti Christmas wreath and then for the main event, an eye catching seafood tower of glory. For something sweet there's the Snowball Sponge that takes all of 10 minutes to put together and a cute and Christmassy way to present fruit mince pies!
2020 has been a challenging year for most people - never before has a year been less exciting but time has gone so quickly! It was November when someone mentioned that Christmas was up soon and I sort of panicked. I think I mumbled, "I'm not ready..." to my friend from under a blanket. So if you're in the same boat as me, and just want an easy time this Christmas then please give these four ideas a go.
DID YOU MAKE THIS RECIPE? Share your creations by tagging @notquitenigella on Instagram with the hashtag #notquitenigella
8 Tips for saving time at Christmas!
Rated 5.0 out of 5 by 2 readers
1 - All it took was one trip to Woolworths where I raided their deli, seafood and bakery sections and that was pretty much all I needed to do. Everything in these four recipes was picked up during one shopping trip.
2 - After that it's just a matter of assembling it all so that it looks festive and well presented. All of these ideas show you how to present food so that it looks Christmassy. Fresh herbs and redcurrants simulate holly leaves and berries. Frozen redcurrants look like they're coated in snow.
3 - All you need to do with the Snowball Sponge cake is fill and ice it with strawberry jam and whipped cream. You can also buy pre-made icing or a buttercream mix if that is easier and that way the cake doesn't have to be refrigerated (because fridge space is a premium at Christmas). Even better, this whole iced and decorated sponge cake can be frozen.
4 - To freeze this cake (and other cakes), place the cake on a cardboard cake round in the freezer (do not wrap) and freeze for 45-60 minutes. By then the cream or frosting should be hard to the touch. Then wrap it in cling film and then place back in the freezer. This prevents the cream from smushing (that's a technical term ;)) against the cling film. To defrost, take it out a couple of hours before you want to serve it removing the plastic and leave it on the counter to thaw or the fridge overnight.
5 - Make your fruit mince tarts look Christmassy by serving it in a tree pattern! Just a little bit of icing sugar, some basil and redcurrants and you have a Christmas tree!
6 - When I make an antipasti wreath or any sort of edible wreath plate, I use a base of herbs. I used curly parsley on the base. Then I layered with my favourite cured meats and some festive looking cheeses and then topped it up with rosemary. You can also use slices of rockmelon with the prosciutto. This takes all of 5 minutes to create.
7 - This seafood tower of glory is a stunning centrepiece. Originally I had the idea to make a seafood wreath but then I remembered how impressive a seafood tower is. Ordering a fresh seafood tower is very expensive at a restaurant but you can just as easily at a fraction of the cost at home. All you need are some cake stands!
8 - For the seafood platter, have the air conditioning or fans on when you serve this to prevent the ice melting too quickly. Also do not move this stand much, just keep it where you want to serve it as the layers aren't glued together. Having said that we had no mishaps at all as the stands sat on each other securely.
I have another tip for you Dear Reader to get you through the Christmas heat. I actually put it up on my Instagram stories last week and so many people responded so I thought that I'd share it here in case any of you found it useful.
A few years ago we bought a dog cooling mat for Mochi. It's a plastic coated half inch thick mat filled with cooling gel that dogs sit on to cool off. You don't have to activate it or do anything to it, it's just always cool to the touch. Mochi used to sit on it but Teddy seems quite disinterested in it.
Watch a video of the Christmas hacks in action!
I used to use damp towels to cool off at night but that isn't great for the mattress as it creates damp and mould. I also can't have a fan or air conditioner blowing on my while I sleep. Then I discovered that this cooling mat cools me down perfectly! Mochi and I used to share it when we slept at night as it is quite big and even putting an arm or leg on it really cools me off.
You just buy cooling mats online at pet supply stores and they're inexpensive and cooling. And given how hot this summer looks like being, it will get me through a few hot nights! And hopefully these four recipes ideas will get you through Christmas. And if you do any of these be sure to tag me so that I can see it! :)
So tell me Dear Reader, do you have any Christmas tips to help you get through the Christmas season? How do you stay cool in summer?
Antipasti Wreath
Preparation time: 10 minutes
Cooking time: 0 minutes
Serves 4-6
This can be assembled earlier in the day (without the crackers) and then covered and stored in the fridge. Add crackers just before serving. All cheeses, cured meats and crackers are available at the Woolworths deli counter.
Step 1 -Place the parsley on a large serving platters around the edges. Place the different meats on the plate folding them up if necessary. With the prosciutto slices curl them up like rosettes.
Step 2 -Cut the cheese into four or six wedges and add these to the plate. Then add the olives, semi dried tomatoes, baby peppers and crackers. Lastly add the rosemary sprigs and redcurrants.
Seafood Tower of Glory!
Preparation time: 10 minutes
Cooking time: 0 minutes
Serves 4
This is best assembled just before serving as the ice tends to melt quickly. All of the seafood is available at the Woolworths fresh seafood display and in their seafood fridge.
Make sure that your cake stands sit securely within each other
Step 1 - First make the potted crab. In a bowl mix the crab meat with seafood sauce, sour cream and chives. Add a few sprigs of dill and place in a ramekin.
Step 2 - Place the cake stands on the table (try not to move it too much as the stands aren't glued together). Add crushed ice to the layers and then place the seafood on each layer. I added the oysters and prawns to the bottom layer, more prawns on the second layer, mussels and smoked salmon on the third layer and then the potted crab on top. Serve with lemon wedges, seafood sauce, bread and champagne!
Snowball Sponge Cake
All Original Recipe by Lorraine Elliott
Preparation time: 10 minutes
Cooking time: 0 minutes
This recipe can also be successfully frozen for up to 3 weeks ahead of time.
Step 1 - Place the two creams, sugar and vanilla in a mixer with a whisk attachment and whip until fluffy. OR in a Thermomix add the butterfly insert and set to speed 4 for 30-45 seconds MC out. Watch that the cream doesn't turn to butter. Place in a piping bag and keep in the fridge until needed.
Step 2 - Place one Woolworths vanilla sponge cake layer on a serving plate and then snip the end of the piping bag and pipe two circles around the edge in cream. Then pipe another circle in towards the centre. Fill the gaps with the jam. Place the top layer and pipe cream on the top and sides. Smooth down with an angled spatula.
Step 3 - Place Raffaelos and redcurrants on top and sprinkle with coconut.
Mince Pie Christmas Tree
Preparation time: 5 minutes
Cooking time: 0 minutes
Serves a crowd!
The icing sugar is best sprinkled an hour or two just before serving.
Step 1 - Lay out the Woolworths Mini Fruit Mince Pies on a rectangular serving platter so that they are in a triangular or tree shape. Place a Woolworths Mini Meringue as the "star" on top.
Step 2 - Take some paper and cover the base so that the icing sugar will leave an imprint like a tree trunk. Sift icing sugar over the paper and then the pies. Carefully remove the paper. Decorate with redcurrants and basil leaves.