Merry (almost) Christmas Dear Reader! Today we're celebrating the festive season with friends for a spectacular dinner with a stunning fruit glazed ham, glorious caramelised garlic and parmesan roast potatoes, a prawn cocktail trifle, a wonderful Christmassy salad and the pièce de résistance: a Merveilleux or French reverse pavlova!
This year we had our Friends Christmas a week early which was so lovely that I'd like to make it a tradition. Despite my entire family being in Singapore now and Mr NQN's family being vegans I still want to have the Christmas dinner with all of the delicious food like ham, goose and all the trimmings. A couple of months ago Valentina and I talked about having a Hawaiian Christmas as we both came back from Hawaii and the weather and food lends itself to an Australian warm weather Christmas. While it wasn't strictly Hawaiian, it was more a loose guide. We had Valentina, her husband Peter, Queen Viv and Monica and Marco over. Unfortunately Miss America was working due to staff shortages and Nina and Garth were both sick.
Our renovations have pretty much finished just in time (just the rangehood to arrive) which was fortuitous. One of the final touches were the floor to ceiling curtains that really transformed the area and gave the room a feeling of grandness. "I feel like a grown up," I said to Mr NQN. Our builder Peter suggested that it made the room so elegant that we needed to get a grand piano "like Liberace."
Because we had such a big space I wanted to get a big tree. We bought a 2.1 metre prelit tree that sparkled although I think I may need to buy more Christmas decorations now that we have such a big tree. My theme this year was pink and green that were inspired by the gorgeous Christmas crackers I bought from In The Roundhouse. I wanted to make this Christmas a real grown ups Christmas so we also set the table with some beautiful plates and bowls from In The Roundhouse - aren't they gorgeous?
I served my charcuterie chalet with drinks prior to dinner. Nobody wanted to cut into it at first instead skirting around and eating the bocconcini snowballs but once Mr NQN took a knife to it and cut open the roof everyone had a slice of the salami sliced roof. This was so much tastier than I could have imagined and the bread stayed fresh and the cream cheese meant that you didn't need to dip it into anything, it was a ready made snack. I served it with extra crackers and cheese a glorious "Jean Perrin Le Secret des Lys", an incredible creamy cheese I bought from Penny's Cheese Shop in Potts Point.
The main event was an amazing double smoked maple infused Australian ham from Sunshine Meats. When they delivered it I wasn't home and Mr NQN messaged me alarmed at its magnitude weighing in at just under 10kgs/22lbs. It only juuust fit into my oven. I saw a chef make a pineapple topped ham using overlapping thin pineapple slices and it reminded me of my upside down pineapple cake so I applied the same technique to this ham. After carefully removing the rind I basted it in a pineapple jalapeno jam and then candied some thin pineapple slices and secured them with cloves. Yes it was a bit of effort doing the pineapple but I loved the effect and it kept the ham so moist.
The reason why I love doing ham is that it only takes an hour in the oven at 180C for a 9 kilo ham so it's actually really quick (we buy hams already smoked so it's already fully cooked). I know some people heat their ham up for longer but it isn't necessary because the ham is already smoked for 12 hours and fully cooked. This was the juiciest and most moist ham I've ever had!
I also made a salad that I became OBSESSED with while in Hawaii. The kale, sweet potato, cranberry and pomegranate salad is not only delicious and in season for us now, but it's also Christmassy looking with the kale looking a bit like holly leaves and the pomegranate like holly berries.
We always like to serve seafood at Christmas and we used the trifle bowl to serve up a prawn cocktail with peeled prawns around the rim with salad and sauce in the centre. This was so easy and a fun way to serve prawns without taking up too much table space on a platter. Plus nobody has to peel prawns this way and the table remains cleaner. I also don't want prawn juice or bits on my new curtains LOL.
While I love turkey, it's so large that with the two of us we couldn't handle the leftovers from a 10kg/22lb ham and a whole turkey (even with giving our guests care packages to take home). So the day before I decided to outsource one item to the professionals so we bought a roast goose from Taste of Shunde because I love their roast goose so much and I don't tend to make goose at home. Mr NQN picked it up that afternoon.
There's no Christmas without potatoes and I combined my crunchy duck fat roast potato recipe with two of my favourite things: caramelised garlic and parmesan. I love caramelising garlic but normally I wouldn't bother for an everyday lot of potatoes but for a special occasion like Christmas it would be perfect. I roasted three heads of garlic until soft and sweet, mixed it with the melted duck fat and coated the par boiled potatoes in it. Then I covered it all with loads of parmesan cheese and roasted it all on high heat. The end result was crunchy, potatoes flavoured with parmesan and caramelised garlic bound together with crunchy melted parmesan.
That morning I baked some bread-I've been busy working hard trying to make a version of the Cheesecake Factory's brown bread. Stay tuned Dear Reader! I think I've almost got it!
Valentina brought over some delicious avocado egg rolls (spring rolls) with the most divine dipping sauce a la The Cheesecake Factory. I can't wait to remake this for you. She also made a delicious pineapple salsa in half a hollowed out pineapple.
She also brought over some Kalua pork that she smoked in some banana leaves that she procured from her neighbour! The meat was so tender and had a lovely flavour from the leaves.
Dessert was Valentina's delicious pineapple upside down cake that we ate with vanilla ice cream. That brings me to a cake that I made but I didn't serve because I didn't want to take away the spotlight from Valentina's cake. My Christmas dessert is called a Merveilleux which is essentially a French reverse pavlova. It's uses two meringue discs sandwiched with cream and then layered with cream on the outside and white chocolate shavings.
Usually it's made with dark chocolate shavings and coffee flavoured but I made mine passion fruit and white chocolate flavoured and made all the chocolate curls by hand (and that was the hardest part). It's also fantastic because you can freeze the whole thing and then defrost it that morning and serve it up that night so you can make it ahead of time.
I was also very, very excited to receive Matilda's beautiful Italian Christmas cookies. Her biscottini and ciambelleette are made using a family recipe handed down from her mum and many generations before her from her hometown of Civitavecchia, the port of Rome. Matilda bakes them with her daughter Stephanie and Gabriella and for the last 10 years or so she has sent me a box of her treasured cookies for Christmas. They're part of our family Christmas and everyone in my extended family looks forward to them. Marco tried some and he gave them a big thumbs up.
What I love about a friends Christmas is that while you can't choose family, you choose your friends. There's no arguing politics with your mad uncle and you don't have to brace yourself for argument so Friends Christmas is a relaxing affair. While everyone at the table sees each other at my Halloween party it's different sitting down properly and talking. I love my friends and I loved that everyone is interesting and interested in each other and I absolutely love our conversations - they're spirited, meaningful but happy!
Also can I just say that having a chef friend like Monica comes in very handy around Christmas time too? She carved the enormous ham like an absolute pro (she had a lot of practice carving meat at a catering job).
The two boys Teddy and Milo were very well behaved. Teddy remembered Queen Viv as she always comes over with Miss America and Miss America always feeds Teddy pate under the table. "I'm afraid it's a case of mistaken identity," said Queen Viv to Teddy.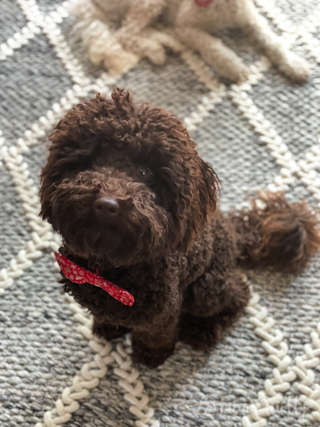 As for my sweet little cuddle bunny Milo I couldn't really give him a cuddle because my dress had a lot of netting to it so he just curled up and napped on my actual feet under the table. They did nab some prize pieces of goose meat so I think they're in full support of Friends Christmas too!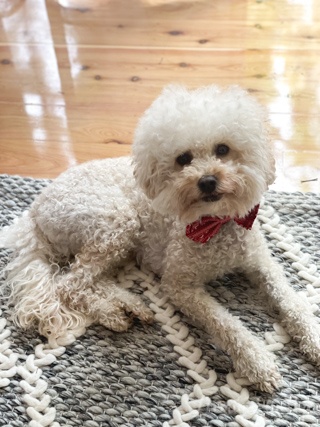 So tell me Dear Reader, do you have Friends Christmas? How many Christmases do you have?
Did you make this recipe?
Share your creations by tagging @notquitenigella on Instagram with the hashtag #notquitenigella
Pineapple Ham
This pineapple ham is, if I can be immodest, a really beautiful, glistening ham to put on the table. In this case I used a 10kg whole leg ham from Sunshine Meats but feel free to do this as a half ham or a ball ham, it still looks spectacular. The key to this is preparing the pineapple which you can do a couple of days ahead. Even if your pineapples are just starting to turn yellow it will be fine. Pineapples, like avocadoes, I find it so hard to time pineapples to eat them when they are just ripe and even when I bought mine a few days ahead they hadn't ripened considerably. You will end up thinly slicing the pineapple with a mandolin and then simmering it in a sugar syrup (the leftover syrup is great for cocktails or soft drinks). Then you will overlap the ham with pineapple slices and secure them with cloves. A little tip: it will seem like you have way too much pineapple but overlap it well so that you don't get gaps. After the first 30 minutes any gaps will appear and you can use any left over slices of pineapple to patch those gaps so that you get a beautiful pineapple pattern!
And best of all a 10kg full leg only needs to cook for an hour in the oven, and a half leg only needs 30 minutes as the hams are fully smoked and cooked through already. It's just a matter of removing the rind and blinging up your ham for the feast!
2x pineapples
2 cups of sugar
1 cup of water
10kg/22lbs full leg of ham
1/2 cup/125g/4ozs. pineapple or apricot jam
Whole cloves
Step 1 - Firstly make the pineapple slices. Cut the rind and eyes off the pineapple and then mandolin into thin discs on setting 2 (not too thin or thick). Place the sugar and water in a saucepan and bring to a boil and melt the sugar. Add the pineapple slices in batches simmering for around 3-4 minutes-they will turn a brighter yellow colour. Remove from the syrup, drain and set aside. Repeat with all the pineapple and allow to cool until ready to handle keeping the pineapple syrup for the glaze.
Step 2 - Remove ham from the packaging. Leave the rind on the top cap (at the top of the ham ) intact just so it is easier to grip onto once its cooked. Make a shallow cut just under the rind then carefully taking your time push your fingers separating the fat from the rind. Do not pull this as this causes the rind to separate unevenly from the fat.
Step 3 - Preheat oven to 180C/350F and score the fat in a diamond pattern. Mix 1/2 cup jam and 1/2 cup of the pineapple syrup together and brush over the fat. Lay the pineapple slices overlapping them well and secure the slices with cloves. Brush the pineapple with the glaze and place in the oven and rotate every 15 minutes to cook evenly. For a full ham (8-10kgs/17.6-22lbs) cook for 1 hour (FYI for half a leg of ham around 4-5kgs/8.8-11lbs cook for 30 minutes). After the first 30 minutes is up check the pineapple. If there are gaps remove the ham from the oven and patch any gaps with pineapple adding glaze before returning to the oven.
Before roasting
To store ham use a ham bag (a cotton bag) or clean tea towel as these prolong the life of a ham. Dip the bag or tea towel in a solution of 2 cups water and 1 tablespoon vinegar and wring out and place on top of ham in the coolest part of the fridge. Repeat every 3-4 days and your ham should last 3-4 weeks if stored like this below 4C/39F.
After roasting
Prawn Cocktail Trifle
I made this for prawn cocktail trifle Queen Viv because I know she loves prawns. This is barely a recipe, more an idea and making your own cocktail sauce is as easy as mixing together tomato sauce, mayonnaise, a bit of lemon juice and Tabasco and then filling a trifle bowl with salad and the sauce and arranging peeled prawns around the rim! For a 18cm/7inch trifle bowl you'll need about 1 kilo/2.2lbs of extra large prawns (unpeeled weight).
1kg/2.2lbs cooked extra large prawns
1 head iceberg lettuce, chopped or 3 cups salad mix
1/4 cup tomato sauce/ketchup
1/4 cup mayonnaise
1 teaspoon lemon juice
Splash of Tabasco
Step 1 - Peel the prawns removing the head but leaving the tail on and then devein. Fill the trifle bowl with salad. Mix the tomato sauce, mayonnaise, lemon juice and Tabasco in a bowl and scoop into a small serving bowl and place in the centre of the salad. Cover and refrigerate.
Sweet Potato & Kale Salad
This salad is pure Christmas in looks! I ate this sweet potato and kale salad so many times when I was in Hawaii. I bought it at the supermarket Foodland and lo and behold those kind people put a recipe up on their website for this salad! I added some more cranberries and pomegranates just because I thought they looked more festive and I really liked a bit more sweetness to balance it. Best of all this salad is even better the next day so make this a day ahead-just add the roasted macadamias just before serving!
500g/1.1lbs sweet potatoes
1/2 bunch of kale
1/3 cup/60g/2ozs dried cranberries
1/3 cup/60g/2ozs pomegranate arils
1/4 cup thinly sliced red onion
1 tablespoon olive oil
20ml/0.7flozs balsamic glaze
40ml/1.4flozs extra virgin olive oil
1 tablespoon honey
2 teaspoons thyme leaves
1/2 teaspoon red pepper flakes
1/2 teaspoon salt
1/4 cup/30g/1oz macadamia nuts, roasted, salted and roughly chopped
Step 1 - First peel the sweet potatoes and cut into bite sized chunks and boil until tender (6-8 minutes depending on how big you've cut them). Cool completely.
Step 2 - Strip the leaves from the kale and roughly chop it up and massage the leaves with a tablespoon of olive oil. Place in a bowl with the sweet potatoes, cranberries, pomegranate and red onion and toss to combine. In a jar add the balsamic vinegar, olive oil, honey, thyme, red pepper flakes and salt and place the lid on securely and shake to emulsify. Pour this dressing over the salad. Add macadamias just before serving.
Caramelised Garlic and Parmesan Duck Fat Roast Potatoes
This potato recipe is based on my crispy potatoes (my favourite way of cooking potatoes) that uses two special tricks when cooking. The first is using a lot of salt that penetrates the potatoes but once boiled the salt is washed away. The second is bicarb that helps gives the potatoes soft edges so that they crisp up better. I wouldn't normally recommend caramelising garlic for an everyday dinner but Christmas is the specialest of occasions. Caramelising garlic brings out its sweetness and changes the flavour of garlic so I also used parmesan to bring it back to the salty realm. A massive added bonus is the parmesan crust on the potatoes.
3 heads of garlic
2 tablespoons oil
2kgs/4.4lbs potatoes
5 tablespoons salt (don't worry this will mostly wash off)
1 teaspoon bicarb of soda
90g/3ozs. duck fat
160g/5.6ozs grated parmesan cheese
Step 1 - Preheat oven to 180C/350F. Slice off the tops off the garlic heads and then discard the papery layers on the outside of the garlic. Place the three heads of garlic on a large sheet of foil and drizzle oil over. Gather up the corners and make into a little sealed foiled package and roast for 1.5 hours - the garlic should be very soft and dark. You can do this 1 week ahead of time.
Step 2 - Peel the potatoes and cut into large chunks (slightly bigger than bite sized). Place a large pot of water onto boil and add the salt and bicarb. Add the potatoes and cook for 10 minutes or until starting to get tender. Drain into a colander and rinse the potatoes well.
Step 3 - Preheat oven to 220C/428F and line two large baking trays with parchment. Put the pot back on the stove add the duck fat to the pot and squeeze out the caramelised garlic from the skin and mash the garlic into the oil and heat. Add in the potatoes and toss them gently to coat with the garlicky duck fat. Then add the parmesan cheese and toss to coat. Spread out onto the baking trays in a single layer and roast for 40 minutes.
The Marvellous Merveilleux
I saved the show stopper for last. This Merveilleux translates to wonderful or marvellous in French and it is essentially a French reverse pavlova! They're often served as individual cakes but for Christmas I wanted to try my hand at making a large one. The most laborious thing is making the chocolate shavings - as long as you have a fairly sharp vegetable peeler you'll be fine. A Merveilleux is possibly easier than a pavlova as you use a meringue rather than a pavlova (meringue is hard all the way through whereas pavlova has a soft centre).You them take the two halves, sandwich it with cream (and passion fruit curd in my case) and then freeze it until hard. Then cover the whole thing in cream and chocolate shavings! C'est magnifique!!
This is best started a day or two ahead of time
For meringue:
200g egg whites (from around 7 large eggs), room temperature
1/2 teaspoon cream of tartar
200g caster or superfine sugar
200g pure icing sugar, sifted
Pinch salt
1 teaspoon vanilla bean paste
For filling and decorating
600ml pure or thickened cream
4 tablespoons caster or superfine sugar
1 teaspoon vanilla bean paste
150g white chocolate block
Step 1 - Preheat oven to 100C/212F. Trace two 17cm/6.9inch rounds on parchment and then flip the parchment over. I also used a bake snake to keep the meringue bound up and to limit its spread (you can also use springform cake rings lined with parchment if you don't have a bake snake).
Step 2 -Make sure that your bowl and whisk attachment are very clean. Place the egg whites in the bowl with the cream of tartar and start to whisk until you get soft peaks. Gradually add the two sugars while whisking at high speed and whisk until you start to get stiff peaks. Add the salt and vanilla and whisk until you can tip the bowl upside down and the meringue doesn't move. Scoop into the prepared tins and bake for 2 hours. Turn off the heat and allow to cool in the oven overnight.
Step 3 -While it is baking you can start with the chocolate curls. With a sharp vegetable peeler take a block of chocolate and start curling by running the peeler along the chocolate. Place in a bowl. If your hands are hot (mine are) then use a tea towel to hold the chocolate to prevent it melting in your hands. Place the bowl of chocolate curls in the freezer to set hard and then place in a container in the fridge until ready to use.
Step 4 -Whip the cream with the sugar and vanilla bean paste until you get soft, peaks that can hold their shape. Take one meringue and use a dab of cream to secure it to a cake board and then add a layer of cream and the curd. Place the other meringue disc on top and then freeze until set hard. Cover the sides and top of the cake with cream and then gently spoon the curls against the cream. If I am not serving this straight away I place it in the freezer uncovered for an hour until it sets hard and then cover it with cling film and then return it to the freezer. Defrost in the fridge the morning you want to serve it.