Sydney's Flour Mill Markets are an environmentally friendly food and artisan market in Summer Hill. Open on the 1st and 3rd Sunday of every month they are a good spot to grab something for breakfast or lunch be it some Peruvian treats of Mexican street food. They are located at Flour Mill Lane at the forecourt of the Mungo Scott building which was until recently an operating flour mill.
"What's the plan Stan? We gonna brave the rain? I'm game," comes the message from Monica, Sunday morning while rain falls heavily outside my window.
"I'm game girl!" I answer.
This was the third time lucky for Monica and I to visit the Flour Mill Markets. The first time there was the fire at her house, the second time there was a mix up with the weekends and now it's pouring down with rain. But we're lucky as the rain has stopped by the time we arrive and the sun is casting shadows. There are adorable puppers everywhere and I realise how much I've missed going to outdoor markets.
There are less stalls nowadays with COVID-19 but there's a decent range of stalls selling things from fruit, kombucha, jam, flowers and candles (the candles are fantastic). It's enough to keep you interested and you can kill an hour or so here over lunch although just keep in mind that the markets finish at 1pm.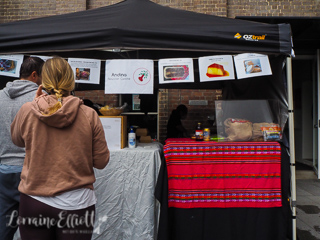 Early mornings are anathema to me so when we reach there at noon Monica and I split up as we have a game plan because we don't want to miss out of any food. Monica heads to Maiz for Mexican street food. I go to Andina, a Peruvian stall. Lourdes Luna is from Lima and came to Australia in 1996. This is her first food business.
Stand one alpaca apart!
Anticuchos $16
We reconvene on the grassy steps to eat. Anticuchos are skewered beef hearts cooked on a grill. We both have separate but equally fond memories of eating antichuchos at street stalls in Peru. When they're done well they're tender and saucy and these are superb. The beef hearts are marinated in vinegar, aji panca and Peruvian spices and sit on two slices of potato.
Papa Rellena $12
Another favourite is the Papa Rellena aka an Andean potato croquette made with of mashed potato shaped back into a potato and stuffed. The outside is like a pommes noisette (remember those?) and inside is a delicious mix of soft mashed potato, olive, egg and diced beef in Peruvian spices.
Pan con Chicharron $12
The Pan con Chicharron sandwich is nice with a filling of slow braised pork and red onion relish. I do prefer a bit more filling to it to make it juicier sort of like the one at Mr Papa in Canberra.
Pork Tamale $10
The tamale has a soft pork filling and is maize flour wrapped in banana leaves and has a sturdy filling inside. I am not the biggest eater of traditional tamales as I find them a touch dry but this is authentically made and tastes like the ones I had in Peru and South America.
Sope $12 for two
I try the food from Maiz Street Food. Here they mainly sell one item: a Sope which is a thick, round pancake made with yellow or blue corn masa flour. It hails from central and southern Mexico and the sopes are topped with a range of toppings.
We try three varieties: a breakfast sopa with eggs, salsa, corn, black beans, lemon pickled red cabbage and coriander. There's also a Chicken Tinga sope with chipotle chicken, black beans, lettuce, cream and crumbled cheese. My favourite is the Al Pastor with pork. It is topped with a charred tomatillo salsa, chilli oil, black beans, coriander and a delicious pineapple, coconut and rum jam. All of this is washed down with a sweet hibiscus flower water.
Crema Volteada $6
And to finish? A crema volteada, a wobbly crème caramel with syrup from the Andina stall. "I feel like I'm travelling with this food," Monica says dreamily, chewing on an anticucho.
So tell me Dear Reader, do you have a favourite market to visit? Do you time it so that you eat at the market?
These meals were independently paid for.
Flour Mill Markets
18 Flour Mill Way, Summer Hill NSW 2130
Open 9am–1pm 1st and 3rd Sunday of each month
Phone: 0404 129 227