Want a simple recipe idea to serve burrata? With summer in full bloom and a cornucopia of tomatoes try this burrata salad with three types of tomatoes! There's a tomato jam (you can also use a store bought relish or jam), semi dried tomatoes and baby roma tomatoes. All you need to finish it is some fresh basil and extra virgin olive oil and that's a side dish in 5 minutes flat!
I can't stop buying burrata. This mozzarella cheese with its oozing centre of cream falls under the category of "necessary indulgence." January 2020 has already been already one hell of a year-it feels like we've been through a year and it's only been a month!
When I went to buy these at the shops, a lot of people were wearing masks. The Coronavirus is all anyone is talking about either in person or on the news. I wondered if I needed to wear a mask (I hope my OCD of hand washing helps to minimise infection). Mr NQN works in the city and has been working from home. I think everyone is a bit confused as to what to do.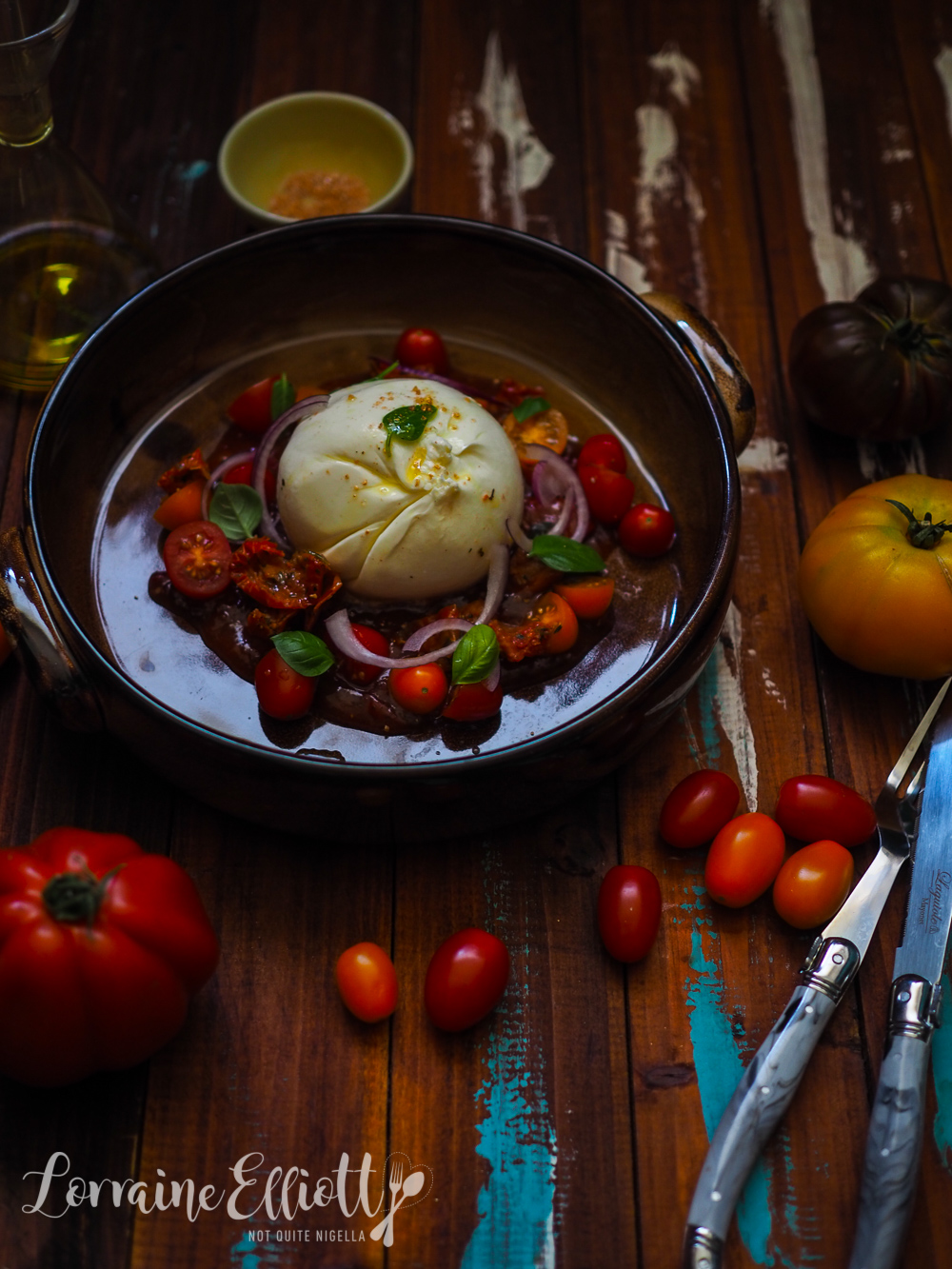 Earlier that day I had lunch with my friend Sammie and she had a cough. She's had it for about a month but she said that every time she gets on public transport and she starts coughing people look at her frightened and move away.
"I hope I don't get it from you! I'm Asian, they're definitely going to think I have just gotten off a flight to Wuhan!" I said to her because pandemics like this bring out the worst in people. I really hope that everyone stays healthy and they contain or control this soon. 2020 continues to be a crazy year...
So tell me Dear Reader, have you been taking any preventative measures for the Coronavirus? Are you wearing a mask? Would you move away from someone that you saw coughing?
DID YOU MAKE THIS RECIPE? Share your creations by tagging @notquitenigella on Instagram with the hashtag #notquitenigella
Burrata With Trio Of Tomatoes
An Original Recipe by Lorraine Elliott
Preparation time: 5 minutes
Cooking time: 0 minutes
1 burrata cheese
3 tablespoons tomato jam (recipe here)
2 tablespoons chopped sun dried tomatoes
6-8 cherry tomatoes, halved
1 tablespoon finely sliced red onion
2 tablespoons extra virgin olive oil
Fresh basil leaves
Step 1 - Place the tomato relish on the base of a serving dish. Place burrata on top and then scatter the sun dried tomatoes and halved cherry tomatoes around it. Drizzle with olive oil and top with basil leaves.