Virgin Australia announced its new Business Class offering and big changes to economy travel food. So what is on board for those flying business class and economy with Virgin Australia?
It was the first flight for over a year since COVID-19 first took a hold. I was attending Virgin Australia's business class food launch and learning about all the new changes for the airline that became effective on all Virgin Australia flights from March 25, 2021.
One year ago in April 2020, Virgin Australia was a COVID casualty. The travel sector was one of the worst sectors hit by COVID-19 as all travel swiftly came to a halt. Airline staff reskilled and took on other jobs and Virgin Australia went into administration.
Then in September 2020 it was announced that Virgin Australia were acquired by the US private equity firm Bain Capital in a $3.5 billion deal and they were back in business.
At Virgin, changes were made to the on-board food offering. The first change will affect the bulk of customers in the economy section - free snacks are gone (reportedly in exchange for lower airfares but these don't come into play until June 2021). Business class airfares have been reduced by 20% since November 2020.
In the economy cabin passengers will be offered just complimentary tea, coffee and water. Any snacks are purchased separately via a physical credit card (customers cannot pay on board via smartphone). Passengers who bought their economy ticket before March 25 2021 will be eligible for a complimentary snack but "on request". This change has upset many economy paying customers and although new Virgin Australia CEO Jayne Hrdlicka has said that Virgin Australia wants to be seen as more a mid-level airline rather than budget, the move seems counter to this.
The new "buy onboard" menu
The economy "buy onboard" offering is a largely snack based menu with 4 savoury snacks (nuts, chips), 3 sweet snacks (muffin, lollies Kit Kat) and 2 instant noodles all priced between $5-$7.50. There are also soft drinks and spirits (full on-board menu is here). Healthy options are limited here apart from nuts. The other choice is to buy something at the airport. I bought a decidedly average sushi roll at Sydney airport for $6.75. Perhaps the most nutritious and cost effective offering is to bring something from home and I brought a couple of pieces of fruit but this is not always feasible.
In the business class cabin there are also some changes. There is no celebrity chef attached; previously Luke Mangan designed the menus for Virgin Australia's business class cabin. The new menu is scheduled to change bi-monthly. Business class breakfast is served on flights departing between 3am and 10am, lunch between 10am and 4pm and dinner after 4pm.
To launch the new Virgin business class menu they made use of the Virgin Brisbane hangar located about 10 minutes drive from Brisbane airport. There was a 4 hour window to host the dinner, timed to watch sunset behind Brisbane airport, before the working hangar reverted back to its normal duties housing Virgin's planes. Anthony Callea belts out Higher Love while Dannii Minogue is another celebrity guest.
We would be sampling some dishes from the business class dinner menu. As Virgin Australia mainly flies domestically the longest flight is 5 hours from Sydney to Perth so the menu is understandably pared down given most flight times are shorter. There are no white tablecloths and multi course menus.
We start with a selection of wines mainly from Australia. There's a Pinot Grigio and Chardonnay from SA, a Shiraz from Barossa Valley, a Pinot Noir from NZ and the sparkling is a Grant Burge Petite Bubbles NV from SA.
Everything arrives on a tray along with the drinks. The cold option is a halloumi with quinoa and capsicum salad and semi dried tomatoes. It is tasty although the halloumi is quite firm having been pre pan-fried. The hot option is the comforting melt with turkey, cheese and fig jam.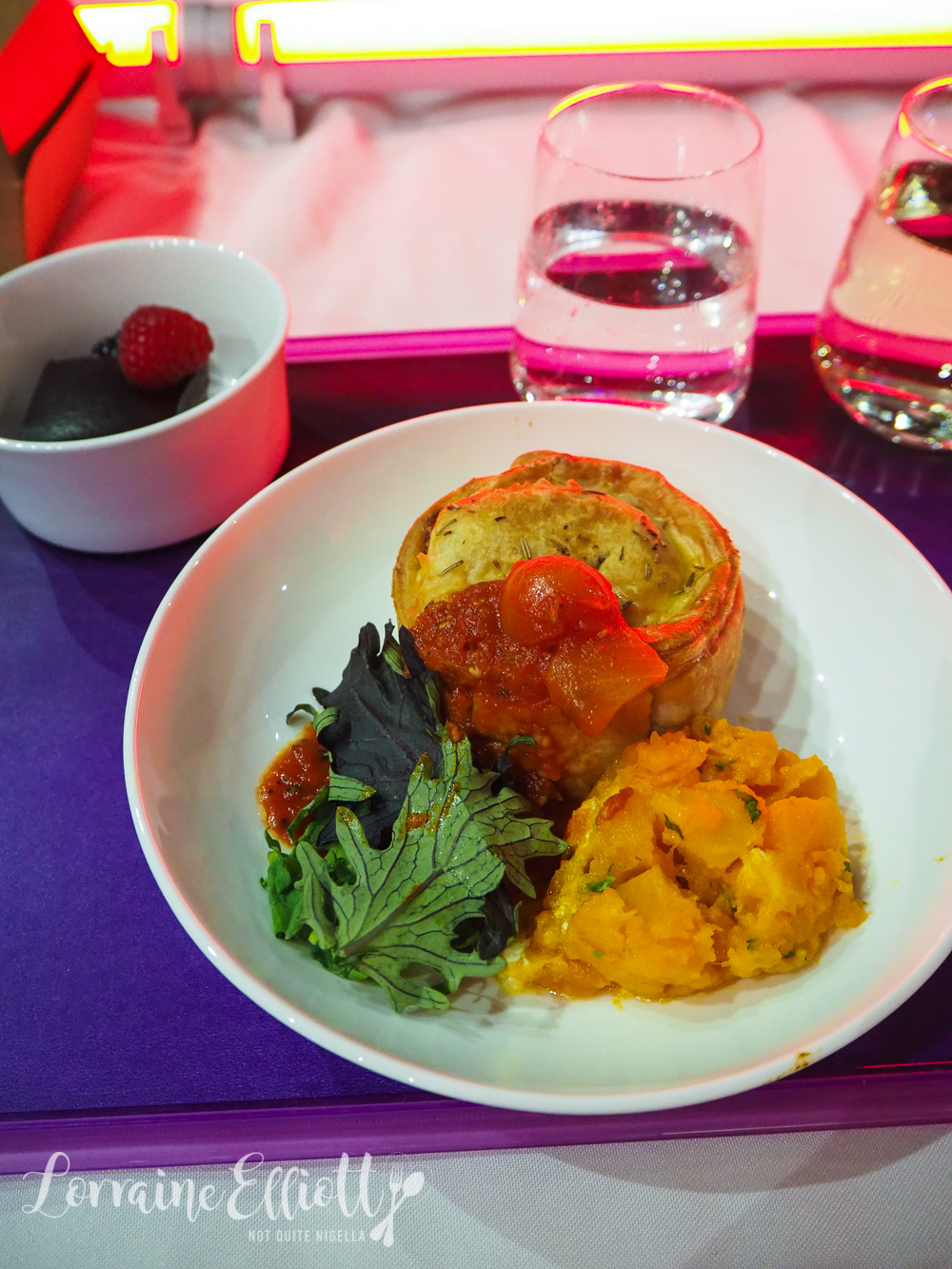 Lamb and rosemary pie, chocolate delight cake
A more substantial hot main is a lamb and rosemary pie which is everyone's favourite. This is plenty of soft, slow-cooked lamb inside with a pumpkin and feta mash and tomatoes on the side. The pastry is buttery and the filling is especially tasty and soft. The pie although rich, is quite small and might not do for someone with a substantial appetite across the longer transcontinental flights like Sydney to Perth.
For longer flights there are additions like an antipasti plate with a slice of prosciutto, a pepperdew and grilled zucchini, packet cheese and crackers and a dessert option.
The dessert is a chocolate delight mousse cake is a bottom layer of cake with a light moussey topping. The cake at the base is a little firm but the mousse topping is nice especially with the fresh berries.
In the near future all business class flights will also have a guest pantry available with sweet and savoury options where guests can help themselves.
The test is of course to try it in flight. My return flight from Brisbane to Sydney is in business class and I am offered a choice of the turkey, brie and fig jam melt for the hot option or the halloumi salad for a cold. As I had just had lunch I opted for the salad although the gentleman next to me orders the melt which looks better and hotter than at the event. The salad, even with the cold halloumi holds up well with perky leaves and a good flavour. Accompanying this is a gluten free Snowy Mountains Cookies chocolate choc chip cookies which is served with a cup of tea or coffee in proper crockery.
So tell me Dear Reader, how do you feel about Virgin Australia taking complimentary snacks off the menu in economy? Do you skip or eat the snacks offered on the plane? Do you ever bring food from home or do you buy food at the airport?
NQN was a guest of Virgin Australia but all opinions remain her own.