Kataïfi are wonderful Cypriot Greek pastries filled with walnuts with a buttery threadlike thin pastry. They're finished with a spiced syrup redolent in clove, cinnamon and orange and are wonderfully crunchy on top and syrupy on the base. And Dear Reader, these are so good they are a pushy recipe!
"I hate measuring," says Valentina pouring sugar from the bag into the bowl. She's showing me how to make kataifi, that wonderful sweet walnut dessert wrapped thin noodle like pastry drenched in spiced syrup.
These kataifi seem intimidating but they are simplicity itself. Use a bag of kataifi pastry and roll with a sugared walnut filling and then bake.
Valentina takes her cues from her mother who was a great cook. I see her take a plastic bag and a rolling pin. Although she has a food processor handy she crushes walnuts the way her mother did using a rolling pin. Then to make sure the nuts are crushed she uses the blunt end of her French rolling pin to crush the larger pieces.
I'm struck at how different our cooking styles are. I'm all about using that appliance, have four canisters of spatulas and tools while Valentina uses tablespoons to stir everything and her hands to do all the work.
"What can I do?" I ask Valentina.
"Nothing, talk to me!" she says as her hands fly over the ingredients calmly making them while fully engaged in conversation. I can't and don't talk when I cook.
Once the pastries are baked they get a final drenching of a wonderfully aromatic syrup. The resulting kataifi are incredible. The hardest part of the whole recipe? Waiting for these pastries to cool down enough to eat them.
So tell me Dear Reader, do you cook like your mother or father? Do you tend to do things by hand or do you use appliances? And do you talk when you cook or do you concentrate on things?
Did you make this recipe?
Share your creations by tagging @notquitenigella on Instagram with the hashtag #notquitenigella
Kataïfi
An Original Recipe by Lorraine Elliott
Preparation time: 35 minutes
Cooking time: 60 minutes
Makes around 25-30 kataifi logs (depending on how large you've made them)
375g/13.ozs. kataifi pastry (take out of fridge and bring to room temperature in package 2 hours before using)
250g/8.8ozs. butter, melted and browned
2.5 cups walnuts, roasted (or 1.5 cup walnuts, 1 cup almonds)
4 tablespoons/80g/3ozs. sugar
1 teaspoon ground cinnamon
For Syrup*:
3 cups/633g/1.4lbs sugar
1.5 cups/375ml/12.7flozs. water
1 cinnamon stick
3 cloves
1/2 lemon sliced
Please note, if you prefer your kataifi really drenched in syrup, please double this recipe. This quantity leaves it crispy on the top and syrupy on the bottom but if you prefer it sweeter, then double the syrup.
Kataifi pastry can be found at Middle Eastern, Greek or Turkish food shops.
Step 1 - Preheat oven to 180C/350F and line a large tray with parchment. Chop the nuts or coarsely grind them. Mix the nuts with the sugar and cinnamon in a bowl and set aside.
Step 2 - Place the kataifi pastry in a bowl and separate. Discard any clumped together pieces. Cover with a damp teatowel so that it doesn't dry out (it is like filo pastry and dries out easily as it doesn't have much fat in it).
Step 3 - Take a small handful and spread out to a rectangle-there will be some holes and that is fine as long as they aren't too large. Brush with melted butter and add 1 tablespoon of the nut mixture in the centre. Roll up fairly tightly to make a small log and place on prepared tray cutting off excess pastry if you need to so that they aren't too large. Repeat with the rest of the pastry and filling. Bake for 35-40 minutes or until golden.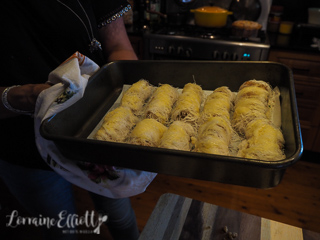 Step 4 - Make the syrup while the pastry is baking. Add the sugar, water, cinnamon stick, clove and lemon slices to a small saucepan and bring to a boil melting the sugar. Boil for 6 minutes until starting to become syrupy. Pour the syrup over the kataifi and allow to cool off a little. Serve while warm.