Cypriot Tiropita is made differently from Greek Tiropita. This wonderful halloumi and mint pie is baked in a ring tin and has sweet and savoury flavours to it.
Greek tiropita is usually wrapped up in filo pastry. This Cypriot version omits the pastry, instead baking it similarly to a cake in a ring tin.
"Tiro" means cheese and "pita" means pie and it is pronounced tee-RO-pee-tah. Traditionally this would be made with a hardened or village halloumi but we used regular halloumi here.
Sultanas? Yes! It gives it a sweetness which goes without saying. You can keep it more savoury by omitting these.
Make these into muffins too! Spoon the mixture into muffin cases and bake at 180C/350F for 20-25 minutes or until the centre springs back when pressed.
I made these on a day with Valentina where we went for a coffee, did some shopping and then went back to her house to cook some food. This tiropita was the first recipe that she made.
Sometimes cooking is part inspiration, part muscle memory. Valentina cuts exactly the right amount of halloumi to fit the container perfectly. She grabs eggs from her chickens in the backyard.
"This is mum's grater," she says smiling and she grates the halloumi using the same grater that her mother used to make tiropita with.
"I don't think that's enough halloumi," says Valentina looking at a quarter cup of halloumi with suspicion. "I'll add more," she says.
This is a quick and simple recipe. Before I know it, she is sliding the tin into the oven. The resulting tiropita is equal parts sweet and savoury with little pops of sweetness from the sultana and the fragrance of dried mint. "It tastes just like mum's," says Valentina.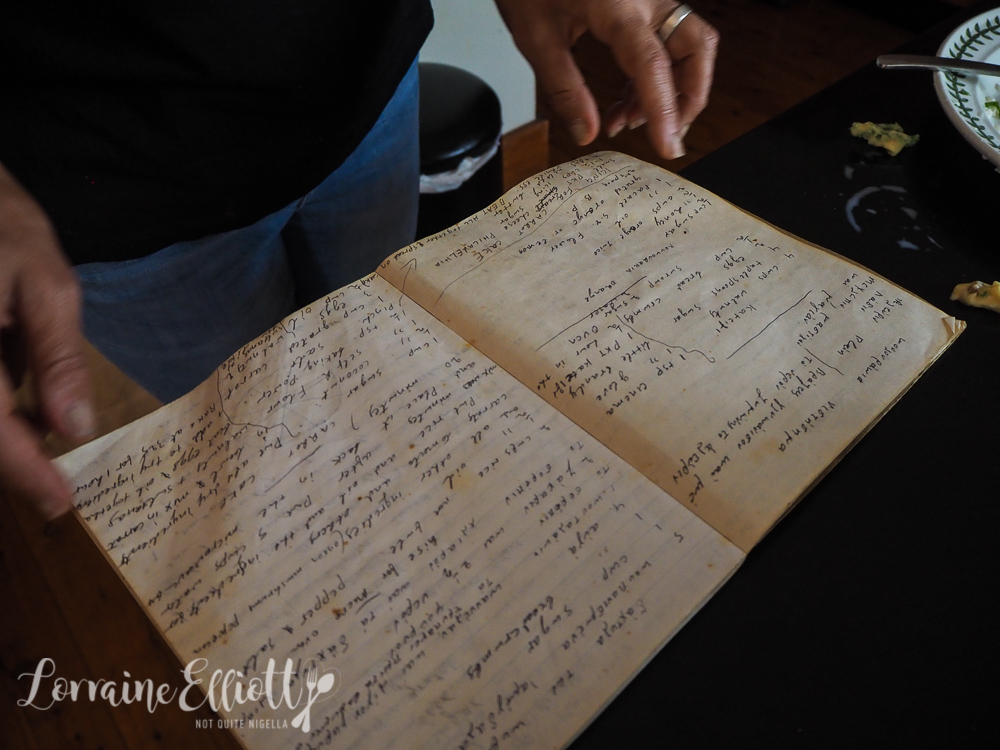 So tell me Dear Reader, do you ever try to recreate recipes from your childhood? Has it tasted like it? Have you ever tried tiropita?
DID YOU MAKE THIS RECIPE? Share your creations by tagging @notquitenigella on Instagram with the hashtag #notquitenigella
Cypriot Tiropita Halloumi & Mint Pie
Rated 4.66666666667 out of 5 by 6 readers
A recipe adapted from Valentina Jones
Preparation time: 15 minutes
Cooking time: 35 minutes
5 eggs, room temperature
80g/3ozs. sugar
1 cup/250ml/8.8flozs melted butter or oil
1 cup/250ml/8.8flozs milk
2 cups/250g/8.8ozs tasty cheese
2 cups/250g/8.8ozs halloumi
2 cups/260g/9ozs. self raising flour
3/4 cup/125g/4ozs. sultanas (optional)
Small bunch of mint leaves, fresh (1 cup) or dried (5 tablespoons)
2 tablespoons sesame seeds
Step 1 - Preheat oven to 170C/340F and grease a ring tin well (if your ring tin is not non stick, line the base with a ring of parchment). Beat the eggs and sugar in a bowl with a whisk until combined and add in the melted butter, milk and two cheeses and mix until combined.
Step 2 - Switch to a spatula and add the flour in 3 lots making sure there are no lumps. Add the sultanas and mint and stir to combine but do not overmix. Scoop into the greased tin and sprinkle with sesame seeds. Bake for 35 minutes or until golden and cooked through.