A friend, whom I won't disclose for fear of embarrassing her, once told me that she didn't understand why men left her. She said to me one evening
"I cook for them, I clean for them. They get a nice meal, what more could a man ask for?"
""Ahem. Hmmm..." I immediately thought of one thing. "That sounds like a great mum or dad. You left off something quite important to men..."
She looked at me aghast but had to concede the point that perhaps she was describing the role of a parent rather than a partner. But that's not to say that the relationship between men and food is something to be sniffed at or ignored.
Once upon a time, there was a blogger. She had a husband that loved sailing. During one month she was travelling to mystical wonderful lands and her husband had to stay at home for a sailing regatta he was sailing in. So they barely saw each other the whole month. This is the story of a tarte tatin with guilt Dear Reader.
Keen NQN readers know that Mr NQN is a fruit monster that simply doesn't like cake. Yes these kinds of people do exist. His favourite cake of mine was a backbreaking thousand layered apple cake that caused me to go into PTSD mode it took so long. So in lieu of my absence at home, I was determined to make amends with food to concede a point to my friend above.
I came across the tarte tatin recipe during my travels to Noosa. We were at the Buderim Ginger cooking school and we were being taught how to make a variety of things by chef Erik Van Alphen. Now Van Alphen's manner could be best described as brusque (many threw around some notorious dictator's names) and at the beginning we endured an hour long sermon about how terribly clumsy we were in the kitchen in general and I was ready to walk out. After saying his piece and having established his role at the main rooster in the coop his mood lifted after the sermon was over and he proceeded to teach us some interesting things such as deboning a chicken, Cafe de Paris butter (with 19 ingredients!), poaching an egg in swirling water and apple tarte tatin.
For fear of having to buy a new wardrobe I never go for seconds on dessert. But when I took a forkful of the glistening tarte tatin I was a goner and went back for seconds. I would have gone back for thirds but knew that that was just showing off. The apples were the perfect level of sweetness and the pastry was crisp and buttery.
And I may have snuck in a piece of it or two to myself ;)
So tell me Dear Reader, how often do you go to cooking classes? And what kind of cooking classes do you like to or would you like to attend? I particularly love cake decorating classes!
Tarte Tatin
Adapted from Erik Van Alphen
12-15 medium sized firm apples, peeled (Pink lady are ideal although I used Sundowner)
200g vanilla sugar or 200g caster sugar and 1 teaspoon vanilla bean paste
3 tablespoons butter, room temperature
2 sheets butter puff pastry
vanilla ice cream or double cream to serve
oven proof saucepan with oven proof handle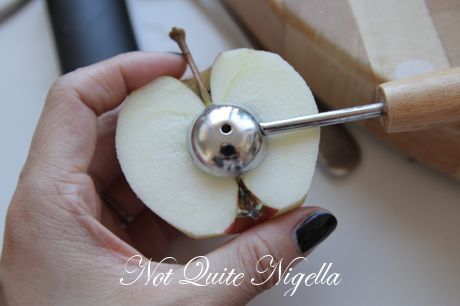 A clever way to scoop out the pips from the apple using a melon baller
Then take out the ends
Ta-da!
Step 1 - Halve peeled apples and using a melon baller, scoop out the core by pressing down the baller gently (making sure not to break the apple half). Remove the top and ends also using the melon baller. Toss the apples in half of the vanilla sugar and the lemon juice.
Step 2 - Make the caramel by putting the remaining 100g/3.5ozs sugar and 3 tablespoons of water in an oven proof frypan and on a very low heat, melt the sugar. Once the sugar has melted and there are no longer crystals of sugar, turn up the heat a little but don't stir. Tilt the pan and move it around from time to time until syrup becomes a caramel shade. Add the butter and stir until it melts and the sugar and butter bubble and combine and remove from the heat.
Step 3 - Place the apple halves as shown packing them in tightly as they will shrink. I had one half sticking above the rest as shown above but after cooking for a little bit, it fit in. Place pan back on low heat and cover with foil and cook for about 6-7 minutes until apples are partially softened. Allow to cool. Apples have a lot of pectin so you should get some jelly from the pectin. Or place in fridge to cool overnight and remove a few hours before you want to serve it.
Step 4 - When cold, cover the tart with a sheet of puff pastry then overlay it with another sheet (the edges forming a star shape). Fold over the edges to create a round rim and tuck in the rim around the apples firmly. Rest for 20 minutes.
Step 5 - Preheat oven to 190C/375F. Bake the tart for 40 minutes until golden. Remove from oven and cool in the pan. The trick now is to ensure that the tart comes out. To do this, put your palm against the pastry and pressing gently rotate the tart and apples slightly and  see if the tart and pieces of apple will rotate. If it does rotate it will come out of the pan easily. If not, then return the pan to the stove on low to melt the caramel and loosen it and try rotating it again.
Step 6 - Take a large plate and upturn the tarte on it in one swift motion. Serve with thick cream or vanilla ice cream.